Ukraine Advances Trio to Friday Night Finals
Thursday, March 7, 2019 - 17:53 By Eric Olanowski
NOVI SAD, Serbia (March 7) – Ukraine won three of their four semifinal matches and will meet a German opponent twice on Friday night for a U23 European gold medal. The two Ukraine and Germany matchups will take place at 53kg and 62kg. 
At 53kg, semifinal winners Khrystyna BEREZA (UKR) and Annika WENDLE (GER) both scored come-from-behind wins and punched their tickets to Friday's gold-medal bout. 
In Bereza's semifinal match, she was behind 4-1 with under 10 seconds left when she dug in double underhooks and threw Zeynep YETGIL (TUR) to her back, picking up four points and the 5-4 lead. A failed Turkey challenge ultimately gave Bereza the 6-4 victory. 
Wendle trailed Azerbaijan's Tatyana VARANSOVA 6-0 after the opening period but scored 16 unanswered points before planting the Azeri on her back to pick up the fall. 
At 62kg, returning U23 European gold medalist and U23 world runner-up Ilona PROKOPEVNIUK (UKR) will take on Luzie MANZKE (GER) in the second Ukraine and Germany matchup. 
Prokopevniuk was up 6-0 before she threw Daria BOBRULKO (RUS) to her back for the fall, while Manzke used an inactivity point and a step out to shutout Ameline DOUARRE (FRA), 2-0. 
The third Ukrainian Day 5 finalist is Alina AKOBIIA. She'll meet Valeryia YARMOLA (BLR) in the 57kg finals. 
Akobiia punched her ticket to the finals with 10-0 win over a clearly injured Elif YANIK (TUR), who was last year's U23 European bronze medalist. 
Her Belarusian finals opponent led 9-0 after the opening period before capitalizing on a second-period defensive stop, which gave her the 11-0 victory over Ramona GALAMBOS (HUN).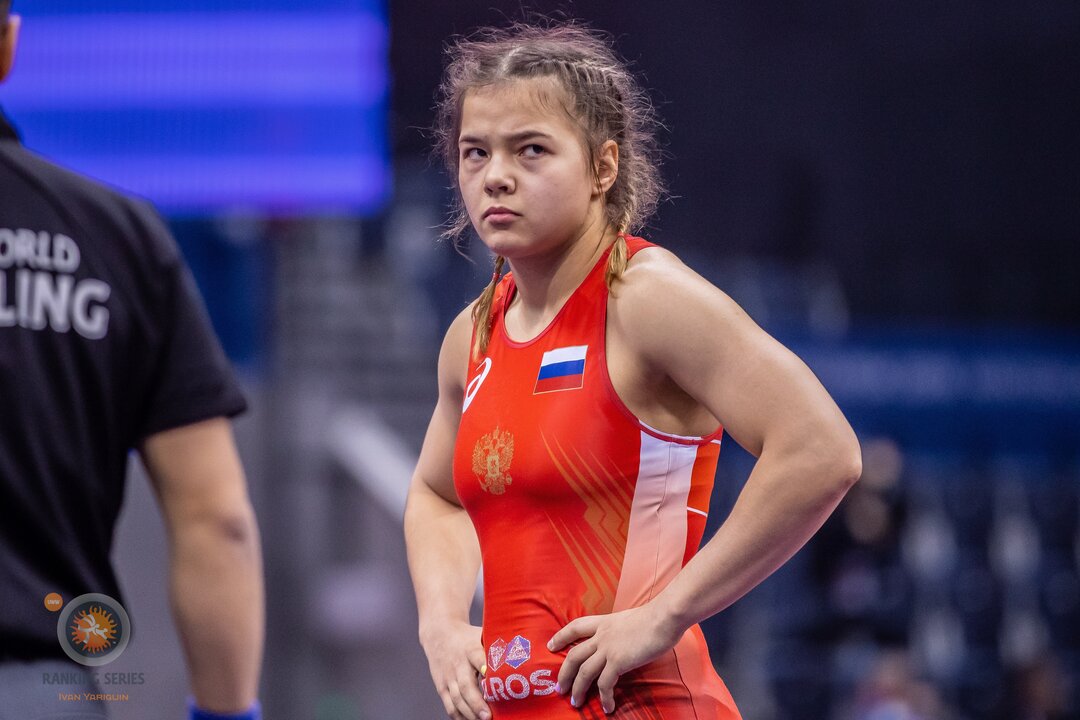 Mariia KUZNETSOVA (RUS) will wrestle for the 65kg U23 European title on Friday night. (Photo: Sachiko Hotaka) 
The lone weight not featuring a Ukrainian finalist is 65kg. Russia's Mariia KUZNETSOVA will wrestle Romania's Kriszta INCZE in the gold-medal bout. 
Kuznetsova capped off her run to the gold-medal match with a 10-0 routing of Anastasiia LAVRENCHUK (UKR), while Incze scored a hard-fought 8-3 win over France's Pauline LECARPENTIER (FRA) to punch her way to Friday night's finals.
The Day 5 finals begin at 18:00 (local time) and can be watched live on www.unitedworldwrestling.org.
RESULTS
53kg 
GOLD - Annika WENDLE (GER) vs. Khrystyna BEREZA (UKR)
SEMIFINALS - Annika WENDLE (GER) df. Tatyana VARANSOVA (AZE), via fall
SEMIFINALS - Khrystyna BEREZA (UKR) df. Zeynep YETGIL (TUR), 6-4
57kg 
GOLD - Valeryia YARMOLA (BLR) vs. Alina AKOBIIA (UKR)
SEMIFINALS - Valeryia YARMOLA (BLR)  df. Ramona GALAMBOS (HUN), 10-0 
SEMIFINALS - Alina AKOBIIA (UKR) df. Elif YANIK (TUR), 10-0 
62kg
GOLD - Ilona PROKOPEVNIUK (UKR) vs. Luzie MANZKE (GER)
SEMIFINALS - Ilona PROKOPEVNIUK (UKR) df. Daria BOBRULKO (RUS), via fall 
SEMIFINALS - Luzie MANZKE (GER) df. Ameline DOUARRE (FRA), 2-0 
65kg
GOLD - Mariia KUZNETSOVA (RUS) vs. Kriszta Tunde INCZE (ROU)
SEMIFINALS - Mariia KUZNETSOVA (RUS) df. Anastasiia LAVRENCHUK (UKR), 10-0 
SEMIFINALS - Kriszta INCZE (ROU) df. Pauline LECARPENTIER (FRA), 8-3