Two Olympic Champs, Two World Champs Headline Wednesday Night's Freestyle Finals
Tuesday, April 9, 2019 - 19:43 By Eric Olanowski
BUCHAREST, Romania (April 9) – Olympic champions Taha AKGUL (TUR) and Sharif SHARIFOV (AZE), and two-time world champions Frank CHAMIZO (ITA) and Geno PETRIASHVILI (GEO) won their semifinal matches on Tuesday night and will wrestle for a European gold medal on the third day of wrestling in Bucharest, Romania. 
Rivals Akgul and Petriashvili both scored semifinals wins against opponents who they've previously lost to, setting up a rematch of last year's European finals. 
Akgul, the reigning European champion, avenged his Ivan Yariguin finals loss to Russia's Anzor KHIZRIEV (RUS). In that January meeting, Khizriev used a pair of second-period counter-offensive crotch lifts to win his first Ranking Series title, 7-3. But on Tuesday night, it was a different story when the Turkish superstar took his Russian opponent down four times, inserting himself into the finals with the 8-1 win.  
He'll wrestle two-time world champion Geno Petriashvili in a rematch of last year's European finals. 
Petriashvili edged his semifinals opponent Oleksandr KHOTSIANIVSKYI (UKR), 3-2, and gained the 2-1 match advantage on the Ukranian wrestler. The pair split their two previous career meetings. The Georgian won their 2015 European Games meeting, but most recently, it was the Ukrainian wrestler who came out on top of the pair's 2018 International Ukrainian Tournament finals meeting. 
On Tuesday night, Petriashvili was able to skate past Khotsianivskyi, 3-2.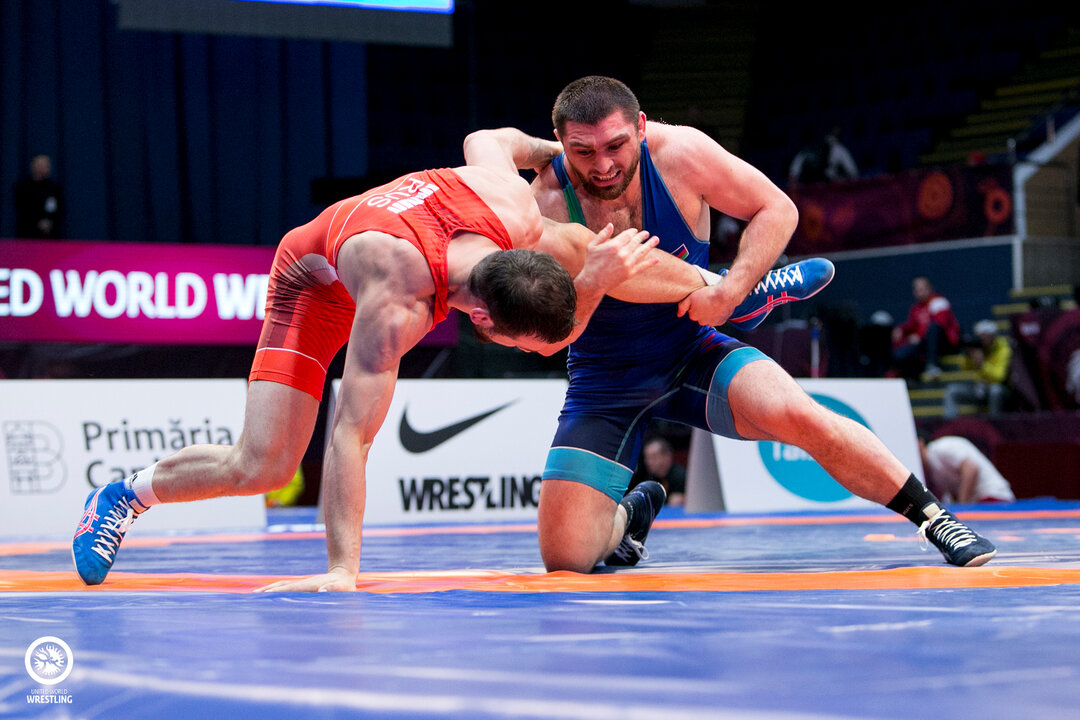 The second Olympic champion that won their Tuesday night semifinals match was Azerbaijan's  Sharif Sharifov. The Azeri, who dropped last year's 92kg finals to Abdulrashid SADULAEV (RUS), defeated Georgia's Irakli MTSITURI and made his third European finals appearance. 
In his first match of the day, Sharifov defeated Russia's Magomed KURBANOV, 6-2, then defeated his Georgian semifinal opponent 8-2. 
He'll wrestle Poland's Zbigniew BARANOWSKI (POL), who scored the 6-5 come-from-behind win over Turkey's Ibrahim BOLUKBASI (TUR) with a late takedown. 
At 74kg, Italy's two-time world champion Frank Chamzio made it back to the European finals for the first time since 2017 after he defeated Azerbaijan's Khadzhimurad GADZHIYEV (AZE), 6-2. With that win, Chamzio, the two-time European champion, improved on his third-place finish from a year ago. 
He'll wrestle Zelimkhan KHADJIEV (FRA), who knocked off Ukraine's Vasyl MYKHAILOV and Georgia's Budapest runner-up Avtandil KENTCHADZE (GEO), 3-3.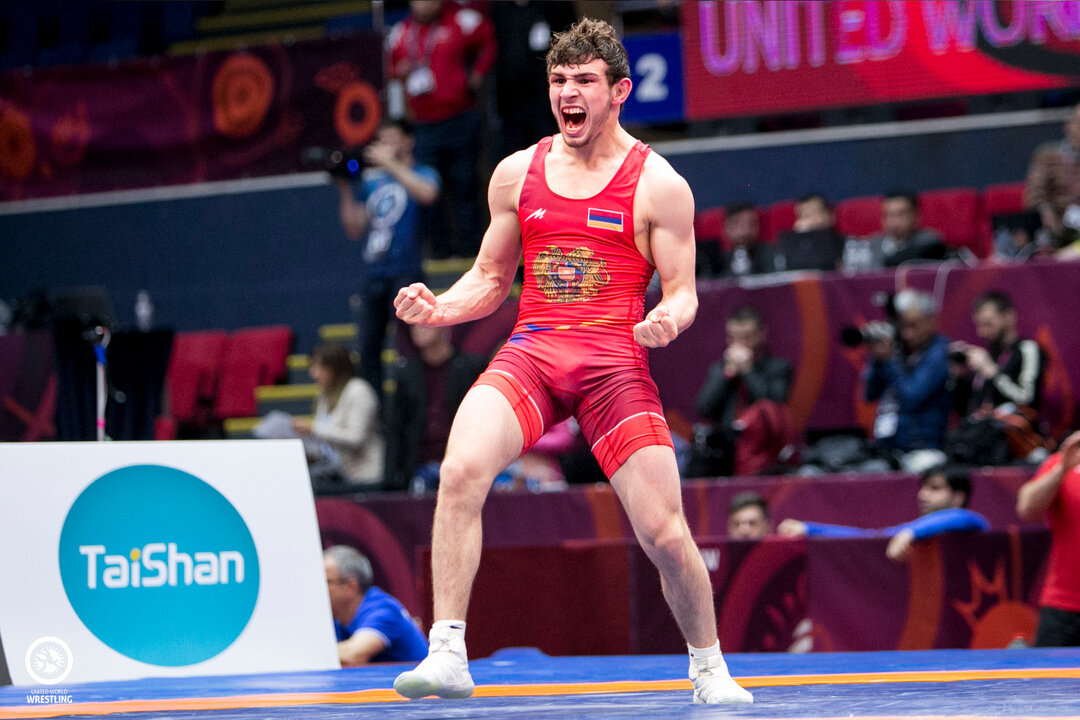 Arsen HARUTYUNYAN (ARM), who is making his senior-level debut, will wrestle for a European gold medal on Wednesday night. (Photo: Gabor Martin)
The other two finals spots that were claimed came at 61kg and 86kg. 
At 61kg, returning European finalist Beka LOMTADZE (GEO) will meet Armenia's senior-level rookie Arsen HARUTYUNYAN for the gold medal. 
Lomtadze topped Switzerland's Randy Adrian VOCK on the top half of the bracket, and Hartuyunyan took down Romania's Nikolai OKHLOPKOV (ROU) on the bottom half of the bracket. 
The final weight of the night, 86kg, featured one of the biggest upsets up the day when Moldova's Piotr IANULOV flattened reigning world runner-up and current world No. 1 Fatih ERDIN (TUR) to reach the finals. 
He'll take on 2017 world bronze medalist Vladislav VALIEV (RUS), who stopped Murad SULEYMANOV (AZE) to reach the continental finals. 
Wednesday nights final are expected to begin at 17:15 (local time) and can be followed on www.unitedworldwrestling.org. 
RESULTS 
61kg 
GOLD - Arsen HARUTYUNYAN (ARM) vs. Beka LOMTADZE (GEO)
SEMIFINAL - Arsen HARUTYUNYAN (ARM) df. Nikolai OKHLOPKOV (ROU), 10-4 
SEMIFINAL - Beka LOMTADZE (GEO) df. Randy Adrian VOCK (SUI), 10-0 
74kg
GOLD - Frank CHAMIZO (ITA) vs. Zelimkhan KHADJIEV (FRA)
SEMIFINAL - Frank CHAMIZO (ITA) df. Khadzhimurad GADZHIYEV (AZE), 6-2
SEMIFINAL - Zelimkhan KHADJIEV (FRA) df. Vasyl MYKHAILOV (UKR)  , 4-2 
86kg
GOLD - Vladislav VALIEV (RUS) vs. Piotr IANULOV (MDA)
SEMIFINAL - Vladislav VALIEV (RUS) df. Murad SULEYMANOV (AZE), 7-0 
SEMIFINAL - Piotr IANULOV (MDA) df. Fatih ERDIN (TUR), via fall 
92kg
GOLD -  Zbigniew BARANOWSKI (POL) vs. Sharif SHARIFOV (AZE)
SEMIFINAL - Zbigniew BARANOWSKI (POL) df. Ibrahim BOLUKBASI (TUR), 6-5 
SEMIFINAL - Sharif SHARIFOV (AZE) df. Irakli MTSITURI (GEO), 6-0 
125kg
GOLD - Taha AKGUL (TUR) vs. Geno PETRIASHVILI (GEO)  
SEMIFINAL - Taha AKGUL (TUR) df. Anzor Ruslanovitch KHIZRIEV (RUS), 8-1 
SEMIFINAL - Geno PETRIASHVILI (GEO) df. Oleksandr KHOTSIANIVSKYI (UKR), 3-2