Tokyo 2020-Bound Fumita Regains Greco 60kg Crown from Reigning Champ Emelin
Tuesday, September 17, 2019 - 17:26 By Ken Marantz
NUR-SULTAN, Kazakhstan (Sept. 17) --- Having already secured his Olympic cake, Kenichiro FUMITA (JPN) added the cherry on top in the form of a second world gold medal.
Fumita, in a clash of current and former world champions, outclassed Sergey EMELIN (RUS) with a 10-5 victory over in the 60kg final at the World Championships as the final three titles in Greco-Roman were decided on Day 4.
By making the final during the qualification rounds the previous day, Fumita had already assured himself of a spot on the team to the Tokyo 2020 Olympics that Japan will host.
The top six finishers in each Olympic weight class secure berths for their country at Tokyo 2020---the Japan federation, however, has gone a step further by deciding that any wrestler that wins a medal automatically fills that berth without any further domestic qualifying process.
"Yesterday, I felt like I was carrying a big burden," Fumita said. "I always give everything to try to win, but I made sure I was especially stable in winning my matches. 
"But today, the burden fell from my shoulders, and I wrestled with the firm determination to go all out and be aggressive."
Fumita, the 2017 gold medalist who was injured for much of 2018, fell into a 5-point hole against reigning champion Emelin. The Russian gained the par terre advantage first, then twice turned Fumita with a gut wrench for a 5-0 lead.
Fumita, however, did not panic nor get distraught. In fact, he was relieved. 
"I thought, 'I'm glad it was only 5 points,'" Fumita said. "I thought he might have ended it there. But I figured I would get a chance and then I was able to work my lifts for points. The way the match went was close to what I had planned."
Fumita got onto the scoreboard by getting a headlock on Emelin and twisting him up and over for 4 points, then added a roll and another 4-point throw for a 10-5 lead. That's how the first period ended, and when Emelin was unable to penetrate Fumita's defenses in the second, that's how it ended.
Fumita credited advice he received from senior training partner Shinobu OTA, who ironically he had defeated for the place on Japan's team at 60kg. Ota moved up to the non-Olympic 63kg and won a gold medal on Monday.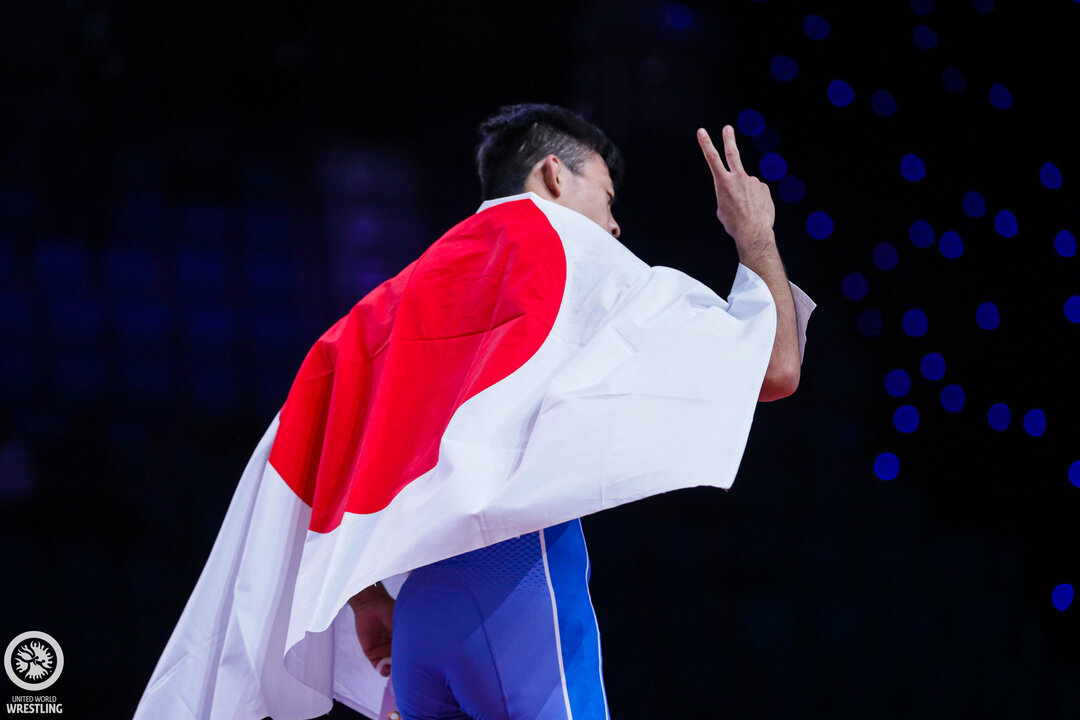 Kenichiro FUMITA (JPN) upset reinging world champion Sergey EMELIN (RUS), 10-5, to win his second career world title, and first since the 2017 Paris World Championships. (Photo: Kadir Caliskan)
"He's a strong opponent," Fumita said of Emelin. "He's great on the ground and good at rolling. Before the match, my senior teammate Ota gave me meticulous advice such as this will work, or don't do that. He asked for 500,000 yen ($4,600)---that's a joke—but it would have been worth 500,000 yen."
With the Olympic shadow hanging over the proceedings, Fumita said the elation from winning this year was different than that he experienced two years ago in Paris. 
"Winning the title in 2017 made me really happy, but it was about energy. I felt like I had ridden a wave. To win then was like reaching a goal, an end point. The World Championships is a huge event and that's how I felt when it ended.
"This time, I was extremely careful and precise about every little detail in preparation as I aimed for the championship. It was, how do I put it, a bigger 'feeling of accomplishment' than the last time. It's like the little things I did built into one mass."
 Meanwhile, Tamas LORINCZ (HUN) will finally take home an elusive gold medal in his 10th trip to the World Championships after winning the 77kg title with an 8-0 technical fall over Alex KESSIDIS (SWE).
Lorincz, a world silver medalist the past two years as well as at the London 2012 Olympics, scored three 2-point exposures during two stints in the par terre position to finish off Kessidis in 2:28. 
"I am not the youngest competitor, so I have been waiting very, very long for the first world gold medal, so I'm excited and very happy about that," said the 32-year-old Lorincz, whose younger brother Viktor won the 87kg silver the previous day. 
"The final is never easy. The Swedish guy earned to right to be here in the final and he did very well up to today."
Riza KAYAALP (TUR) added a fourth world title to his resume after edging Oscar PINO HINDS (CUB), 3-1, in the 130kg finals. (Photo: Kadir Caliskan)
While Lorincz was celebrating his first world gold, veteran Riza KAYAALP (TUR) was just as excited about winning a fourth, after topping Oscar PINO HINDS (CUB), 3-1, in the 130kg final.
"I'm very happy for this result," Kayaalp said. "It is something I do as a gift for my nation. The only gold that I am missing is an Olympic gold. I hope to win that next year." 
Dating back to 2009, Kayaalp's collection also includes two world silvers and two bronzes, an Olympic gold and a silver, and nine European golds.
In the bronze medal matches, Iran had a wrestler in all three weight classes and came away with two victories.
Up-and-coming Alireza NEJATI (IRI) came back from a 5-0 deficit to forge out a 7-5 victory at 60kg over Elmurat TASMURADOV (UZB), the 2018 world silver medalist at 63kg. The other bronze went to Mirambek AINAGULOV (KAZ), who thrilled the home crowd with a 10-0 technical fall over Lenur TEMIROV (UKR).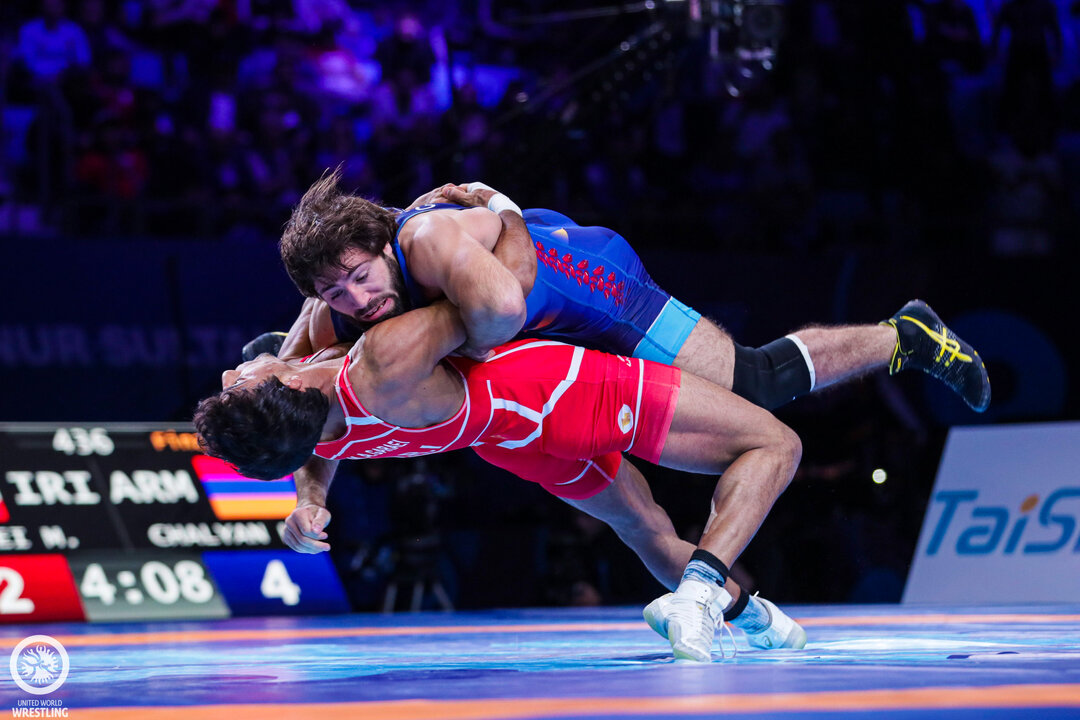 Mohammadali GERAEI (IRI) captured his second career world bronze medal with a 9-6 win over Karapet CHALYAN (ARM). (Photo: Kadir Caliskan)
Asian champion Mohammadali GERAEI (IRI) won a close encounter with Karapet CHALYAN (ARM), holding on for a 9-6 victory at 77kg, while Jalgasbay BURDIMURATOV (UZB) denied the host nation another bronze by edging Ashkat DILMUKHAMEDOV (KAZ) 3-1
The third Iranian, Amir GHASEMI (IRI) was disqualified for a third caution while trailing 8-0 in the second period at 130kg against ageless Heiki NABI (EST), who now has five world medals---including two golds---in 11 trips to the worlds. Iakobi KAJAIA (GEO) defeated Eduard POPP (GER), 5-0, for the other bronze.
In the team standings, Russia was unable to match its six golds from Budapest 2018, but still comfortably topped the standings with 132 points after capturing two golds and three silvers.
Uzbekistan, with a silver, two bronzes and two fifth places, finished second at 90. Georgia, which had two champions and a bronze medalist, was third with 79, just edging Iran with 75. 
Iran national team coach Aziz NAGHOUSI said he was neither happy nor sad at missing out on the top three, noting it was quite an improvement from the 11th-place finish in Budapest. He also pointed out that nine of the team members were competing at their first world championships, and six of them are under 23. 
"Our coach said finishing third would be good, but I think fourth is better," Naghousi said. "We must work harder and harder." 
Olympic spot secured, Mukaida now gets chance to avenge loss to Pak in 53kg final
In the women's semifinals that started the night session, two-time world champion Mayu MUKAIDA (JPN) eased to a victory at 53kg that clinched a place at the Tokyo 2020 Olympics, and earned her a chance to avenge a recent loss. 
Mukaida, the 2015 and 2018 world champion at 55kg who dropped to the Olympic weight of 53kg, scored a pair of first-period takedowns and that's all she needed for a 4-0 victory over Maria PREVOLARAKI (GRE).
"My movement wasn't very good, but I kept my focus up to the end and I was determined to win," Mukaida said.  
Awaiting in the final will be PAK Yong Mi (PRK), who dealt Mukaida a stunning defeat in the final at the Asian Championships in April in Xi'an, China, scoring a takedown in the final seconds for a 4-3 win.
Like Fumita, Mukaida clinched a berth for herself at Tokyo 2020 by making the final, but said that was not her only objective.
"I secured [the place] in the Olympics, but I can't be satisfied with just that," Mukaida said. "I have one more match tomorrow, and I want to get revenge and win the title and go home with a smile on my face."
Pak earned her shot at a world gold by defeating 2018 world bronze medalist PANG Qianyu (CHN) by 12-2 technical fall. Trailing 2-0 in the second period, Pak scored a takedown, secured a lace lock and whipped off five straight rolls to end the match in 4:48.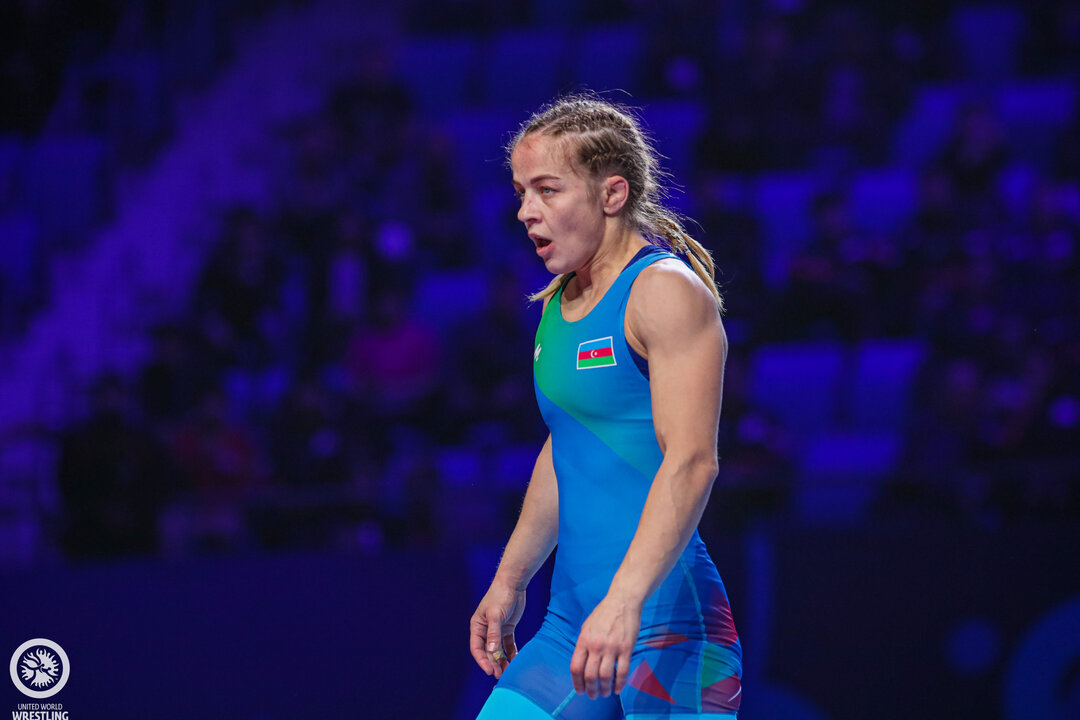 Mariya STADNIK (AZE) will be making her fifth appearance in the world finals when she wrestles Alina VUC (ROU) on Wednesday night. She'll look to add a second world title to her resume and first since 2009. (Photo: Kadir Caliskan)
In a high-profile semifinal at 50kg between medalists at both the Rio 2016 and Budapest 2018, Mariya STADNIK (AZE) held on for a 6-4 win over SUN Yanan (CHN), who had stunned Yuki IRIE (JPN) in a 13-12 thriller in the quarterfinals.
Stadnik, the runner-up at Budepest 2018 to Yui SUSAKI (JPN), will get a chance to add to her lone world gold medal---won a decade ago in 2009---when she faces Alina VUC (ROU).
Yuc rallied from a 6-0 deficit to beat Valentina ISLAMOVA BRIK (KAZ) 6-6 on criteria.
In the non-Olympic weights, 2015 world junior champion Nanami IRIE (JPN), Yuki's younger sister, made the final in her senior debut by routing Marina SEDNEVA (KAZ) by 10-0 technical fall. In the other semifinal, Jacarra WINCHESTER (USA) edged Bediha GUN (TUR) 6-4.
At 72kg, London 2012 Olympic gold medalist and Rio 2016 bronze medalist Natalia VOROBEVA (RUS) continued her quest toward a second career world title when she swept aside Zhamila BAKBERGENOVA (KAZ) by 10-0 technical fall. 
Aiming to halt the powerful Russian will be European champion Alina MAKHYNIA (UKR), a 7-0 winner over Paliha PALIHA (CHN) in the other semifinal.
Day 4 results
Greco-Roman
60kg (39 entries)
Gold – Kenichiro FUMITA (JPN) df. Sergey EMELIN (RUS), 10-5
Bronze – Mirambek AINAGULOV (KAZ) df. Lenur TEMIROV (UKR) by TF, 10-0, 3:17 
Bronze – Alireza NEJATI (IRI) df. Elmurat TASMURADOV (UZB), 7-5 
77kg (38 entries)
Gold – Tamas LORINCZ (HUN) df. Alex KESSIDIS (SWE) by TF, 8-0, 2:28 
Bronze –Mohammadali GERAEI (IRI) df. Karapet CHALYAN (ARM), 9-6
Bronze – Jalgasbay BURDIMURATOV (UZB) df. Ashkat DILMUKHAMEDOV (KAZ), 3-1
130kg (31 entries)
Gold – Riza KAYAALP (TUR) df. Oscar PINO HINDS (CUB), 3-1 
Bronze –Heiki NABI (EST) df. Amir GHASEMI (IRI) by Disq., 4:35 (8-0)
Bronze – Iakobi KAJAIA (GEO) df. Eduard POPP (GER), 5-0
Women's Wrestling
50kg (29 entries)
Semifinal – Alina VUC (ROU) df. Valentina ISLAMOVA BRIK (KAZ), 6-6 
Semifinal – Mariya STADNIK (AZE) df. SUN Yanan (CHN), 6-4 
53kg (30 entries)
Semifinal – Mayu MUKAIDA (JPN) df. Maria PREVOLARAKI (GRE), 4-0
Semifinal – PAK Yong Mi (PRK) df. PANG Qianyu (CHN) by TF, 12-2, 4:48
55kg (18 entries)
Semifinal – Nanami IRIE (JPN) df. Marina SEDNEVA (KAZ) by TF, 10-0, 3:56 
Semifinal – Jacarra WINCHESTER (USA) df. Bediha GUN (TUR), 6-4
72kg (12 entries)
Semifinal – Natalia VOROBEVA (RUS) df. Zhamila BAKBERGENOVA (KAZ) by TF, 10-0, 5:00 
Semifinal – Alina MAKHYNIA (UKR) df. Paliha PALIHA (CHN), 7-0