Takatani Caps Successful Move up to 86kg; Susaki Pulls out with Elbow Injury
Friday, December 21, 2018 - 13:25 By Ken Marantz
TOKYO---Sosuke TAKATANI showed he could pull his weight in a heavier class, while Yui SUSAKI pulled a surprise by pulling out of the All-Japan Championships due to an injury.
Takatani, a 2014 world silver medalist at 74kg, capped his first foray at the Olympic weight class of 86kg by crushing defending champion Shota SHIRAI with a victory by fall in the final for his eighth straight national title. 
"I was wondering how I would do moving up to 86kg, but I put together some good matches, so I'm happy," said Takatani, who won the 79kg last year as a stepping stone to the jump to 86kg. All of his previous titles came at 74kg.
In the final, Takatani scored a takedown off a single leg, then countered a Shirai takedown attempt with a 2-point crotch lift. He ended up on top and, applying a chicken wing, levered Shirai for 2 more points before forcing him completely over and securing the fall at 2:43.
It was a big difference from his close 2-1 semifinal win the day before over Masao MATSUSAKA. 
"In the semifinal, the opponent did well to match my moves, but today I attacked in the way I know I can," Takatani said. "Shirai is also a wrestler who likes to go for tackles, which makes him an easier opponent for me."
Takatani, who placed 11that 79kg at the Budapest 2018 world championships, said he is anxious to test himself against the world 86kg field.
"There are a lot of tall wrestlers at 86kg, so I think it will be easier for me to get tackles," he said.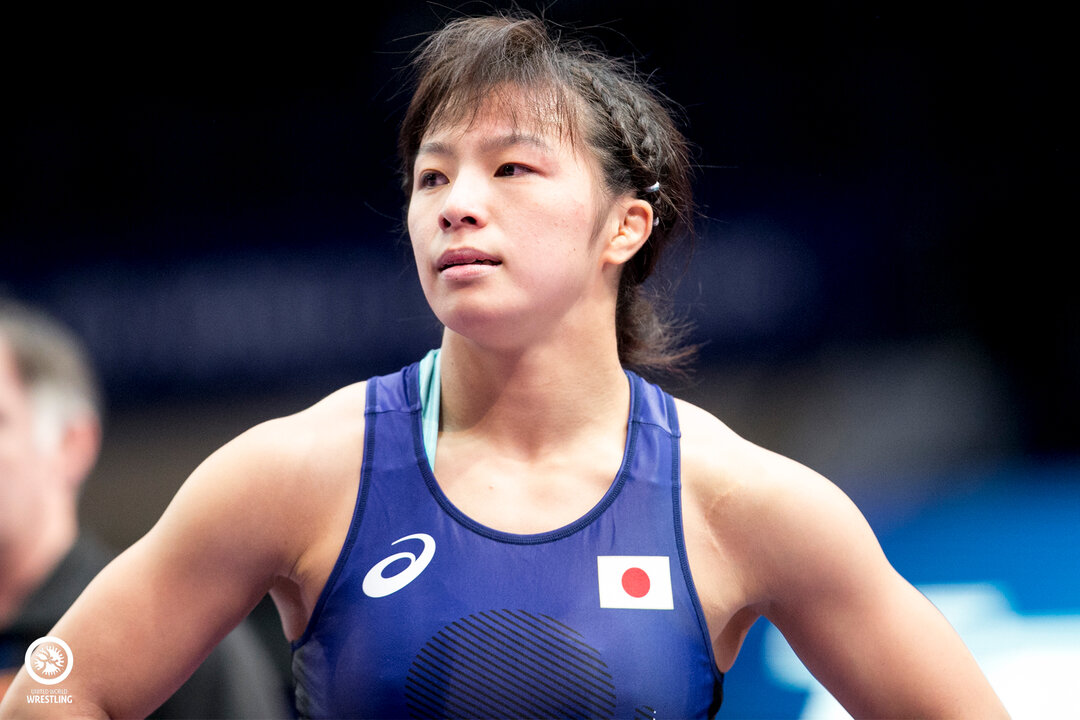 Reigning U23 world champion, Yukako KAWAI, won the 62kg title with a 3-0 win over Yuzuru KUMANO. Photo: Sachiko Hotaka
In another feature final on the second day of the four-day tournament, which is serving as the first stage of qualifying for the Tokyo 2020 Olympics, Budapest silver medalist and world U23 champion Yukako KAWAI staved off her nerves enough to win the women's 62kg title.
Kawai defeated Yuzuru KUMANO, a world U23 bronze medalist at 59kg, 3-0 in the final, scoring all of her points late in the first period. 
"I felt unstable and I wasn't sure how I would do, but I wanted to win so badly," said Kawai, the UWW U23 Wrestler of the Year. "My opponent in the final and I have met many times, so we both knew each other well, but I was still nervous."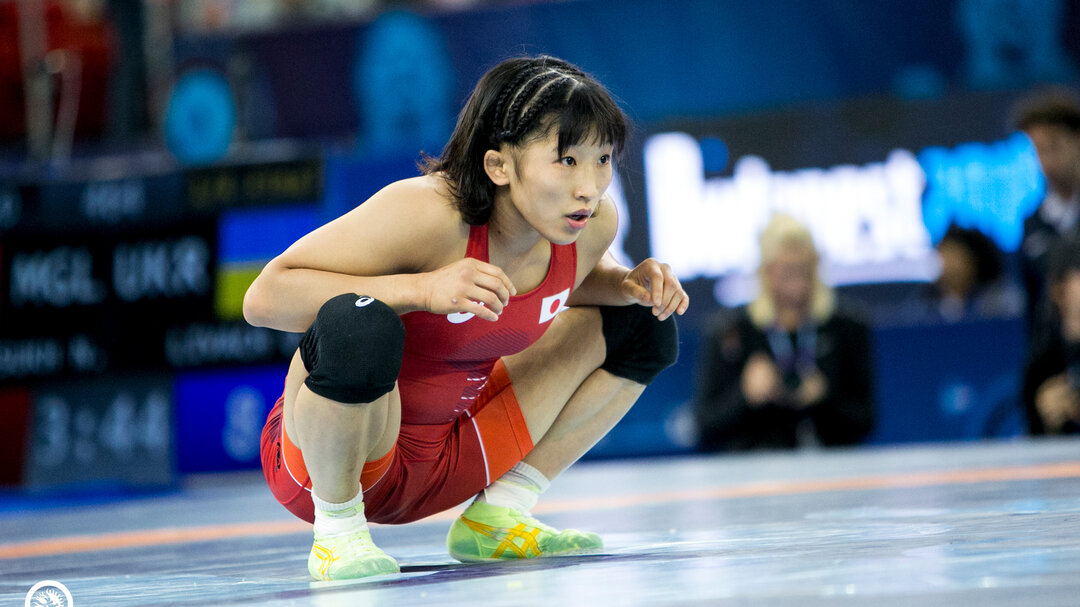 Yui SUSAKI (JPN), two-time world champion, had to withdraw due to a dislocated elbow. (Photo Gabor Martin) 
The big news of the day came prior to the late session, when the draw for Saturday's weight classes were made. It was then that it was announced that Susaki, who won a second straight women's 50kg gold in Budapest, had withdrawn due to a dislocated elbow suffered at the national team training camp last month.
For Susaki to now defend her world title, she will now have to win the title at the All-Japan Invitational Championships, also known as the Meiji Cup, next spring, then defeat the winner of this tournament (known as the Emperor's Cup) in a playoff.
The 50kg class had drawn attention as a battle royale between Susaki, Rio 2016 champion Eri TOSAKA and defending champion Yuki IRIE.
"I made the decision today," Susaki said. "I will do what I can to come back and qualify for the Meiji Cup, and win that."
Takuya Ota , Susaki's coach at Waseda University, said, "Even if she won, there was a possibility of making it worse and having to have surgery. If she's not 100 percent, she can't beat Tosaka or Irie."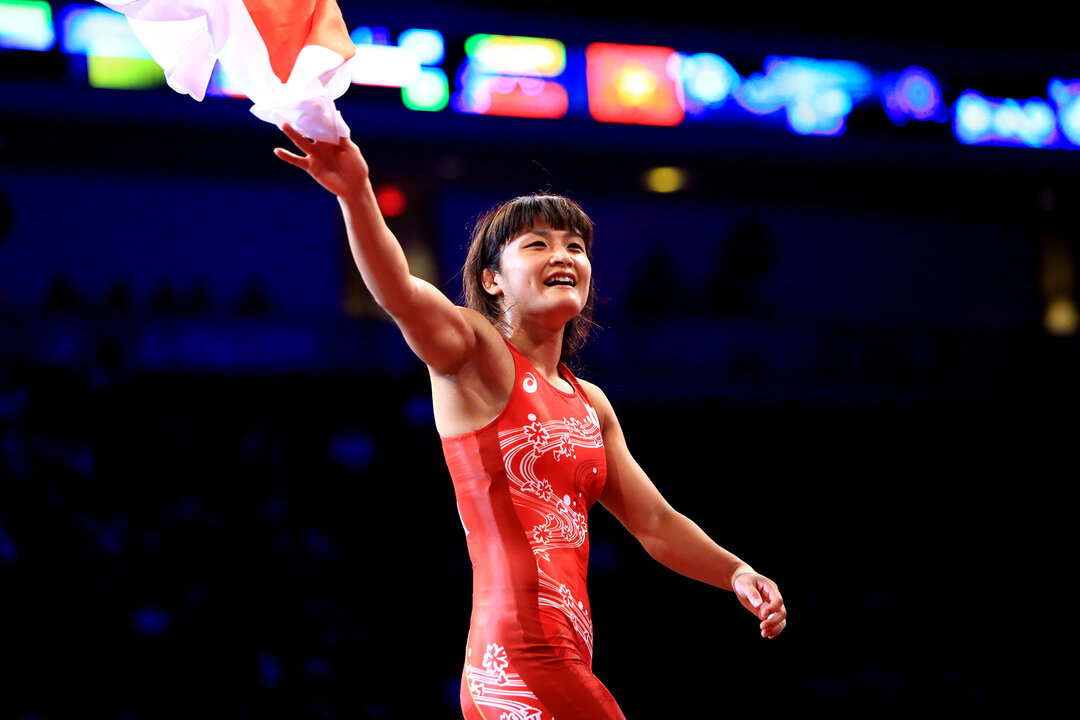 Four-time Olympic champion Kaori ICHO will meet three-time world and Olypmic champion Risako KAWAI in tomorrow's opening round. (Photo: Gabor Martin)
There was even more buzz created when it was announced that top-seeded Katsuki SAKAGAMI had withdrawn from the women's 57kg class---the marquee division that could see a clash between Olympic champions Kaori ICHO and Risako KAWAI---although it had little to do directly with Sakagami.
Sakagami's withdrawal leaves the division with just seven wrestlers, meaning the two-group, round-robin system comes into play. But, as this was the first time such a format was being used, there was much confusion among the Japanese press. What happens to the seeds? With Icho unseeded, can she be placed in the group with No. 2 seed Kawai? 
In the end, that's just what happened, as Icho and Kawai will meet in the first match of Group B, which also includes Sae NANJO. The top two in each group advance to the semifinals later in the day, so a final on Sunday featuring Icho and Kawai is far from impossible. 
In other action Friday, Nobuyoshi ARAKIDA won his third straight gold and seventh over an 11-year span with a 2-1 victory over Katsutoshi KANAZAWA in the freestyle 125kg final. 
Arakida trailed 1-0 going into the second period, but scored on a step-out, then added a point with Kanazawa on the activity clock.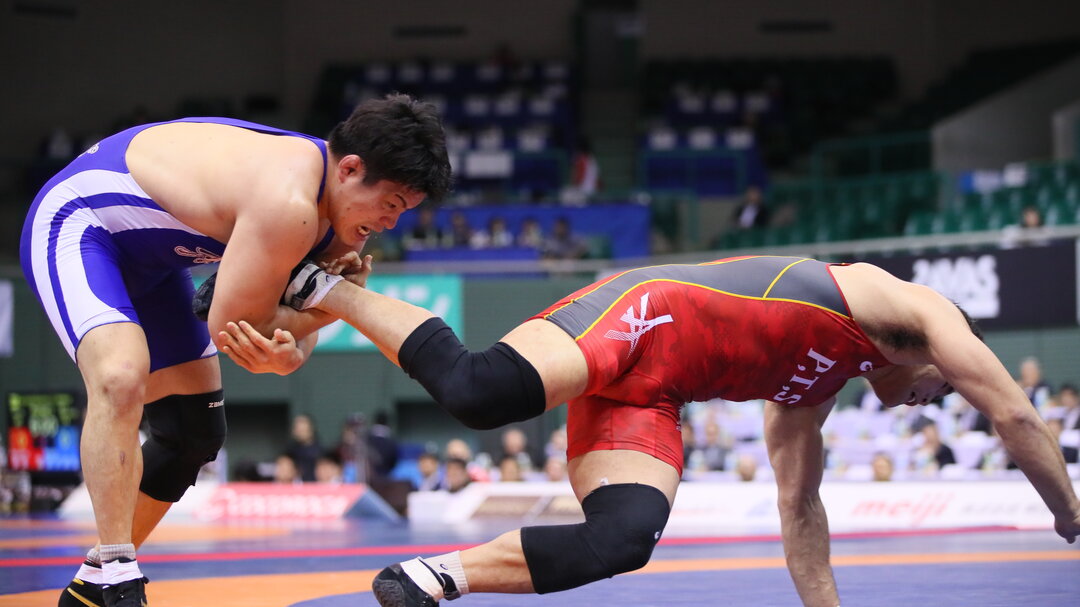 Naoya AKAGUMA won his first Emperor's Cup since 2016 with a 2-1 win over defending champion, Takeshi YAMAGUCHI. (Photo: Sachiko Hotaka)
Naoya AKAGUMA regained the freestyle 97kg title that he won in 2016, beating defending champion Takeshi YAMAGUCHI, 2-1, in the final. That also avenged a loss last July to Yamaguchi in the playoff for a spot on the team to the Budapest world championships. 
In Greco action, world U23 champion Katsuaki Endo claimed his first title when he overcame a flubbed throw attempt early into the 63kg final, and went on to defeat Yoshiki YAMADA by 10-0 technical fall in 2:28.
The 21-year-old Endo finished off his fourth straight technical fall, all without surrendering a point, with a nifty 5-point throw. 
At 72kg, Tomohiro INOUE scored with a 4-point arm throw right off the bat in final against Takuya TOMIZUKA, and that's how it ended as he claimed his second straight title and fourth overall.
Asian silver medalist Masato SUMI won his second straight title at 87kg, edging JSDF Physical Training School teammate Takahiro TSURUDA 2-1 in a final in which all points came for passivity.  
The scene was virtually repeated in the next match, when Yuta NARA made it three in a row at 97kg with a 2-1 over rival Masaaki SHIKIYA, with passivity points accounting for all of the scoring. The result was a repeat of the 2017 final.
Arata SONODA maintained his grip on the heaviest division, extending his streak to five straight titles at 130kg with a 9-0 technical fall victory in 2:01 over Ryuta KONO.
With the grand exodus of wrestlers to the Olympic weight divisions, a number of women's weight classes have just four or five wrestlers and are using a round-robin system.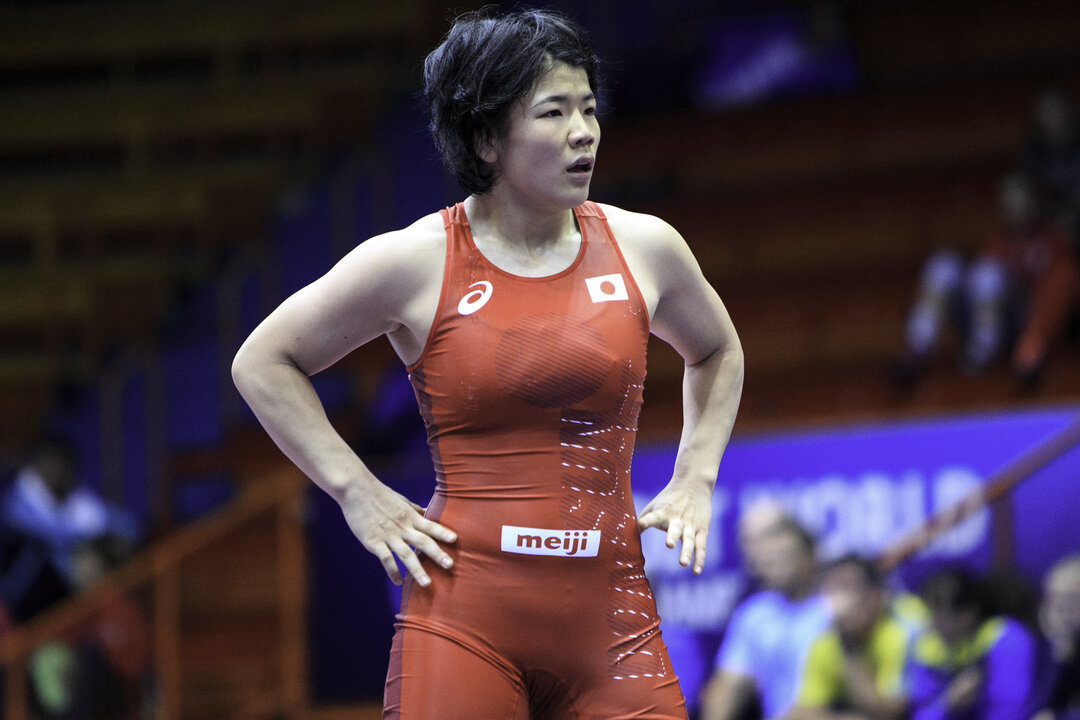 UWW's Cadet Wrestler of the Year Yuka KAGAMI won the 72kg gold medal with a 3-0 record. (Photo: Max Rose-Fyne.)
Three of the divisions crowned new champions, with UWW Cadet Wrestler of the Year Yuka KAGAMI taking the 72kg gold. The other winners were Nao TANIYAMA (55kg), who defeated world U23 champion Saki IGARASHI on Thursday, and Yuzuka INAGAKI (59kg).
In weight classes that went through preliminary rounds and semifinals Friday, Budapest 2018 bronze medalist Yuki TAKAHASHI advanced to the freestyle 57kg final, where he will face Kaiki YAMAGUCHI.
The 57kg final had expected to be a clash between defending national champions, as Kazuya KOYANAGI, the 2017 titlist at 61kg, dropped down to the Olympic division. But the 19-year-old Yamaguchi spoiled Koyanagi's dreams, beating him 7-4 in the semifinals.
Takahashi, the 2017 world champion, is not taking his young opponent lightly. "Last year I faced him in the semifinals while he was still in high school and I beat him 4-0," Takahashi said. "Continuing on that, no matter how the match goes, I want to win."
Takahashi also needs to contend with the new format for this year's tournament, which follows new UWW standards.
"Tomorrow is an early weigh-in, then the final is at night," Takahashi said. "So I have to deal with how to spend the time and how to recover [from today]."
Yuhi  FUJINAMI, a 2017 world bronze medalist, advanced the final at 74kg with three consecutive technical falls. In the final, he will take on Ken HOSAKA, the opponent he defeated by 14-2 technical fall in the world team playoff last July.
Day 2 Results
Freestyle
57kg (19 entries)
Semifinals
Yuki TAKAHASHI df. Kotaro KIYOOKA, 7-0
Kaiki YAMAGUCHI df. Kazuya KOYANAGI, 7-4
61kg (18 entries)
Semifinals
Shingo ARIMOTO df. Joji NAGATA, 8-3
Yudai FUJITA df. Takumi YOSHIMURA, 3-2
74kg (19 entries)
Semifinals
Yuhi FUJINAMI df. Mao OKUI by TF, 15-2, 4:45
Ken HOSAKA df. Yuto MIWA, 6-1 
86kg (15 entries)
Final: Sosuke TAKATANI df. Shota SHIRAI by Fall, 2:43 (6-0)
3rdPlace: Hayato ISHIGURO df. Taisei MATSUYUKI, 7-4
3rdPlace: Masao MATSUSAKA df. Tatsuya SHIRAI by TF, 10-0, 4:00 
97kg (12 entries)
Final: Naoya AKAGUMA df. Takeshi YAMAGUCHI, 2-1 
3rdPlace: Yuji FUKUI df. Yusuke YOSHIKAWA by TF, 11-1
3rdPlace: Koki YAMAMOTO df. Takashi ISHIGURO, 3-0 
125kg (14 entries)
Final: Nobuyoshi ARAKIDA df. Katsutoshi KANAZAWA, 2-1 
3rdPlace: Tetsuya TANAKA df. Yasuhiro YAMAMOTO, 6-0 
3rdPlace: Reona AKAGI df. Takuya HIGUCHI, 6-3 
Greco-Roman

63kg (18 entries)
Final: Katsuaki ENDO df. Yoshiki YAMADA by TF, 10-0, 2:28
3rdPlace: Ryota KOSHIBA df. Kizuku YOSHIZUMI by TF, 9-0, 1:51
3rdPlace: Shintaro YOSHINAGA df. Ichito TOKUHIGA, 2-2 
67kg (21 entries)
Semifinals
Tsuchika SHIMOYAMADA df. Takahiro YAMAMOTO by TF, 10-2, 3:32
Shogo TAKAHASHI df. Yuji UEGAKI by TF, 8-0, 2:57
72kg (16 entries)
Final: Tomohiro INOUE df. Takuya TOMIZUKA, 4-0
3rdPlace: Nao KUSAKA df. Haruka OGA by Fall, 2:09 (4-0)
3rdPlace: Masaki KONDO df. Ryoma HOJO by Fall, 3:40 (9-4) 
77kg (16 entries)
Semifinals
Kodai SAKURABA df. Shohei YABIKU, 5-3 
Naotsugu SHOJI df. Yuya MAETA, 8-5
87kg (13 entries)
Final: Masato SUMI df. Takahiro TSURUDA, 2-1 
3rdPlace: Kanta SHIOKAWA df. Shuhei SAKANO by TF, 9-0, 1:47
3rdPlace: Taichi OKA df. Ryota NASUKAWA, 4-0 
97kg (15 entries)
Final: Yuta NARA df. Masaaki SHIKIYA, 2-1
3rdPlace: Yuri NAKAZATO df. Masayuki AMANO, 2-1
3rdPlace: Takuya YAMASHITA df. Ryosuke ISHII by TF, 9-0, 1:56
130kg (13 entries)
Final: Arata SONODA df. Ryuta KONO by TF, 9-0, 2:01
3rdPlace: Shoma SUZUKI df. Masashi SUGANO, 2-1
3rdPlace: Keita BANCHI df. Satoshi KAIZUKA, 2-2
Women's Wrestling
55kg (4 entries)
Round-Robin (Final Standings)
1. Nao TANIYAMA (3-0, 9 pts)
2. Saki IGARASHI (2-1, 11)
3. Sena NAGAMOTO (1-2, 3)
Key Match: Taniyama df. Igarashi, 7-2 in 1stround
59kg (4 entries)
Round-Robin (Final Standings)1. Yuzuka INAGAKI (3-0, 11 pts)
2. Kumi IRIE (2-1, 9)
3. Kiwa IWASAWA (1-2, 3)
Key Match: Inagaki df. Irie, 8-5 in 2ndround
62kg (11 entries)
Final: Yukako KAWAI df. Yuzuru KUMANO, 3-0
3rdPlace: Miyu IMAI df. Miwa MORIKAWA, 2-2
3rdPlace: Yurika ITO df. Miru KUZUYA by TF, 10-0, :40 
65kg (4 entries)
Round-Robin (through 2 matches)
1. Naomi RUIKE (2-0, 8 pts); 2. Miki KAWAUCHI (1-1, 3); 3. Misuzu ENOMOTO (1-1, 3); 4. Saki KAWAUCHI (0-2, 1)
72kg (4 entries)
Round-Robin (Final Standings)
1. Yuka KAGAMI (3-0, 9 pts)
2. Naruha MATSUYUKI (2-1, 7)
3. Mei SHINDO (1-2, 5)
Key Match: Kagami df. Matsuyuki, 2-1 in 2ndround
76kg (5 entries)
Round-Robin (through 3 matches)
1. Hiroe MINAGAWA (2-0, 10 pts); 2. Masako FURUICHI (2-1, 8 pts); 3. Yasuha MATSUYUKI (2-0, 7); 4. Rino ABE (0-3, 1); 5. Miku SAITO (0-2, 0)