Sydney Olympic Medalist Nagata Fails to Turn the Clock Back Again at Japan Nationals
Thursday, December 19, 2019 - 17:10 By Ken Marantz
TOKYO (Dec. 19) — An Olympic silver medalist from yesteryear went out in the first round. A former world bronze medalist lost in the quarterfinals and promptly announced his retirement. And a current world silver medalist never even made it to the weigh-in. 
The All-Japan Championships in Tokyo had more downs than ups for the few featured wrestlers in action on the opening day.
Katsuhiko NAGATA, a silver medalist at the Sydney Olympics—for the young folks, that was in 2000—returned to the national stage again at 46, only to be defeated at Greco-Roman 72kg by a reigning collegiate champion less than half his age.
Nagata was unable to take advantage of the par terre position like his opponent, 21-year-old Minto MAEDA, who executed a lift and a roll in the first period and held out in the second to oust the veteran 5-1.
"He turned me on the ground, and I wasn't able to turn him," Nagata said. "That's what makes the difference between victory, and that's why I lost." 
While Nagata won six consecutive national titles from 1997 to 2002,  he left little mark on the global stage — with the notable exception of his stunning run to the final at Sydney 2000, ending with a loss to Filiberto ASCUY AGUILERA (CUB). 
The Cuban would win the world title the following year in Patras, Greece, where Nagata would place 13th. In six trips to the World Championships, Nagata never finished higher than 10th, and he retired after placing 16th at the Athens 2004 Olympics.
Nagata then spent five years as a pro fighter in mixed-martial arts, before opening his own wrestling school in the Metropolitan Tokyo suburb of Chofu. 
In 2015, he made a highly publicized and ultimately successful return to the mat at the All-Japan tournament, also known as the Emperor's Cup, capturing the Greco 71kg gold for his seventh national title and first in 13 years. 
Nagata, a father of five boys ranging in age from 7 months to 10 years, said he trains three times a week with various teams, including his alma mater, Nippon Sports Science University (Nittaidai). Why does he do it?
"I want to give them a view of me in an actual match," he said of his own sons and the kids in his club. 
Asked about coming back a second time in a pre-Olympic year, Nagata noted it might not just be a coincidence. "Maybe because it's the year before an Olympics, I get caught up in the excitement and it gets my juices flowing."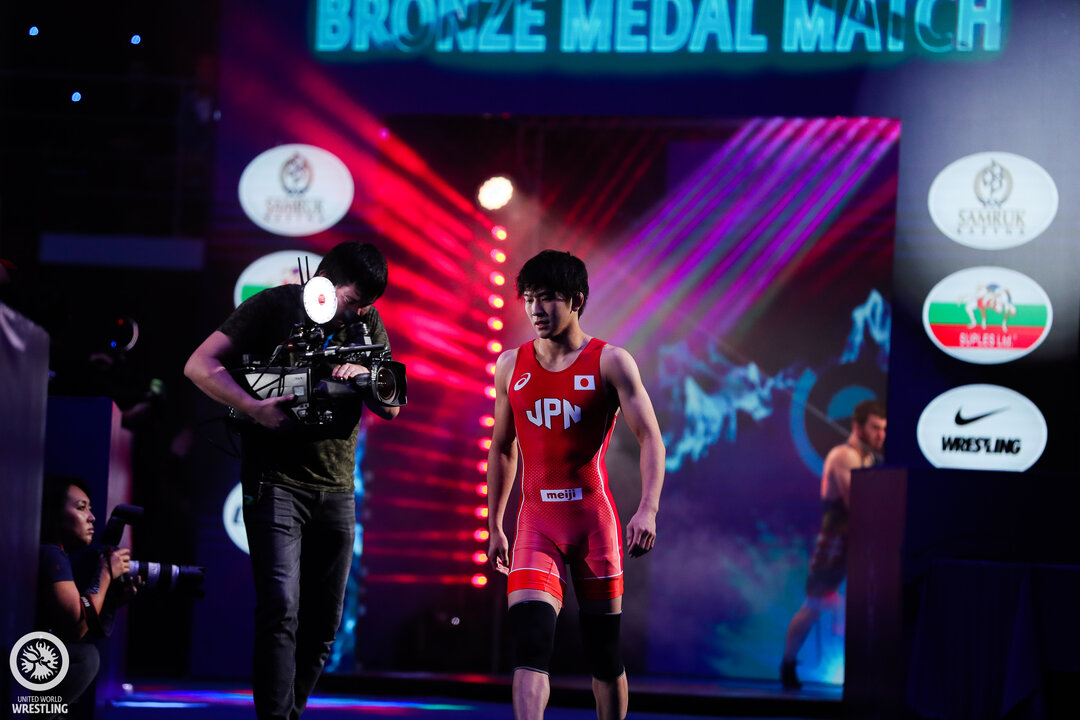 Takuto OTOGURO, a 2018 world champion, will be in action on Saturday at the All Japan Championships. (Photo: Kadir Caliskan)
There were only a few big names in action Thursday at Komazawa Olympic Park Gym, as the Japan federation has stacked the marquee weight classes on the weekend. 
That's when such stars as Sara DOSHO and Takuto OTOGURO attempt to clinch places at the Tokyo 2020 Olympics, and others like Yui SUSAKI, Yuki TAKAHASHI and Shinobu OTA try to earn tickets to the Asian Olympic qualifying tournament in March. 
At the World Championships in Nur-Sultan, a medal in an Olympic weight class by a Japanese wrestler meant an automatic berth at Tokyo 2020. Five wrestlers achieved that goal—Mayu MUKAIDA (53kg), Risako KAWAI (57kg), Yukako KAWAI (62kg) and Hiroe MINAGAWA (76kg) for the women, and Kenichiro FUMITA (60kg) in Greco-Roman.
On Thursday, competition proceeded through the semifinals in three Olympic weight classes, with a chance to go to the Asian qualifier going to the winners of Friday's finals.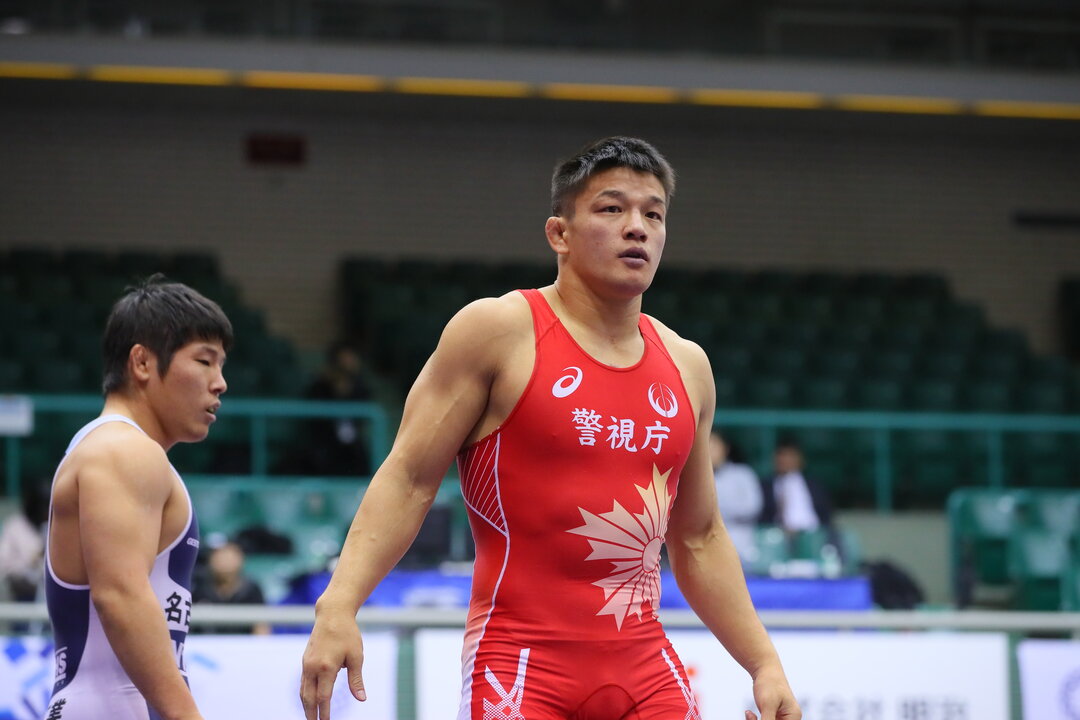 Atsushi MATSUMOTO (JPN), a 2018 world bronze medalist, was upset in the quarterfinals. In his post-match interview, Matsumoto announced his retirement, saying, "I think this is the end." (Photo: Sachiko Hotaka)
One wrestler who won't be heading to Xi'an, China, is Atsushi MATSUMOTO, a 2018 world bronze medalist at 92kg. Having moved up to 97kg, his bid to compete at Tokyo 2020 ended with a 2-2 loss to Takeshi YAMAGUCHI in the quarterfinals. That appears to be the last match of his career, which also included a short stint in Greco.
"I think this is the end," said Matsumoto, a member of the Metropolitan Police Department. "From now, I will try to contribute to Japan as a police officer."
Yamaguchi will face Naoya AKAGUMA in the final in a rematch of their world team wrestle-off last summer, which Akaguma won, but his first-round loss in Nur-Sultan reopened the door to the Olympic qualifying process for everyone else. The two have combined to win the past seven national titles. 
Yuta NARA (JPN) will take on Yuri NAKAZATO (JPN) in the 97kg Greco-Roman finals. (Photo: Sachio Hotaka)
Two other world team members, Nobuyoshi ARAKIDA at freestyle 125kg and Yuta NARA at Greco 97kg made their respective finals to stay on the potential track to the Olympics.
At the non-Olympic Greco 55kg, Shota OGAWA, who put on an impressive run to the silver medal in Nur-Sultan, struggled with his weight and did not show up for the early morning weigh-in.
A source close to Ogawa, who would have been aiming for his inaugural Emperor's Cup title, said his condition had deteriorated so much he had to visit a hospital for an intravenous solution. 
That opens the way for Asian silver medalist Hiromu KATAGIRI to defend his title after storming into the final with two technical falls and a fall. In his path to the gold stands high schooler Yu SHIOTANI, who is coached by Shota TANOKURA, who won the last of his three national titles at the lowest weight in 2017. 
The 55kg division had another intriguing twist. As ancient as Nagata might seem, he is not even the oldest competitor entered in the tournament. As fate would have it, the two oldest wrestlers in the history of the Emperor's Cup both qualified this year at Greco 55kg.
Tomohiro KAWAGUCHI, at 49 years 10 months, earned the honor of being the oldest ever (based on available resources), edging Kyosuke ASAKAWA, who turned 48—which would have been the record—11 days ago. Kawaguchi lost his opening match by technical fall, while Asakawa won a preliminary round match before losing in the first round, also by technical fall.
The previous record for most elderly competitor was held by Hidemitsu YUGAWA, a former national runner-up who was 47 years 9 months when he competed at freestyle 96kg in 2009. 
There was one surprise among the four women's weight classes, when high schooler Tsugumi SAKURAI notched a 4-2 victory at 55kg over former world junior and U-23 champion Saki IGARASHI.
Sakurai will face Kana HIGASHIKAWA, Igarashi's teammate at Shigakkan University, in the final.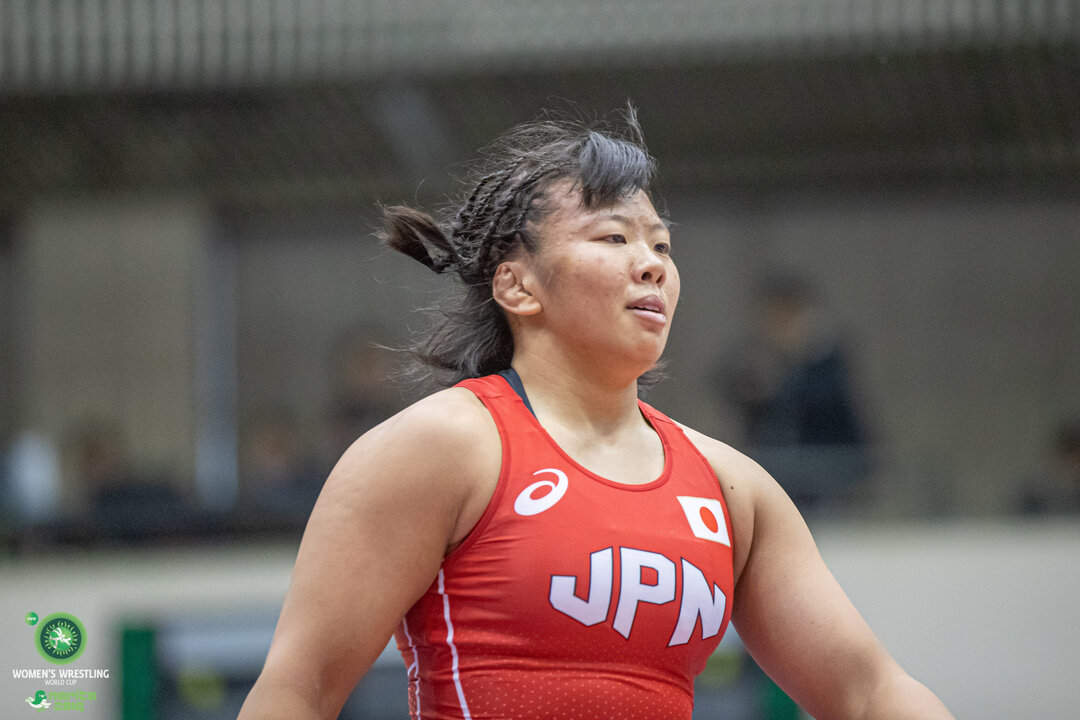 High schooler Yuzuka INAGAKI (JPN) will wrestle Sara NATAMI in the 62kg Nordic group finals. (Photo: Sachiko Hotaka).
At 59kg, rising star Yuzuka INAGAKI, the world junior and U-23 champion this year at 62kg, moved one win away from a second straight senior national title.
Competing in a Nordic group format as there are only six entries, the high schooler won two group matches and her semifinal without surrendering a point, setting up a rematch in the final with Sara NATAMI, whom she beat 5-0 in the group stage.   
Defending champion and Asian silver medalist Naomi RUIKE advanced to the final at 65kg, which also used the Nordic group for its seven entries. She also went unscored upon in two matches, before beating Miki KAWAUCHI by 11-0 technical fall in the semifinals.
By the luck of the draw, Kawauchi was placed in the same group with younger sister Saki, who is two years her junior. Facing each other in their opening matches, Miki played the standard role of older sibling and showed little mercy in coming out on top with a 12-4 victory. 
"She's my younger sister, and more than anyone I don't want to lose to her," Miki said. "She's my top rival. I went in determined not to lose."
Miki explained why the Osaka Prefecture natives, who are teammates at Nittaidai, entered the same weight class in the first place. "This is my last tournament," Miki revealed, "and I thought it would be good if we could wrestle each other, so we entered the same weight class."
Day 1 Results
Freestyle
61kg (19 entries)
Semifinals
Ryuto SAKAKI df. Kodai OGAWA, 3-1 
Keita SHIMIZU df. Ryutaro HAYAMA, 3-2
70kg (16 entries)
Semifinals
Hikaru TAKADA df. Tsuyoshi NAKAMURA by TF, 13-3, 3:35
Shin HARAGUCHI df. Shinnosuke SUWAMA, 3-0
97kg (14 entries)
Semifinals
Naoya AKAGUMA df. Keiwan YOSHIDA, 7-1
Takeshi YAMAGUCHI df. Takashi ISHIGURO, 6-5
125kg (14 entries)
Semifinals
Nobuyoshi ARAKIDA df. Yasuhiro YAMAMOTO by TF, 11-0, 4:06
Tetsuya TANAKA df. Taiki YAMAMOTO, 3-1
Greco-Roman
55kg (23 entries)
Semifinals
Yu SHIOTANI df. Kagetora OKAMOTO, 7-3 
Hiromu KATAGIRI df. Hirokazu ONO by TF, 8-0, :39 
60kg (12 entries)
Semifinals
Kosei TAKESHITA df. Kaito INABA, 4-0 
Ayata SUZUKI df. Maito KAWANA, 10-3
72kg (22 entries)
Semifinals
Nao KUSAKA df. Minto MAEDA, 3-2
Takuya TOMIZUKA df. Takahiro YAMAMOTO, 6-6 
82kg (15 entries)
Semifinals
Satoki MUKAI df. Yuto MATSUZAKI by TF, 9-0, 2:33
Yoji KAWAMURA df. Shoma YAMASAKI, 5-1
97kg (14 entries)
Semifinals
Yuta NARA df. Masayuki AMANO, 3-0
Yuri NAKAZATO df. Masaaki SHIKIYA, 6-5
Women's Wrestling

55kg (10 entries)
Semifinals
Tsugumi SAKURAI df. Tomoha UCHIJO by TF, 13-1, 5:57
Kana HIGASHIKAWA df. Hikari HIGUCHI, 6-4
59kg (6 entries)
Semifinals
Sara NATAMI df. Ayami SUGIMOTO by TF, 10-0, 3:44 
Yuzuka INAGAKI df. Yumi KON by TF, 10-0, 2:00
65kg (7 entries)
Miyu IMAI df. Rin TERAMOTO, 6-0
Naomi RUIKE df. Miki KAWAUCHI by TF, 11-0, 5:57
76kg (5 entries)
Round-Robin
(Standings after 3 rounds)
1. Yasuha MATSUYUKI (2-0), 2. Rino ABE (2-0), 3. Mizuki NAGASHIMA (1-1), 4. Miku SAITO (1-2), 5. Yune KOMATSU (0-3).