Russia Sweeps Greco Gold Medals on Final Day of World Championships
Sunday, October 28, 2018 - 16:58 By Andrew Hipps
BUDAPEST, Hungary (October 28) -- Russia put the finishing touches on a world team title in Greco-Roman by sweeping the gold medals on the final day of the World Championships in Budapest, Hungary. 
Aleksandr CHEKHIRKIN (77kg), Musa EVLOEV (97kg) and Sergey SEMENOV (130kg) came through to win gold medals in Greco-Roman for Russia on Sunday.
Russia finished with 178 team points in Greco-Roman, 89 points ahead of runner-up Hungary (89). Turkey finished third in the team standings with 75 points.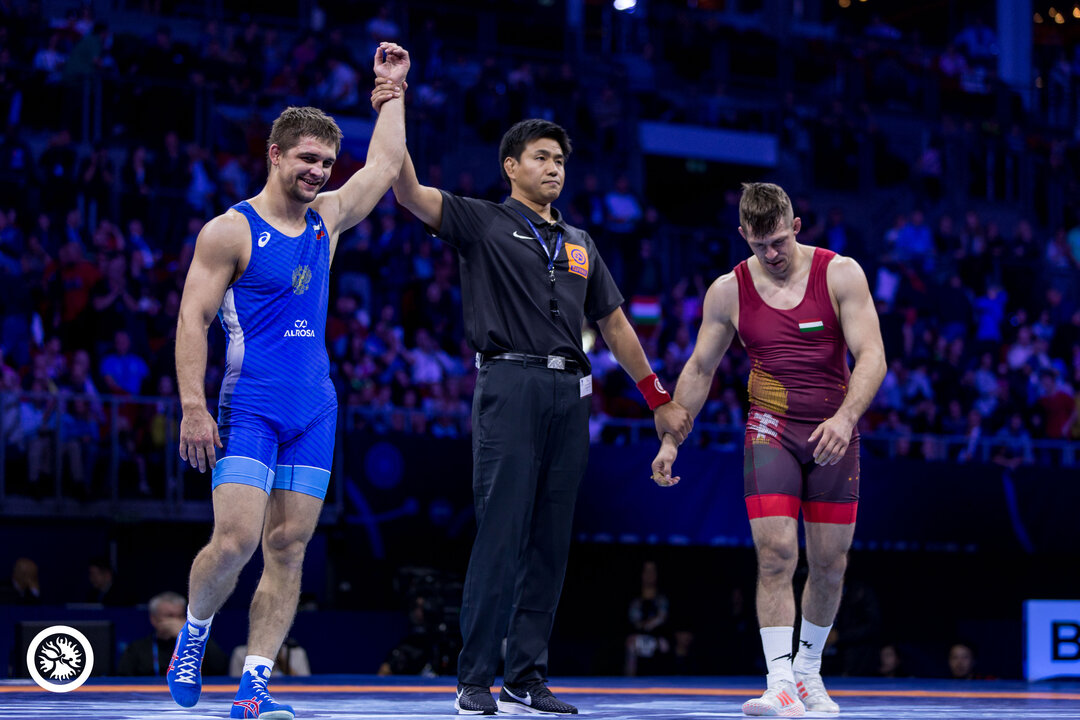 Chekhirkin captured his gold medal by defeating crowd favorite Tamas LORINCZ (HUN) 3-1 in the gold-medal match at 77kg. The Russian led 1-1 on criteria after the opening period and added to his lead in the second period off a passivity and then scored a late step out to win by two. 
Evloev upgraded his world medal from silver to gold as he topped Kiril MILOV (BUL) 7-2 in the gold-medal match at 97kg. The Bulgarian scored the first point of the match off a passivity, but Evloev dominated the rest of the way. He came back with a takedown to lead 2-1 at the break. After extending his lead to 3-1, the 25-year-old Russian used a side lift to execute a four-point throw to extend his lead.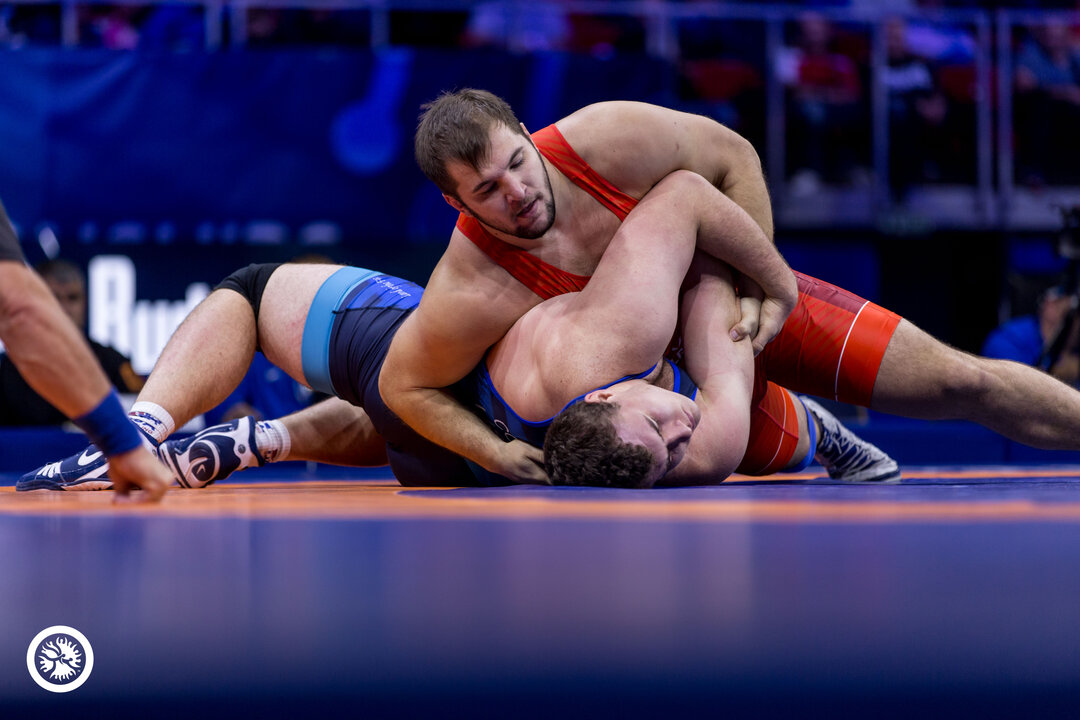 Semenov dominated Adam COON (USA) 9-0 in the gold-medal match at 130kg. The 23-year-old Russian heavyweight used two four-point throws to cruise to the technical fall victory. Semenov was a gold medalist at the U23 World Championships last year and won two world gold medals as a junior. 
The bronze medals at 77kg were won by world champions Hyeonwoo KIM (KOR) and Viktor NEMES (SRB)
Kim, a multiple-time Olympic medalist, picked up a 3-1 win over Bilan NALGIEV (UZB). The Korean scored a two-point throw in the first period, which proved to be the difference in the match. 
Nemes won his second straight world medal by defeating Alex KESSIDIS (SWE) 6-2 for bronze. The Serb held a 2-2 criteria lead after the opening period and tacked on four more points in the second period.
In the first bronze-medal match at 97kg, Mihail KAJALA (SRB) won his first world medal and denied Balazs KISS (HUN) a fourth world medal. Kiss seemed to be in control early after scoring off a passivity and adding a takedown to grab a 3-0 lead at the break. But Kajala used a four-point arm throw to grab the lead midway through the second period and hung on to win on criteria, 4-4. 
Mahdi ALIYARIFEIZABADI (IRI) won the other 97kg bronze medal by forfeit.
At 130kg, Oscar PINO HINDS (CUB) won his second straight world bronze medal with a 3-1 victory over Heiki NABI (EST). Pino Hinds scored his first point off a passivity. Nabi grabbed the lead in the second period after getting a passivity point of his own. But the Cuban would add another passivity point along with a point for a failed challenge to win by two. 
Minseok KIM (KOR), a past junior world bronze medalist, claimed his first senior world medal as he hung on to defeat Eduard POPP (GER) 2-1 in the second bronze-medal match at 130kg. Kim scored a two-point exposure in the first period, which was enough to get him the victory. 
Final Results
Greco-Roman
77kg
GOLD: Aleksandr CHEKHIRKIN (RUS) df. Tamas LORINCZ (HUN) by VPO1, 3-1
BRONZE: Viktor NEMES (SRB) df. Alex BJURBERG KESSIDIS (SWE) by VPO1, 6-2
BRONZE: Hyeonwoo KIM (KOR) df. Bilan NALGIEV (UZB) by VPO1, 3-1
97kg
GOLD: Musa EVLOEV (RUS) df. Kiril MILOV (BUL) by VPO1, 7-2
BRONZE: Mahdi ALIYARIFEIZABADI (IRI) df. Artur ALEKSANYAN (ARM) by VIN, 0-0
BRONZE: Mihail KAJALA (SRB) df. Balazs KISS (HUN) df. VPO1, 4-4
130kg
GOLD: Sergey SEMENOV (RUS) df. Adam COON (USA) by VSU, 9-0
BRONZE: Minseok KIM (KOR) df. Eduard POPP (GER) by VPO1, 2-1
BRONZE: Oscar PINO HINDS (CUB) df. Heiki NABI (EST) by VPO1, 3-1