Romania Sweeps Women's Division; Pakistan's Inam Repeats on the Beach
Sunday, October 7, 2018 - 21:39 By Marc Berman
SARIGERME, Turkey (October 7) --  The 2018 Beach Wrestling World Championships wrapped up Sunday in the coastal Turkish city of Sarigerme with wrestlers from Romania sweeping the women's division, and Pakistan's Muhammad INAM the lone wrestler to successfully defend his 2017 world title.
In all, 159 wrestlers from 17 nations took to the sand with a number of nations medaling in United World Wrestling's fastest growing style.
Stefania Claudia PRICEPUTU (ROU) set the standard for her Romanian teammates early, besting Sevil ALIOGLU (TUR) 3-0 in the 50kg division gold medal final. Priceputu had defeated teammate Maria Alexandra CIOCLEA (ROU) in the semifinal on her way to the finals.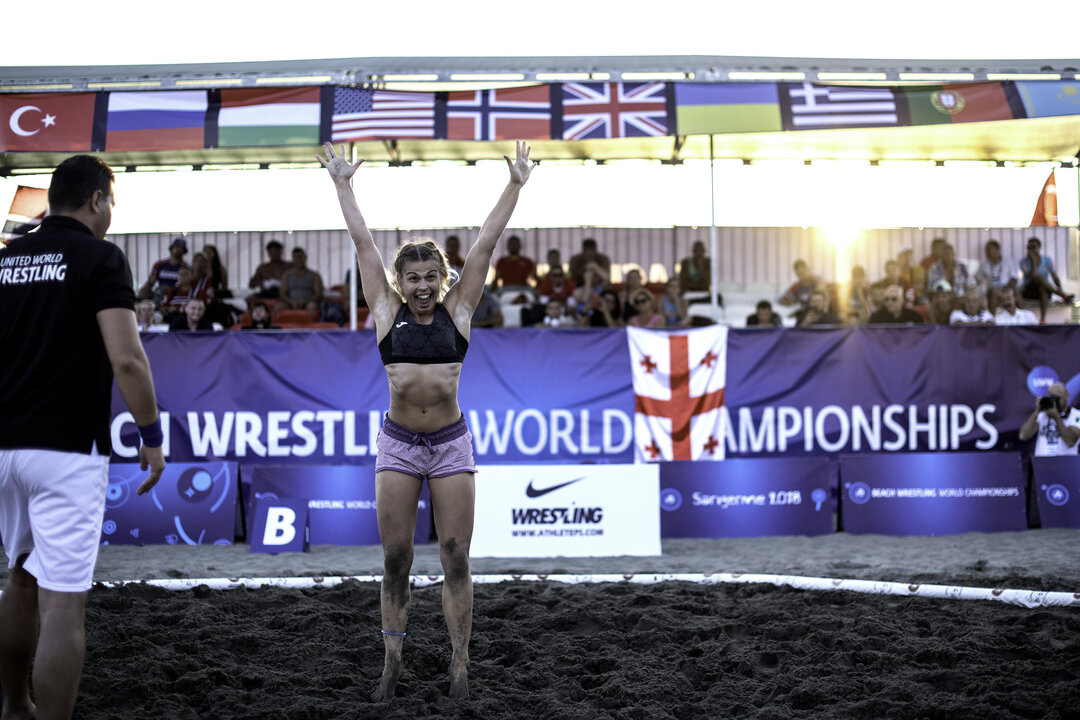 Kriszta Tunde INCZE (ROU)
In the 60kg finals it was Kriszta Tunde INCZE (ROU) stopping Francesca INDELICATO (ITA) to win Romania's second gold. Indelicato had been cruising past opponents all weekend, but it was Incze who found a last-minute takedown to earn her first world title and Romania's second-straight gold.
Adina Elena POPESCU (ROU) kept up Romania's winning ways upsetting returning champion Charlotte SKAUEN (NOR). Skauen found herself down 2-0 halfway through the match but was able to fight onto the board with a hard-won takedown. Despite Skauen's late flurry of activity Popescu found an opening, attacked and sealed her first world title, 3-1.
Catalina AXENTE completed Romania's sweep of the women's division defeating Aikaterini Eirini PITSIAVA (GRE) in the +70kg final, 2-1. With her victory, Romania became the first women's team to ever win all weight divisions at the Beach Wrestling World Championships.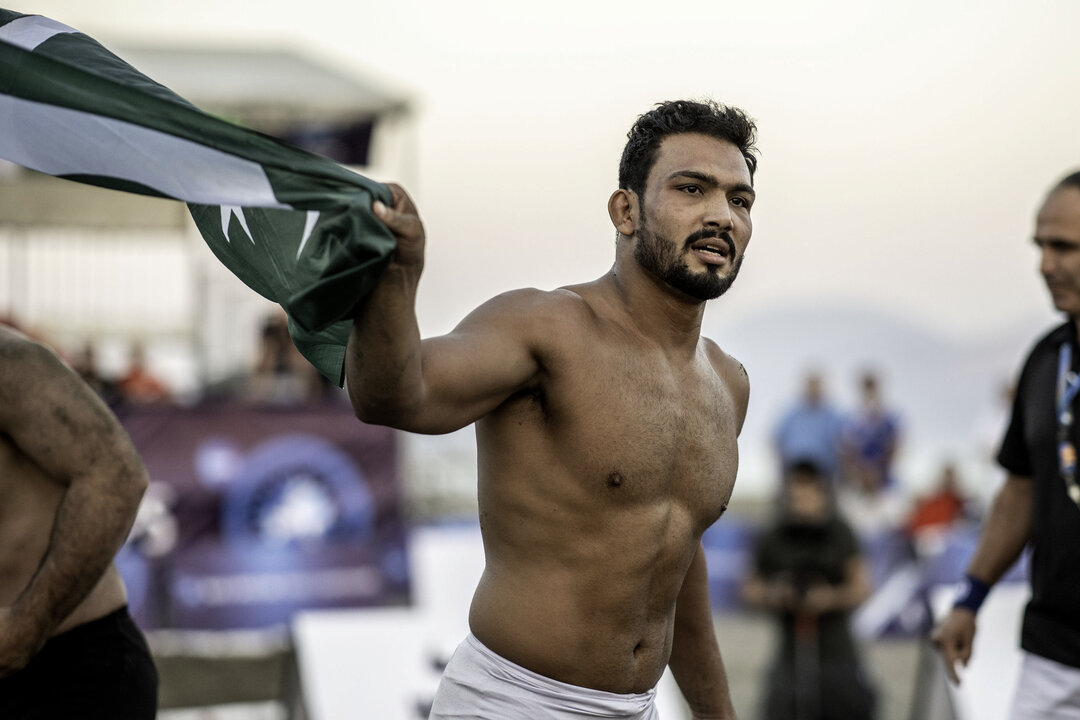 Muhammad Inam of Pakistan celebrates after defending his 90kg title against Irakli Mtsituri (not in photo) of Georgia during the second and final day of the UWW Beach Wrestling World Championships in Serigerme, Turkey on October 7, 2018 (Photo: Dean Treml)

Back on the men's side it was Pakistan's Inam who would inspire the local crowd on his way to making history. The young wrestler had already became the first from Pakistan to win a Beach Wrestling world title, but in besting Irakli MTSITURI (GEO), 3-1 he was also the first to repeat, and the first Pakistani wrestler to win any world title back-to-back.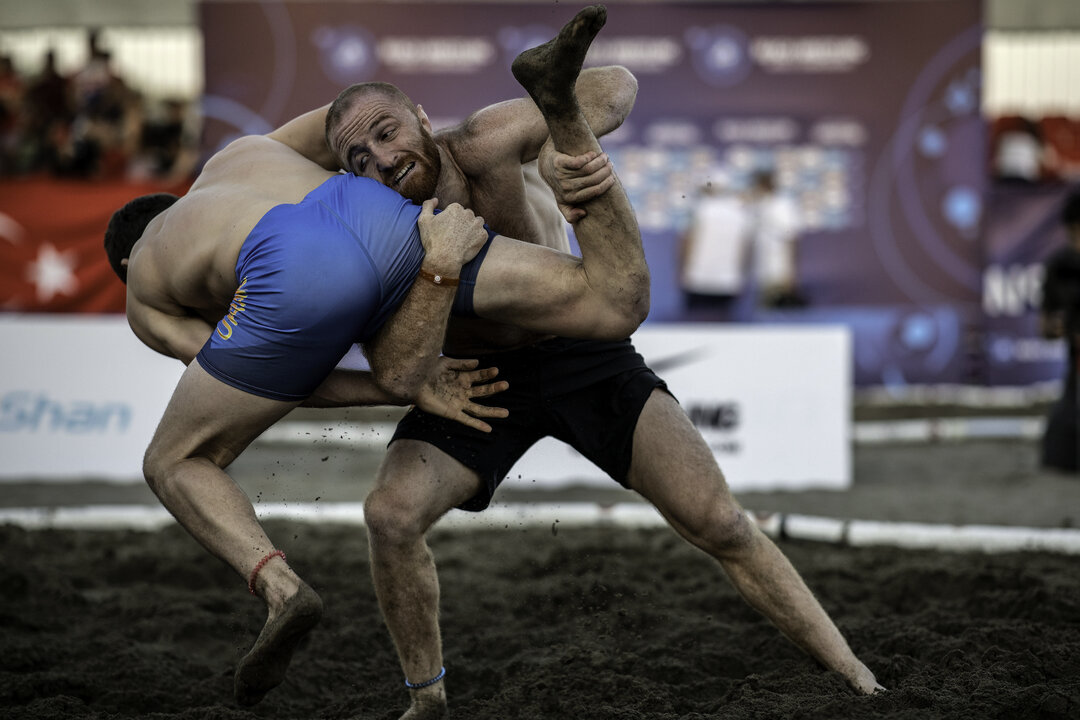 Konstantine KHABALASHVILI (GEO)

At +90kg Baki SAHIN (TUR) was Turkey's lone representative in the men's final and didn't let down the home crowd, upsetting former Olympian Rares Daniel CHINTOAN (ROU). Sahin was down early, but was able to score a late takedown for the win.
Georgia took the other two gold medals, winning the 70kg and 80kg titles. Konstantine KHABALASHVILI (GEO) defeated the returning champion Semen RADULOV (UKR) in the highly anticipated 70kg final. Khabalashvili, who is a medalist at the Europeans in freestyle wrestling, took down Mehmet Emin OGUT (TUR) in the semifinal before defeating Radulov in the finals match, 3-1.
Teammate Jakob MAKARASHVILI (GEO) defeated Vasyl MYKHAILOV (UKR) 2-0 to bring home a second gold medal for Georgia. Makarashvili represented Georgia at the 2016 Olympics and was dominant all weekend capping his weekend with a dominant 3-0 victory in the finals.
There were more than 300 matches competed at the Beach Wrestling World Championships, with 20 overall champions coming from the Cadets, Juniors and Senior divisions.
The 2018 Beach Wrestling World Championships also served as a qualifying event for the 2019 Beach Games, a quadrennial sporting event held next summer in California's San Diego, USA while Beach Wrestling will expand its offerings in 2019 with a tentatively approved global tour capped by an annual prize event.
 
Men's Beach Wrestling

70kg
GOLD: Konstantine KHABALASHVILI (GEO) df. Semen RADULOV (UKR), 3-1
BRONZE: Mehmet Emin OGUT (TUR) df. Gheorghe Constantin CONSTANTIN (ROU), 5-0

80kg
GOLD: Jakob MAKARASHVILI (GEO) df. Vasyl MYKHAILOV (UKR), 2-0
BRONZE: Jumber KVELASHVILI (GEO) df. Efe Sami UNAL (TUR), 3-1

90kg
GOLD: Muhammad INAM (PAK) df. Irakli MTSITURI (GEO), 3-1
BRONZE: Pedro Jacinto GARCIA PEREZ (ESP) df. Grigorios KRIARIDIS (GRE), 3-0

+90kg
GOLD: Baki SAHIN (TUR) df. Rares Daniel CHINTOAN (ROU), 5-1
BRONZE: Irfan METE (TUR) df. Niazi IMPIS (GRE), 3-0

Women's Beach Wrestling

50kg
GOLD: Catalina AXENTE (ROU) df. Aikaterini Eirini PITSIAVA (GRE), 2-1
BRONZE: Diana Elena VLASCEANU (ROU) df. Adina Ionela IRIMIA (ROU), 4-1

60kg
GOLD: Kriszta Tunde INCZE (ROU) df. Francesca INDELICATO (ITA), 4-0
BRONZE: Jeannie Agnes KESSLER (AUT) df. Camila FAMA TRISTAO (BRA), 0-0

70kg
GOLD: Adina Elena POPESCU (ROU) df. Charlotte SKAUEN (NOR), 3-1
BRONZE: Beatrice DUKOV OANCEA (ROU) df. Cesilie Hoeivik MAGNUSSEN (NOR), 3-1

+70kg
GOLD: Catalina AXENTE (ROU) df. Aikaterini Eirini PITSIAVA (GRE), 2-1
BRONZE: Diana Elena VLASCEANU (ROU) df. Adina Ionela IRIMIA (ROU), 4-1