Punia, Otoguro Set up Long-Awaited Rematch for 65kg Asian Gold
Saturday, February 22, 2020 - 10:47 By Ken Marantz
NEW DELHI (Feb. 22)---It took a few extra months, but the wrestling world will finally be treated to the greatly anticipated rematch between Bajrang PUNIA (IND) and Takuto OTOGURO (JPN). 
Punia and Otoguro will battle it out for the 65kg gold as host India put four wrestlers into the five finals to be held in the evening session at the Asian Championships on Saturday in New Delhi.
The clash between the two stars in the final at the 2018 World Championships in Budapest was named the UWW's match of the year, as Otoguro held on for a nail-biting 16-9 victory to become Japan's youngest-ever freestyle world champion.
A rematch at last year's World Championships in Nur-Sultan never came about, as Otoguro lost in the second round to eventual gold medalist Gadzhimurad RASHIDOV (RUS). Punia, who lost in the semifinals to silver medalist Daulet NIYAZBEKOV (KAZ), finished with a bronze medal, while Otoguro placed fifth to ensure that both will be at the upcoming Tokyo Olympics.
"I remember the 2018 final and all I want to is avenge that loss," Punia said. "All I'm thinking about is the final."
Iran will have two wrestlers in the finals, while Tajikistan, Uzbekistan and Kazakhstan join Japan with one each.  
Punia won all three of his matches in the afternoon session by technical fall, including a 10-0 win over Amirhossein MAGHSOUDI (IRI) in the semifinals. "It was a great start in the first session for me," he said.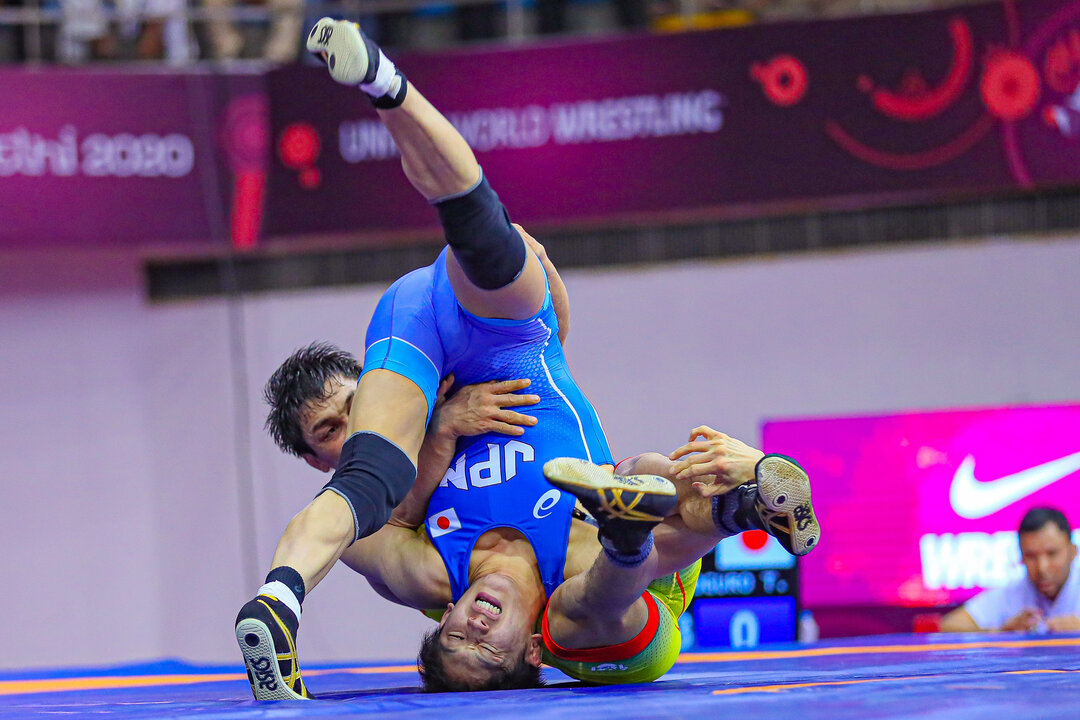 Takuto OTOGURO (JPN) will wrestle Bajrang PUNIA (IND) in a rematch of the 2018 world finals. (Photo: Kadir Caliskan)
Otoguro had one big hurdle to clear en route to final, as he faced Niyazbekov in the quarterfinals. After giving up a forceout to fall behind 3-2 early in the second period, Otoguro put on a takedown clinic and rolled to a 10-3 win over the 2018 Asian champion.
"He's also a strong opponent," Otoguro said. "It was a good spark to get me going."
In the semifinals, he backslammed Nyamdorj BATTULGA (MGL) for 4 points to finish up an 11-1 technical fall. 
"I wrestled very well and, as the lead up to the Tokyo Olympics, I'm able to use what I have been working on," Otoguro said. "I think the final will be a wide open affair, and I can't forget to stay strong-minded."
Also revving up the largest crowd of the tournament so far at K.D. Jadrav Wrestling Stadium was world bronze medalist Kumar RAVI (IND), who had to get past former world champion Yuki TAKAHASHI (JPN) and fellow world bronze medalist Nurislam SANAYEV (KAZ) to reach the 57kg final. 
"When I saw the draw I knew it would be difficult," Ravi said. "But I have faced both of them before, so I was confident of beating them. No new things, just did the same things to beat them. Because this tournament is in front of my home crowd, I want to win the gold and get ready for the Olympics."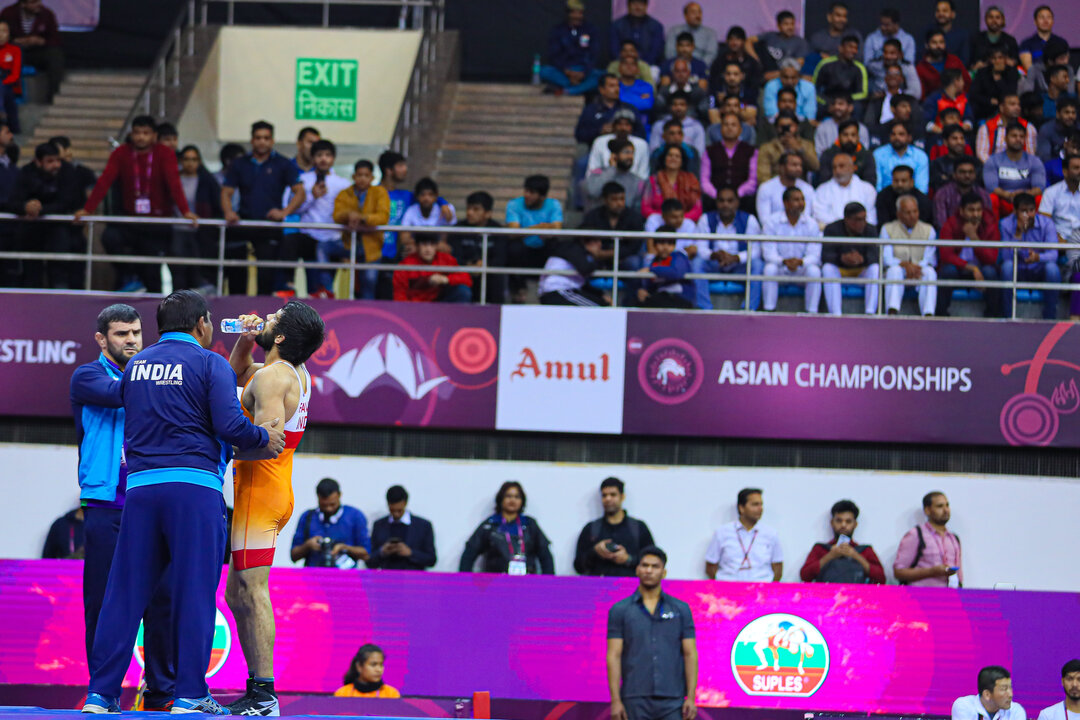 Kumar RAVI (IND) will square off against Hikmatullo VOHIDOV (TJK) in the 57kg finals. (Photo: Kadir Caliskan)
In one of the matches to start the session, Ravi spotted Takahashi a 4-0 lead before going on the attack and forging a 14-5 victory. That was a repeat of their quarterfinal clash in Nur-Sultan, which Ravi won 6-1.  
After pulling off another come-from-behind victory in the quarterfinals, securing a fall off a counter while trailing 3-2 against Tugs BATJARGAL (MGL), Ravi was in control the whole way in ousting Sanayev 7-2.
Ravi had beaten Sanayev 6-0 a month ago at 61kg at the Matteo Pellicone ranking series event in Rome. 
In the final, Ravi will face Hikmatullo VOHIDOV (TJK), who will attempt to become Tajikistan's second Asian gold medalist ever, joining Yusup ABDUSALAMOV (TJK), won the 74kg freeestyle title in 2003—also in New Delhi.
At 79kg, Baliyan GOURAV (IND) will face Arsalan BUDAZHAPOV (KGZ) in the final. Gourav advanced with a 6-5 win over Shinkichi OKUI (JPN), while Budazhapov slipped by Ali SAVADKOUHI (IRI) , 3-1.
The 97kg final will also be an India-Iran affair, with 2019 Asian bronze medalist Salywart KADIAN (IND) facing off against world U-23 champion and 2018 Asian silver medalist Mojtaba GOLEIJ (IRI). 
Kadian needed just 44 seconds to oust Rustam ISKANDARI (TJK) with a 10-0 technical fall, while Goleij chalked up a 12-2 technical fall over Magomed MUSAEV (KGZ).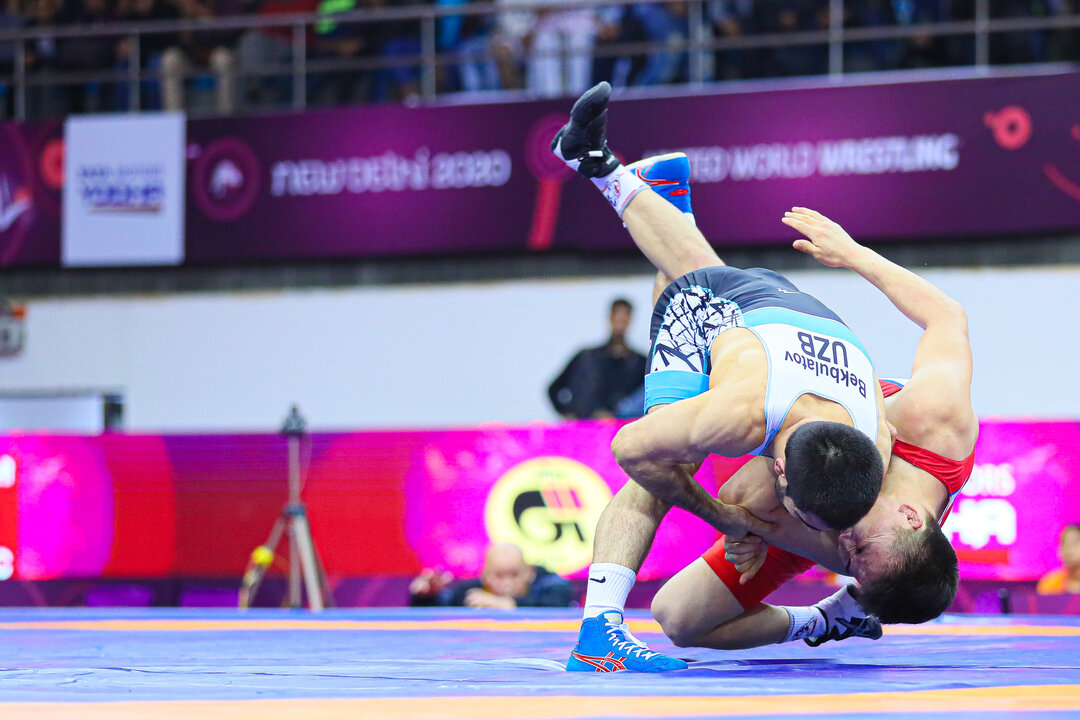 Ilyas BEKBULATOV (UZB) will take on Amirhossein HOSSEINI (IRI) in the 70kg finals for a shot at adding an Asian title to his resume. (Photo: Kadir Caliskan)
The only final missing an Indian is at 70kg, in which Ilyas BEKBULATOV (UZB) has already assured he will add an Asian medal to the European ones he captured while competing for Russia.
The 2018 European silver medalist advanced to the final when Temuulen ENKHTUYA (MGL) suffered a severe knee injury early in their semifinal, setting up a clash with Amirhossein HOSSEINI (IRI), a 3-2 winner over Naveen NAVEEN (IND). 
Day 4 Results
Freestyle
57kg (11 entries)
SEMIFINAL – Hikmatullo VOHIDOV (TJK) df. Sardor RUZIMOV (UZB), 3-2
SEMIFINAL – Kumar RAVI (IND) df. Nurislam SANAYEV (KAZ), 7-2
65kg (14 entries)
SEMIFINAL – Takuto OTOGURO (JPN) df. Nyamdorj BATTULGA (MGL) by TF, 11-1, 5:11
SEMIFINAL – Bajrang PUNIA (IND) df. Amirhossein MAGHSOUDI (IRI) by TF, 10-0, 4:19
70kg (9 entries)
SEMIFINAL – Amirhossein HOSSEINI (IRI) df. Naveen NAVEEN (IND), 3-2
SEMIFINAL – Ilyas BEKBULATOV (UZB) df. Temuulen ENKHTUYA (MGL) by Inj. Def., :35 (4-2)
79kg (8 entries) 
SEMIFINAL – Baliyan GOURAV (IND) df. Shinkichi OKUI (JPN), 6-5
SEMIFINAL – Arsalan BUDAZHAPOV (KGZ) df. Ali SAVADKOUHI (IRI), 3-1
97kg (11 entries)
SEMIFINAL – Salywart KADIAN (IND) df. Rustam ISKANDARI (TJK) by TF, 10-0, :44
SEMIFINAL – Mojtaba GOLEIJ (IRI) df Magomed MUSAEV (KGZ), by TF, 12-2, 4:58