Pakistan's Inam Reaches for Beach Wrestling Glory
Friday, March 27, 2020 - 15:39 By Vinay Siwach
Muhammad Inam had never been to the beach. His hometown of Gujranwala is a hamlet, landlocked enclave in the northeast corner of Pakistan. For Inam the ocean, the salty air, and the wave pounded sands of the beach were nothing more than fantasy.

That was until Inam was entered to compete in the 80+ kg beach wrestling category during the 2014 Asian Beach Games in Phuket, Thailand. There Inam tasted the salt air, but also defeat.

A star wrestler in Pakistan having won Commonwealth Games gold medal in 2010, Inam finished with a bronze medal in Phuket. For a man of his stature and ability, Inam thought, a bronze medal was an underachievement.

But it was also an opportunity.

Inam decided that in the coming beach games and championships he'd be more prepared than his opponents and decided to include beach wrestling in his daily mat training and lifting routines.

"The closest beach for us was 1,300 kilometres away in Karachi," Inam said. "Going there is not possible as I have an akhara [wrestling centre] here. Pakistan's wrestling lives Gujranwala."
 
Muhammad INAM (PAK) and friends pose together next to the sandpit they constructed with the sand from a nearby lake.
With the help of his teammates, Inam traveled to a nearby lake and extracted sand to bring back to his akhara. Once collected he constructed a small circular practice pit.

The idea of making a sand pit for wrestling struck when he returned from Phuket and failed to find a similar training area close-by.

"I brought the sand from ponds and lakes and then made a circular ring at my center," he said. "I practice here daily. It's not costly and the young kids enjoy playing on the sand. It does not hurting them so they like the environment."

"I cannot wrestle everyday so we have small activities like beach volleyball or beach football. But I am on that sand for two hours a day so I get that feeling. My muscles get used to it."

His participation in mud wrestling competitions also grew as he wanted to increase his stamina. In 2016, Inam traveled to Vietnam for the Asian Beach Games. He returned home with a gold medal in the 90kg after beating Mohammad Sadati of Iran in the final. Out of the five bouts in the tournament, he did not concede a single point while scoring 17 of his own.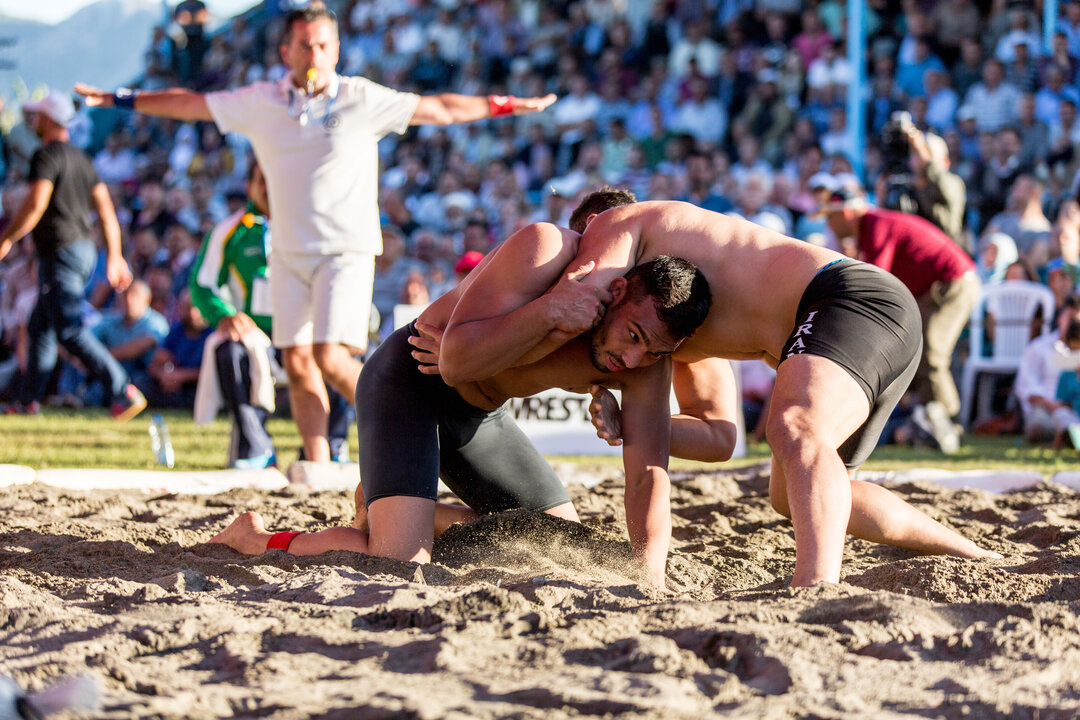 Muhammad INAM (PAK) edged Pejman Fazlollah TABAR NAGHRACHI (IRI) 2-1, and became Pakistan's first-ever wrestling world champion. (Photo: Max Rose-Fyne)
A year later, Inam became Pakistan's first-ever world champion in any form of wrestling. In Dalyan, Turkey, Inam captured the gold medal after beating Pejman Fazlollah TABAR NAGHRACHI (IRI) 2-1 in the final.

He returned to Turkey in 2018 to successfully defended his 90kg title by beating Irakli MTSITURI (GEO). In the two World Championships combined, Inam conceded only three points. His run in 2018 included four victories by fall including the final.

Hailed as the finest wrestler in Pakistan, Inam has kept his struggle going looking forward the newly minted 2019 Beach Wrestling World Series – a prize money event that touched on four location around the world. And after that a chance at the World Beach Games in Doha.

After making the pit at his wrestling centre, he practiced in that for two hours a day to adapt to the beach sand. This was not entirely new for him as he had been wrestling on mud since he was 10-years-old.

"Pakistan and India have mud wrestling and that is the base of this beach wrestling as well," he said. "My great grandfather wrestled, do did my grandfather and then my father. All of them were wrestlers in dangals so that is what helped me be good at beach wrestling."

Both the South Asian countries have traditional wrestling competitions on mud with a circular boundary, like in beach wrestling. In mud wrestling or dangals the winner is declared when one of the wrestler touches both shoulders of his opponents on the ground, a rule similar to beach.

With the easy rules and experience of competing in mud wrestling tournaments since he was a teenager, Inam knew that he has a bright chance of excelling in beach wrestling.

"I was always a mud wrestler. Pakistan had only five mats in the whole country," he said. "I would go around wrestling dangals and in 2014 I won the bronze medal at Asian Beach Games and I told myself that this is what I can be best at.

"It was a weird feeling as I was very comfortable on the sand. I had no problem find a grip in the sand because I had always practiced in mud."

Inam, a senior superintendent at the Gujranwala Electric Power Company, explains that his success on beach revolves around the fact that he decided to do what international wrestlers do on mat.
Muhammad INAM (PAK) and members of his team stand next to their makeshift sandpit. 
"It's like the side are flipped. Earlier, I used to practice for mat competitions for one month prior to competition," he said. "The Georgia, Iran and Russia wrestlers would be practicing on mat throughout the year. But now, I am practicing beach wrestling for 12 months while the mat wrestlers are practicing only a one month before the competition."

With that confidence, he wanted to win the gold medal at the World Ranking Series Final in Zagreb, Croatia this year but an unexpected problem denied him the opportunity.

"I could not get a visa to Croatia because Pakistan does not have that an embassy there," he said. "I have been dealing with such troubles for a long time."

Despite being held out of the last event for the Beach Wrestling World Series, Inam still had his sties placed on winning gold at the World Beach Games as he was the only Pakistani athlete to qualify for the Games and therefore felt more pressure to win.

Inam was drawn in a tough Group B that also had 2012 London Olympics bronze medalist Dato Marsagishvili (GEO), among wrestlers from Azerbaijan, Turkey and Portugal. He began the day with a quick win over Kanan ALIYEV (AZE).

Next up was Murat Ozkan of Turkey. Inam was tested more than his first bout the results was not different. A 1-0 win was enough to keep him on track to reach the knockout stages. But before that, Inam had a tough one to crack in the group itself.

Dato Marsagishvili (GEO), the winner of 2019 Beach Wrestling World Series Final and the only wrestler to beat Inam on beach in last two years, was up next.

Perhaps Inam was waiting for it. The bout saw a lot of action however no wrestler was able to break the deadlock for the first two minutes. It was only in the final minute that Marsagishvili was awarded a point as Inam was warned for an eye poke. Inam did not agree with the decision but had no option but to continue. In the dying seconds of the bout, Inam scored a go-behind to win the 1-1 and avenge his earlier loss.

Inam comfortably topped the group after beating Adao ANDRADE (POR) 3-0 and reached the semi-finals. Marsagishvili also made it to the last-four as a result of his second-place in the group.

As fate would have it, both wrestler won the semi-finals. Inam defeated Pedro GARCIA (ESP) 3-0 while Marsagishvili got the better of Mihai PALAGHIA (ROU) 4-0. The two were now set for a third bout inside five months. Marsagishvili had taken the first win 2-0 at the Beach Wrestling World Series stop in Rio de Janeiro in May. Inam won the bout in the group stages in Doha. The stage was set for the third bout of the rivalry in Doha with the gold medal at the inaguaral World Beach Games on line.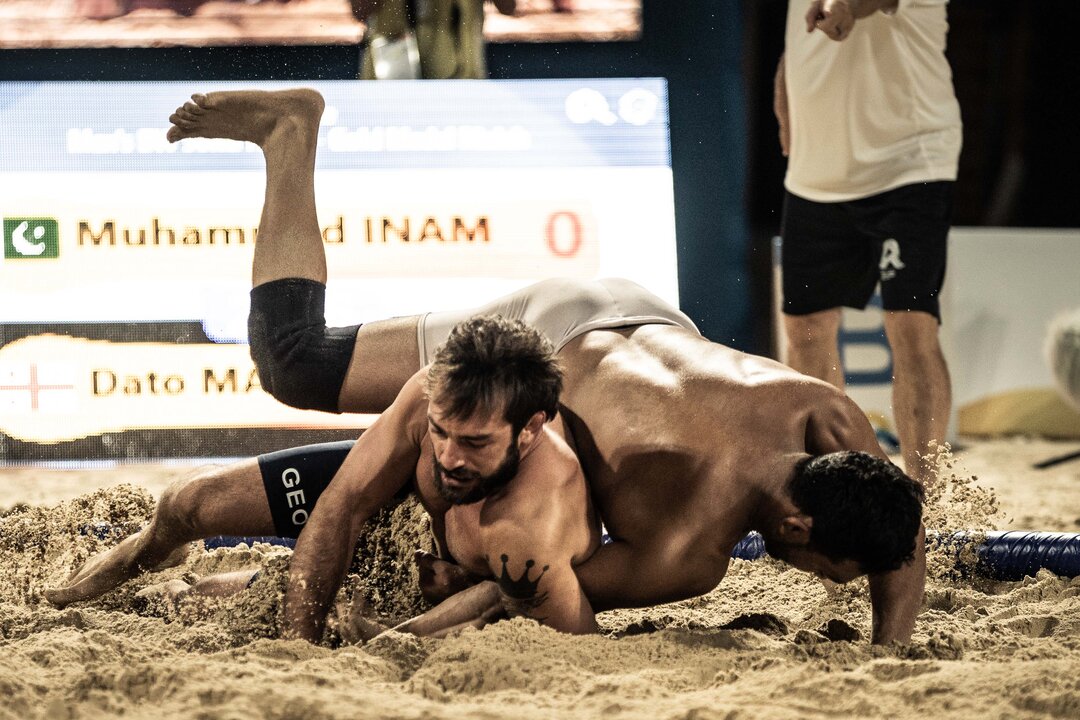 Muhammad INAM (PAK) downed London Olympic bronze medalist Dato Marsagishvili (GEO), 5-3, in the World Beach Games finals. (Photo: Theo Lowenstein)
Marsagashvili build a two-point lead with two single-point takedowns. Inam roared back with two of his own to lead 2-2 on criteria and knew he has to play the clock for the last 40 seconds to win the gold medal.

Marsagashvili wanted to avenge his loss to Inam earlier in the day. In a desperate move in the closing seconds of the bout, he tried to trip Inam for the win but it was the latter who managed to balance himself and exposed Marsagishvili's back. Inam was awarded three points and the top medal.

"I have wrestled him before and I knew what I lacked in that bout in Rio," Inam said. "I loved winning in Doha because everyone was shouting in the arena and I was wrestling for Pakistan. The bout was so tough and to win it after a comeback gave me more joy. I cannot explain the atmosphere that day."

Back home, he was given a hero's welcome. Everyone wanted a piece of Inam and he had interviews lined-up with channels for several days.

After a successful campaign in Doha, Inam is hoping that beach wrestling can be included in the Olympic program for 2024 Games in Paris. Though he will be 35-years-old by then, he wants to win a wrestling medal for Pakistan which last won an Olympic medal in the sport back in 1960 Games in Rome.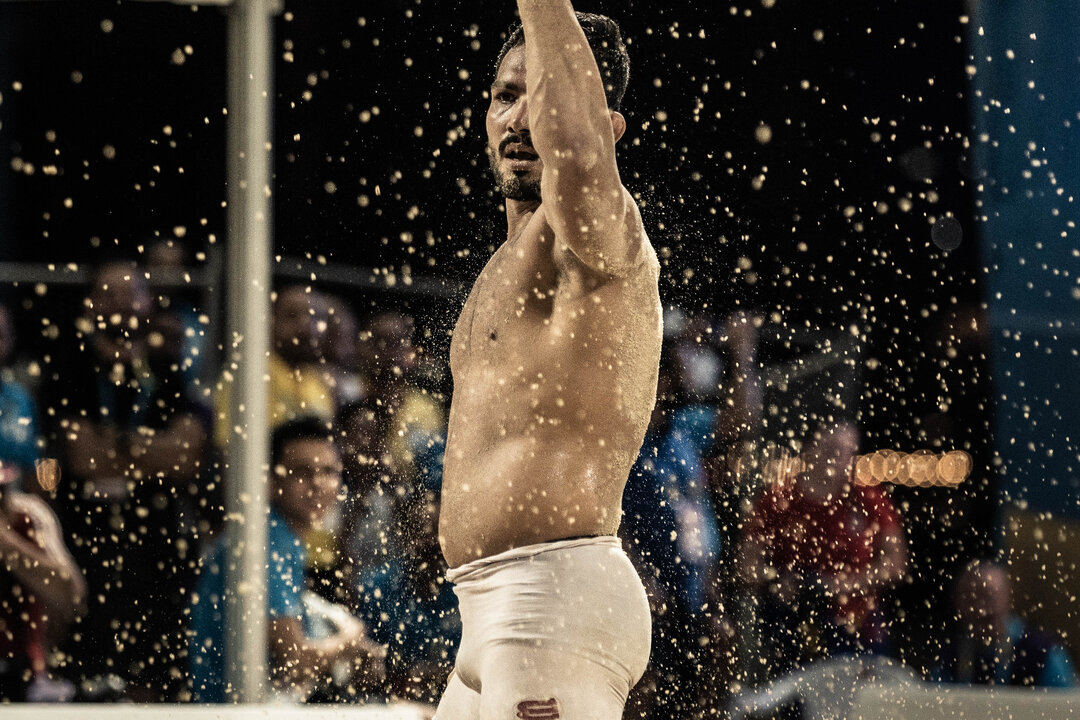 Muhammad INAM (PAK) celebrates after winning the World Beach Games gold medal. (Photo: Theo Lowenstein)
"Beach wrestling will keep growing as it's so easy for both wrestlers and crowd," he said. "It is viewer friendly and only three minutes long. The rules are you need to touch a wrestler's back on the ground to win. This rule in common in all dangals across Pakistan and India and most wrestling styles around the world. If not that then push out your opponent to win."

"Freestyle and Greco-Roman is different because there are typical rules. The aggressive wrestler is also going down on his back and people get confuse as to why he is being awarded points when he is down on his back."

Olympic glory would definitely bring more money and fame for Inam but he thinks it will help wrestling, which is currently 'neglected' in the country. Though the boys still practice at the few centers that are left in the countries, Inam thinks it unfortunate that Pakistan could not build a women's wrestling team.

Freestyle wrestling is yet to pick up in Pakistan while belt wrestling is seen as the more acceptable form of the sport. Inam, however, thinks that beach wrestling can pick up in Pakistan and women will also be able to take up the sport.

"Pakistan has women's teams of karate, judo, taekwondo and even cricket. So why not wrestling?" he asks. "Beach wrestling is amazing to remove these culture problems and oppression which are same for everyone.

"If they are allowed in other sports, then allow them in wrestling as well. For gender equality, it is the best way to start. I think girls should be free to think if they want to go into sports. World has changed and with that we have to change and allow girls in wrestling."