Otoguro Dominates in Rematch With Punia for 65kg Asian Gold
Saturday, February 22, 2020 - 18:34 By Ken Marantz
New Delhi (Feb. 22)—Former world champion Takuto OTOGURO (JPN) came out on top quite convincingly in the rematch on his rival's home soil. Whether he can repeat it back in his own country—when it would matter most---is a matter for another time.
Otoguro effectively used a low-single attack to grind out a 10-2 victory over Bajrang PUNIA (IND) in the freestyle 65kg final at the Asian Championships on Saturday night in New Delhi.
The victory in the highly anticipated rematch of the final at the 2018 World Championships, in which Otoguro rambled to with a wild 16-9 win, gives the young Japanese a confidence boost heading toward the Tokyo Olympics—particularly taking into consideration his disappointing fifth-place finish at last year's worlds in Nur-Sultan.
"Last year, I feel like I was only losing and I went through various experiences," Otoguro said. "From now, this is an Olympic year, and I feel I've gained some momentum. But I still have room to improve. How strong I can get from here, I'm also looking forward to finding out."
Punia, a bronze medalist in Nur-Sultan, was looking to defend the Asian title he won last year in Xi'an, China. But he had no answer for Otoguro's attacks and counters, as the Japanese put the match away with seven unanswered points in the second period.
Asked about his low-single approach, Otoguro replied, "When I shot for the low single, his leg was sweaty, so I went for his shoe so I wouldn't slip off."
Punia was not immediately available for comment, but his personal coach, Shako Bentinidis, said people should not read into the loss too much.
"I am happy with the silver medal today," Bentinidis said. "Sometimes it is possible for him to lose, but not at Olympics. I think this is no problem. Better to lose now before Olympics."
Bentinidis issued a warning to the Indian media, saying, "We must stay relaxed, and not so much 'Bajrang, Bajrang.'"
For the 21-year-old Otoguro, it was his first continental championship since winning the Asian cadet crown in 2014. He said that heading into the Tokyo Olympics, he is undecided if he will enter an overseas tournament, and is leaning toward attending a training camp abroad.
One thing he knows is that since winning the 2018 world title, which made him Japan's youngest-ever world freestyle champion, his rivals are looking for holes in his game to exploit. 
"Of course, I feel that others have been studying me," he said. "I really felt it over the last year. Since then, I have been making adjustments looking ahead to the Olympics."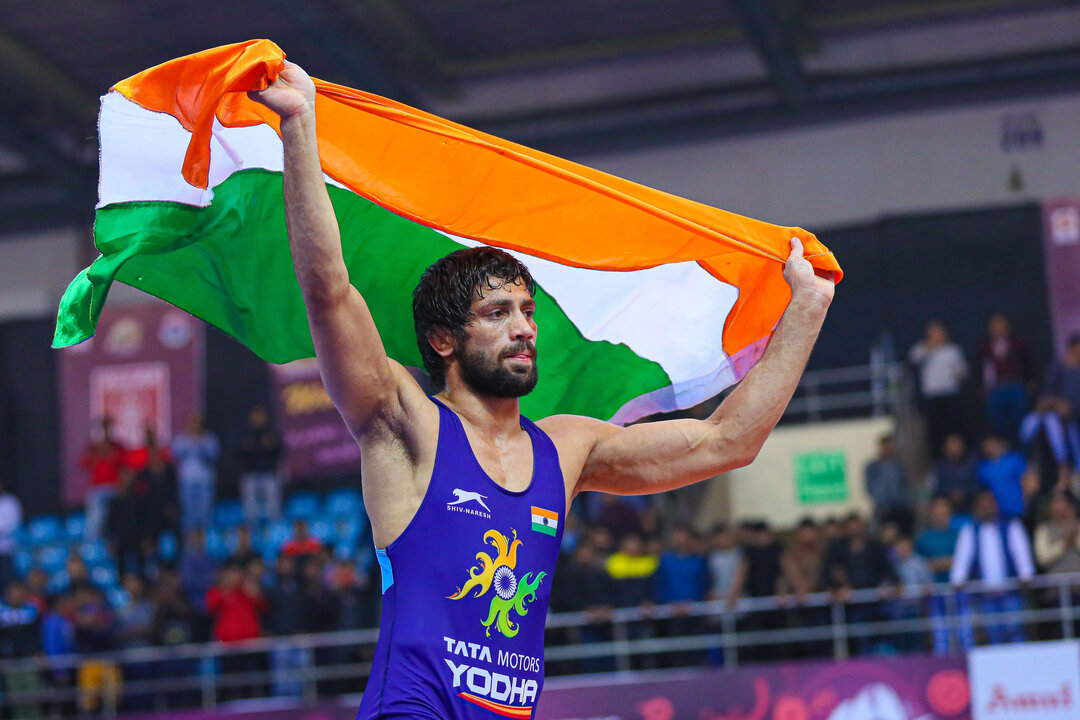 Kumar RAVI (IND) cruised to the 57kg title with a 10-0 win over Hikmatullo VOHIDOV (TJK) in the gold-medal match. (Photo: Kadir Caliskan)
Ravi rolls to 57kg gold before home crowd
Host India had three wrestlers in the five finals on the opening day of freestyle, and Kumar RAVI (IND) gave the home crowd a thrill with a one-sided win in the 57kg final that capped a day of dominance.
With the order of bouts reversed for the night session, Ravi concluded the festivities with a 10-0 technical fall over Hikmatullo VOHIDOV (TJK), who was aiming to become only Tajikistan's second Asian champion in history.
"I just thought I had to win the gold medal for India because it is my home country and I was wrestling in front of my family," said Ravi, a world bronze medalist in Nur-Sultan who captured his first senior Asian title. "It was a perfect day for me."
Ravi said he knows he has raised national hopes for his success at Tokyo 2020. "Because of this gold medal, there are more expectations on me from my country," he said. "Going into the Tokyo Olympics, the gold medal means a lot to me in my Olympic journey."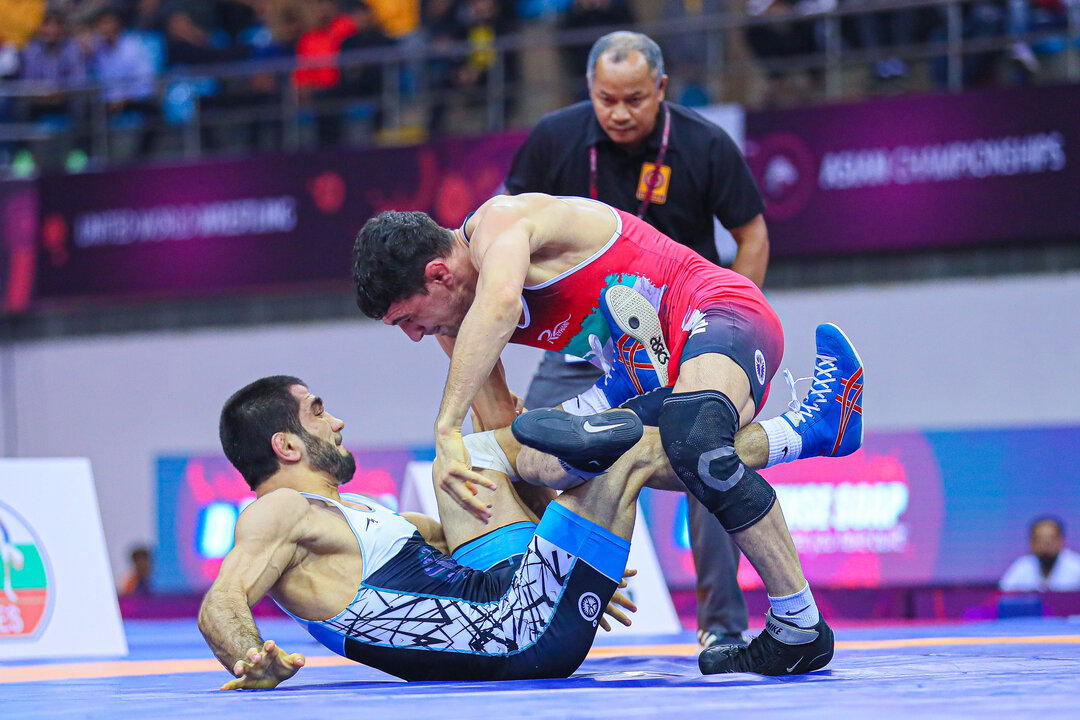 Ilyas BEKBULATOV (UZB) back-tripped Amirhossein HOSSEINI (IRI) for four points en route to 10-6 win in the 70kg finals. (Photo: Kadir Caliskan)
Russia ostensibly provided two champions when transplants Arsalan BUDAZHAPOV (KGZ) and Ilyas BEKBULATOV (UZB) won gold medals at 79kg and 70kg, respectively.
In a frenetic 79kg final that saw the lead change hands five times, Budazhapov notched the winning takedown with 15 seconds left to upend Baliyan GOURAV (IND) 7-5.
Budazhapov, a three-time winner of the Mongolian Open while competing for Russia, took a 2-1 lead into the second period when Gourav started a string of alternating takedowns. On the final one, Budazhapov came out the back door to secure the points, then gained another on a lost challenge. 
"I don't know how it happened, but I was very tired and a bit groggy," Budazhapov said of the back-and-forth exchanges. 
As for reaching the top of the Asian medal podium for the country of his grandmother, Budazhapov said, "It's very good for me. I am happy. In the future I have to work harder."
Budazhapov is also making his mark off the mats. A businessman, he owns a chain of four wrestling shops in Russia, called Olimpic Shop, that also sells globally online and has received endorsements from the likes of Abdulrashid SADULAEV (RUS), Kyle SNYDER (USA) and Zaur UGUEV (RUS).
Bekbulatov pulled off the move of the day in his 10-6 victory in the 70kg final over Amirhossein HOSSEINI (IRI) as the 29-year-old added an Asian gold to his collection of three European medals that includes a 2017 gold.
With a 4-2 lead in the second period, Hosseini got in on a single leg and lifted it into the air. But before he knew what hit him, Bekbulatov leaped up and back-tripped for a 4-point move. 
"When I wrestle, I never plan what I'm going to do, because I wrestle by the situation," Bekbulatov said. "You take my leg, I do this trick. If I don't do this trick, I will try another."
Bekbulatov, who twice participated in the Pro Wrestling League in India, said he was happy to wrestle in the Asian Championships.
"I'm very happy for every competition," he said. "To participate for the Uzbek national team is good for me, because my main goal is to wrestle in the Olympic Games. "
Bekbulatov said he will drop down to 65kg for next month's Asian Olympic qualifying tournament, which would only deepen an already stacked weight class.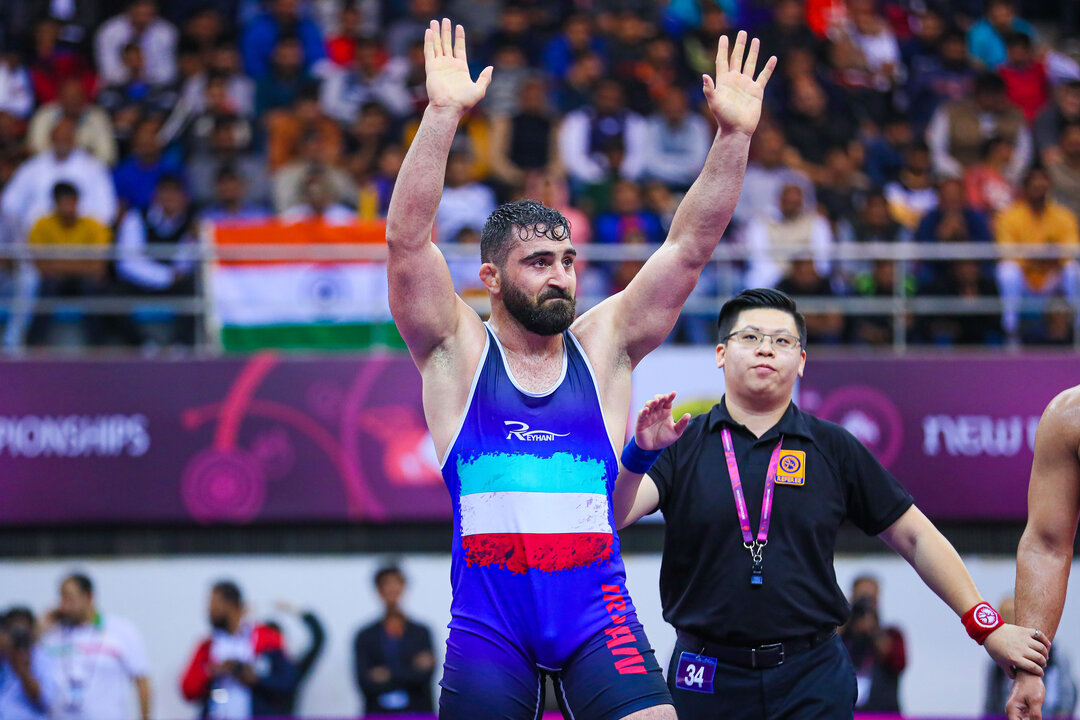 Mojtaba GOLEIJ (IRI) upgraded his silver medal from last year with a win over Salywart KADIAN (IND) in the 97kg finals. (Photo: Kadir Caliskan)
World U-23 champion Mojtaba GOLEIJ (IRI) improved on his silver medal from 2018 when he outmuscled Salywart KADIAN (IND) to take the 97kg gold with a 10-0 technical fall.
After gaining a point on the activity clock, Goleij bulled Kadian out for three stepouts, then faced little resistance in scoring three takedowns, the last one on a snap down that ended the match at 5:30.
In the bronze-medal matches, 2018 world champion Yuki TAKAHASHI (JPN) bounced back from his loss earlier in the day to Ravi by overwhelming 2019 world bronze medalist Nurislam SANAYEV (KAZ) 14-5 at 57kg for his second straight Asian bronze.
World 65kg silver medalist Daulet NIYAZBEKOV (KAZ) had a little harder time with Nyamdorj BATTULGA (MGL), but forged out a 4-1 win to add the bronze to his 2018 gold.
Shinkichi OKUI (JPN), making his international debut, scored a takedown and a stepout in the last half-minute, then deftly walked a tightrope to avoid being forced out himself in the final seconds as he held on for a 4-3 victory over Batzul DAMJIN (MGL) at 79kg.
Kazakhstan came away with three bronzes, including a second straight for Alisher YERGALI (KAZ) at 97kg, while Japan, Iran and Kyrgyzstan claimed two each and Tajikistan one.  
Day 4 Results
Freestyle
57kg (11 entries)
GOLD – Kumar RAVI (IND) df. Hikmatullo VOHIDOV (TJK) by TF, 10-0, 3:27 
BRONZE – Bekbolot MYRZANAZAR UULU (KGZ) df. Sardor RUZIMOV (UZB) by Fall, 4:53 (7-0)
BRONZE – Yuki TAKAHASHI (JPN) df. Nurislam SANAYEV (KAZ), 14-5 
65kg (14 entries)
GOLD – Takuto OTOGURO (JPN) df. Bajrang PUNIA (IND), 10-2
BRONZE – Daulet NIYAZBEKOV (KAZ) df. Nyamdorj BATTULGA (MGL), 4-1
BRONZE – Amirhossein MAGHSOUDI (IRI) df. Abbos RAKHMONOV (UZB), 2-0
70kg (9 entries)
GOLD – Ilyas BEKBULATOV (UZB) df. Amirhossein HOSSEINI (IRI), 10-6 
BRONZE – Meirzhan ASHIROV (KAZ) df. Naveen NAVEEN (IND) by TF, 12-1, 3:53 
BRONZE – Islambek OROZBEKOV (KGZ) df. Temuulen ENKHTUYA (MGL) by Default
79kg (8 entries) 
GOLD – Arsalan BUDAZHAPOV (KGZ) df. Baliyan GOURAV (IND), 7-5 
BRONZE – Shinkichi OKUI (JPN) df. Batzul DAMJIN (MGL), 4-3
BRONZE – Ali SAVADKOUHI (IRI) df. Galymzhan USSERBAYEV (KAZ), 5-0
97kg (11 entries)
GOLD – Mojtaba GOLEIJ (IRI) df. Salywart KADIAN (IND) by TF, 10-0, 5:30
BRONZE – Rustam ISKANDARI (TJK) df. Zaid SHISHANI (JOR) by Fall, 1:33 (6-0)
BRONZE – Alisher YERGALI (KAZ) df. Magomed MUSAEV (KGZ), 11-5