Less-Than-Tip-Top Tasmuradov Leads Trio of Uzbekis into Asian Greco Finals; 2 Each from Iran, India
Saturday, April 27, 2019 - 09:08 By Ken Marantz
XI'AN, China (April 27)--World silver medalist Elmurat TASMURADOV (UZB) overcame a stomach bug to lead a trio of Uzbekis into the finals as the Greco-Roman competition kicked off on the fifth day of the Asian Championships in Xi'an.
Tasmuradov, the defending champion at 63kg, showed little sign of his tender tummy as he executed his trademark flashy throws,  chalking up a pair of technical fall victories to advance to the final against Erbalu TUO (CHN).
"Today I am not in form," said Tasmuradov, a Rio 2016 Olympic bronze medalist aiming for his fifth career Asian gold. "I have a stomach ache."
Tuo, urged on by the home crowd at Xidian University's Invengo Gymnasium, scored an early 4-point throw from a front headlock and defeated Saman ABDOUVALI (IRI), 6-4, in the semifinals.
That was just one of several setbacks for Iran, which placed just two wrestlers—the same as India--in the five finals to be held in the night session. Most notably missing will be Mohammadali GERAEI (IRI), last year's silver medalist at 77kg.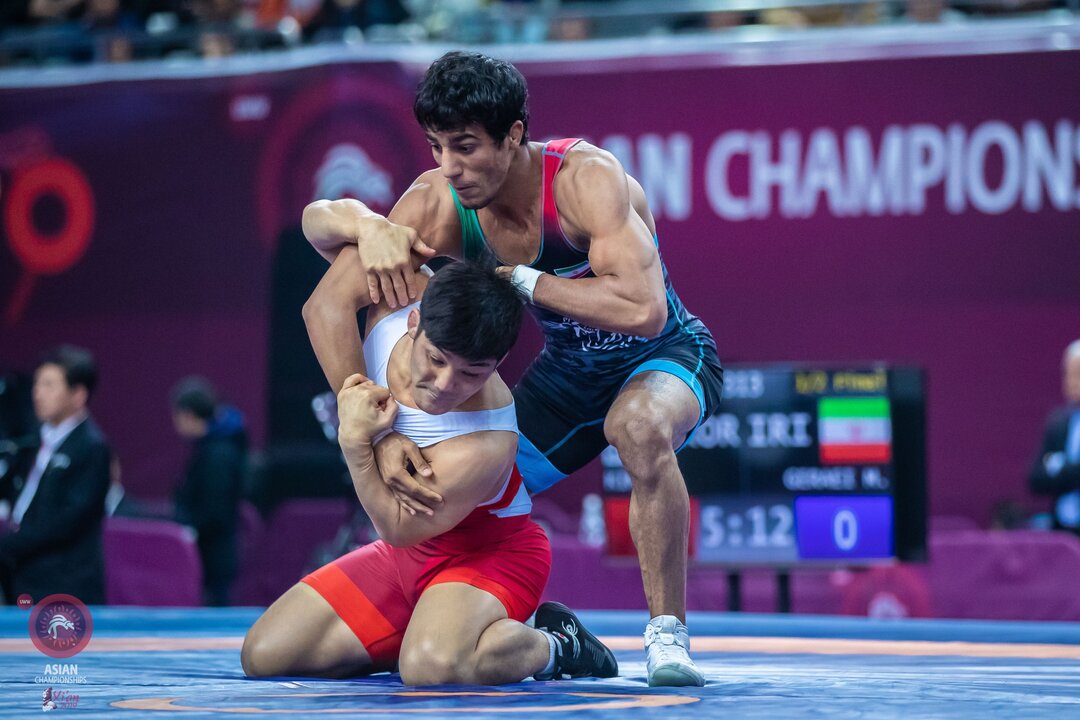 KIM Hyeonwoo (KOR) blanked 2017 world bronze medalist Mohammadali GERAEI (IRI), 8-0 to reach the 77kg finals. (Photo: Sachiko Hotaka)
Geraei, the Asian Games champion last summer in Jakarta and 2017 world bronze medalist, was ungraciously ousted in the semifinals by KIM Hyeonwoo (KOR), whose long list of honors includes bronze medals at last year's world championships in Budapest and at Rio 2016, and an Olympic gold at London 2012.
Kim, who finished third in Jakarta, scored a 4-point takedown early in the match and led 6-0 after the first period. In the second period, a frustrated Geraei was hit with a 2-point penalty for a head butt, ending the match in a technical fall at 5:27.
"I made one big mistake," Geraei said of the big-point move. "My hand wasn't in a good position, and I could not compensate for that."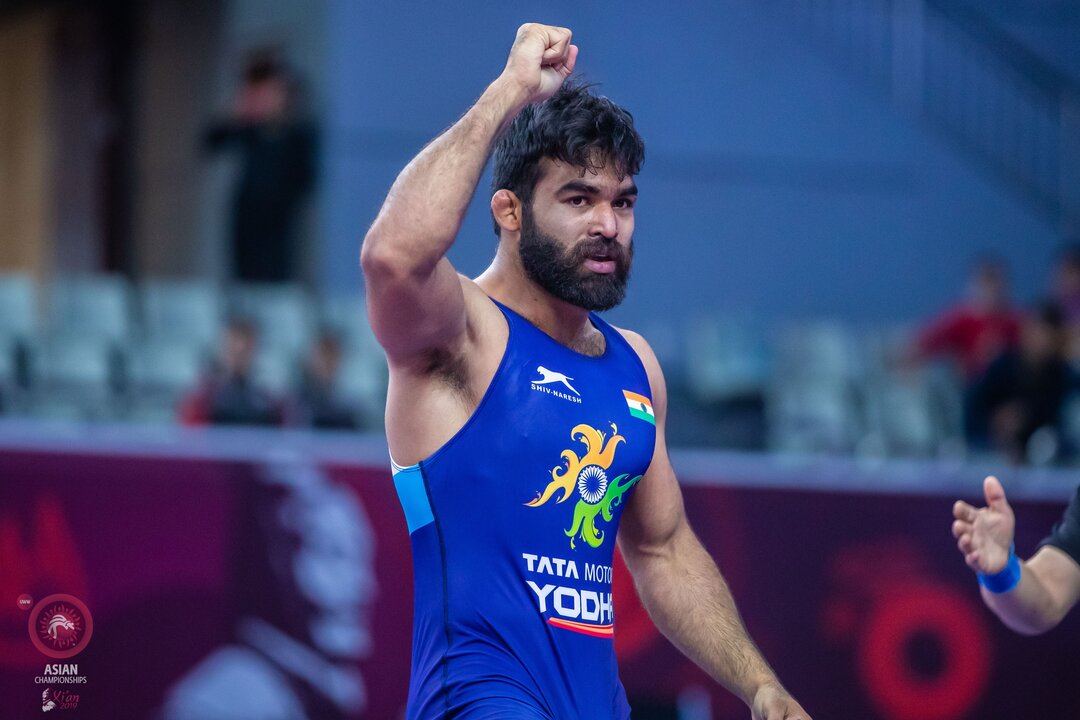 Singh GURPREET is one of two Indian wrestlers who'll be wrestling for gold in tonight's finals. The second Indian joining Gurpreet in the finals is 87kg finalist Kumar SUNIL. (Photo: Sachiko Hotaka) 
Kim, who won three straight Asian titles from 2013-15, will aim for a fifth overall when he faces Singh GURPREET (IND) in the final.
Gurpreet and compatriot Kumar SUNIL (IND) at 87kg became perfect examples of the benefits of hard training. They both were losing by wide margins in their semifinals to Kazakhstan wrestlers, but pulled out victories by fall as their opponents became winded.
Gurpreet's fall at 2:31 came at the expense of Tamerlan Shadukayev (KAZ), who was third at the Dan Kolov-Nikola Petrov tournament. Sunil turned the trick in 2:41 against Azamat KUSTUBAYEV (KAZ), the Asian Games bronze medalist.
Sunil earned a shot at dethroning reigning champion Hossein NOURI (IRI), who notched a 3-1 win in the other semifinal over Ruslam ASSAKALOV (UZB), the 2018 champion at 97kg. 
"I had good training and I am confident," Sunil said.
In the quarterfinals, Nouri reprised his victory in last year's Asian final in Bishkek by beating Masumi SUMI (JPN), 4-2.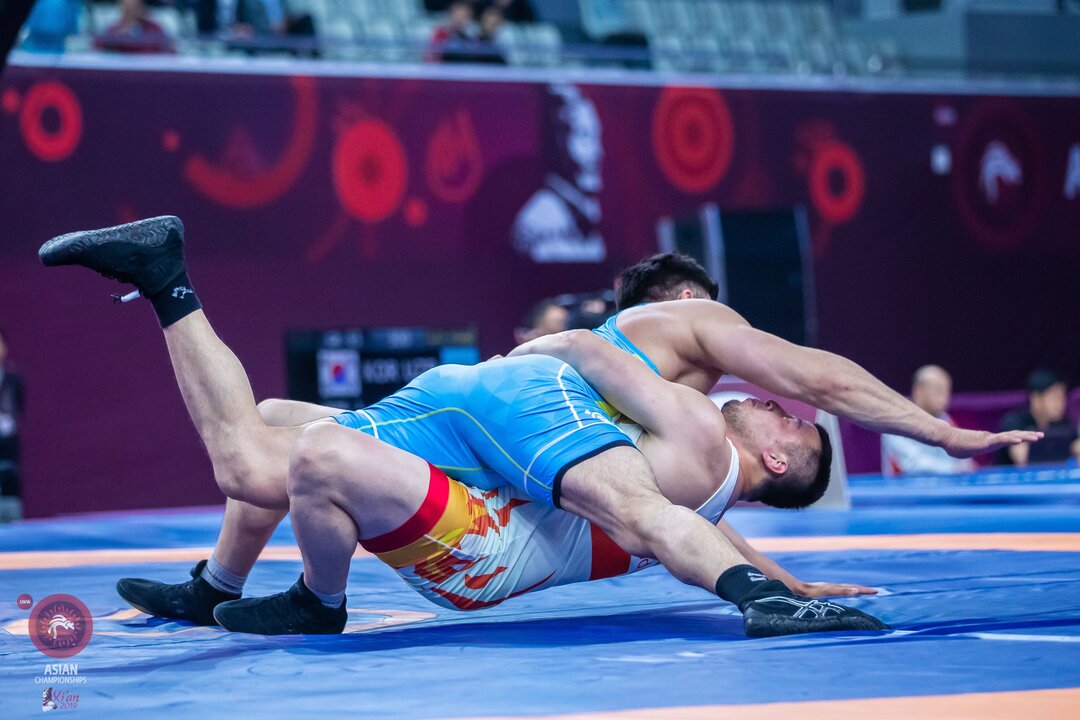 Muminjon ABDULLAEV (UZB) edged Damir KUZEMBAYEV (KAZ), 3-3 to reach the 130kg finals where he'll take on Iran's Amir GHASEMIMONJEZI. (Photo: Sachiko Hotaka)
Muminjon ABDULLAEV (UZB), who lost in last year's 130kg final to an Iranian opponent, will get a chance for a measure of revenge when he faces Amir GHASEMIMONJEZI (IRI) for the gold.
Abdullaev survived an intense semifinal battle with Damir KUZEMBAYEV (KAZ), holding on for a 3-3 victory. Ghasemimonjezi had less trouble routing KIM Minseok (KOR) by 8-0 technical fall in just 1:05. His tougher test came a round earlier, when he edged 2018 bronze medalist Murat RAMANOV (KGZ), 2-1.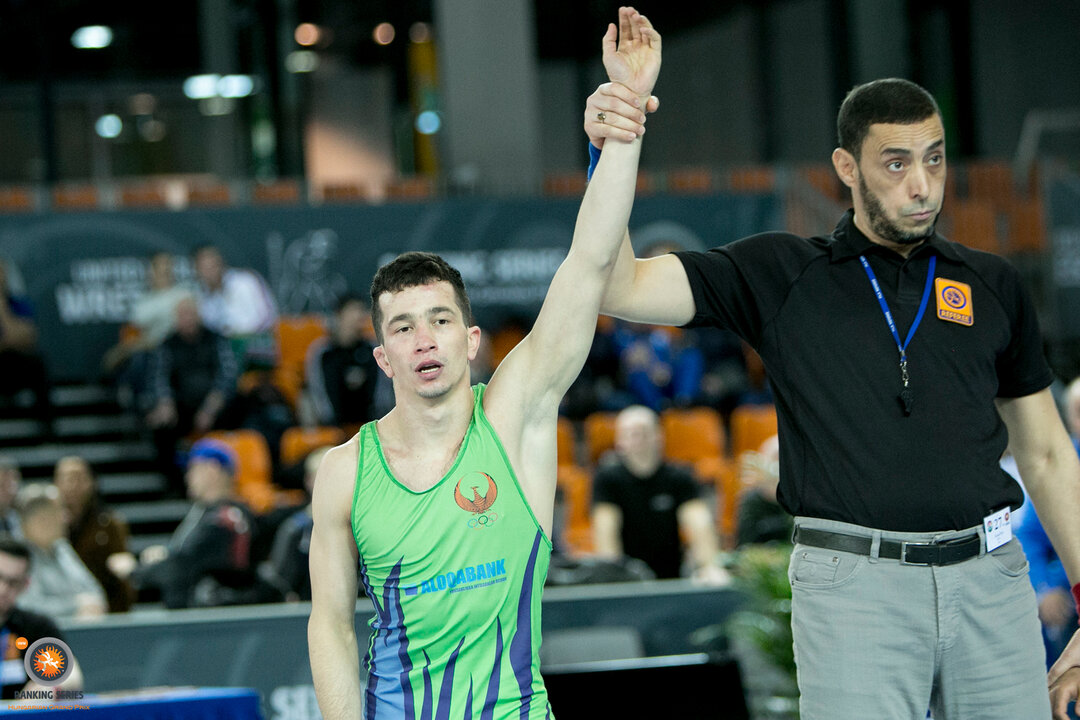 lkhom BAKHROMOV (UZB) topped Asan SULAIMANOV (KGZ) by 11-3 technical fall in the semifinals, setting up a meeting with Japan's Hiromu KATAGIRI. (Photo: Gabor Martin)
The 55kg final will pit Ilkhom BAKHROMOV (UZB) against Hiromu KATAGIRI (JPN). Bakhramov topped Asan SULAIMANOV (KGZ) by 11-3 technical fall, while Katagiri scored a 9-3 win over 2018 bronze medalist Khorlan ZHAKANSHA (KAZ). 
Katagiri, a third-year collegian making his senior debut, is looking to follow in the footsteps of 2018 gold medalist Shota TANOKURA (JPN), his predecessor as national champion.
"My preparations went well, I feel I am at my best," Katagiri said. 
"The Japan champion before me, Tanokura, showed that Japan was strong and I'm going to fight hard to keep the connection going."
Day 5 results
Greco-Roman
55kg (10 entries)
Gold – Ilkhom BAKHROMOV (UZB) v Hiromu KATAGIRI (JPN)
Bronze – Reza KHEDRI (IRI) v Asan SULAIMANOV (KGZ)
Bronze – JEON Hyeokjin (KOR) v Khorlan ZHAKANSHA (KAZ)
Semifinals
Ilkhom BAKHROMOV (UZB) df. Asan SULAIMANOV (KGZ) by TF, 11-3, 4:44
Hiromu KATAGIRI (JPN) df. Khorlan ZHAKANSHA (KAZ), 9-3 
63kg (9 entries)
Gold – Elmurat TASMURADOV (UZB) v Erbalu TUO (CHN)
Bronze – Urmalbek AMATOV (KGZ) v JUNG Jinwoong (KOR)
Bronze – Kudaibergen TURSYNOV (KAZ) v Saman ABDOUVALI (IRI)
Semifinals
Erbalu TUO (CHN) df. Saman ABDOUVALI (IRI), 6-4
Elmurat TASMURADOV (UZB) df. JUNG Jinwoong (KOR) by TF, 12-2, 3:33
77kg (11 entries)
Gold – Singh GURPREET (IND) v KIM Hyeonwoo (KOR)
Bronze – Bakhit BADR (QAT) v Tamerlan Shadukayev (KAZ)
Bronze – Naotsugu SHOJI (JPN) v Mohammadali GERAEI (IRI)
Semifinals
KIM Hyeonwoo (KOR) df. Mohammadali GERAEI (IRI) by TF, 8-0, 5:27
Singh GURPREET (IND) df. Tamerlan Shadukayev (KAZ) by Fall, 2:31 (6-5)
87kg (10 entries)
Gold – Kumar SUNIL (IND) v Hossein NOURI (IRI)
Bronze – Tokhirdzhon OKHONOV (TJK) v Azamat KUSTUBAYEV (KAZ)
Bronze – Masato SUMI (JPN) v Ruslam ASSAKALOV (UZB)
Semifinals
Hossein NOURI (IRI) df. Ruslam ASSAKALOV (UZB), 3-1
Kumar SUNIL (IND) df. Azamat KUSTUBAYEV (KAZ) by Fall, 2:41 (6-6)
130kg (8 entries)
Gold – Muminjon ABDULLAEV (UZB) v Amir GHASEMIMONJEZI (IRI)
Bronze – Prem PREM (IND) v Damir KUZEMBAYEV (KAZ)
Bronze – Murat RAMONOV (KGZ) v KIM Minseok (KOR)
Semifinals
Amir GHASEMIMONJEZI (IRI) df. KIM Minseok (KOR) by TF, 8-0, 1:05
Muminjon ABDULLAEV (UZB) df. Damir KUZEMBAYEV (KAZ), 3-3