Kim, Nouri Add to Asian Greco Gold Collections; Tasmuradov Denied by Tuo, Back Injury
Saturday, April 27, 2019 - 16:15 By Ken Marantz
XI'AN, China (April 27)— Former Olympic champion KIM Hyeonwoo (KOR) didn't need much help in capturing a fifth gold medal at the Asian Championships, but got some anyway in the form of a risky decision by his opponent. 
Hossein NOURI (IRI), meanwhile, didn't dominate the opposition, but was never really challenged either in capturing a fourth career gold. 
Iran won two gold medals out of five on the first day of the Greco-Roman competition in Xi'an, while host China gained a title when a bad day for four-time Asian champion Elmurat TASMURADOV (UZB) only got worse.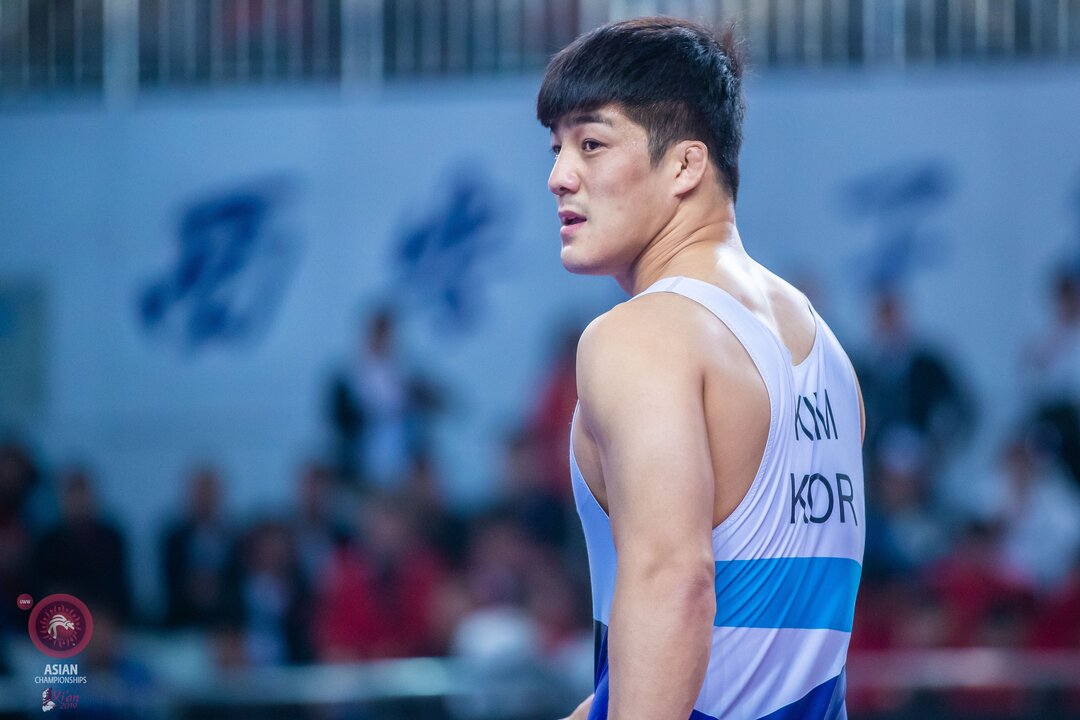 Olympic champion KIM Hyeonwoo (KOR) won his fifth Asian title with an 8-0 win over India's Singh GURPREET in the 77kg gold-medal match. (Photo: Sachiko Hotaka)
Kim, who had two falls and a technical fall leading up to the final at 77kg, secured the gold with an 8-0 technical fall over Singh GURPREET (IND). But the match ended on an odd note--with the winning point being awarded on an unsuccessful challenge by the Indian side.
Kim, a 2018 world bronze medalist, had a five-point lead when he spun behind for a takedown to make it 7-0. The Indian coach threw the stuffed toy used for a challenge, and Gurpreet approved the move, despite the risk that it could cost him the bout.
"His leg was outside the zone," Gurpreet said of his decision. "So I said OK to the coach."
For Kim, it was his first Asian gold since winning three straight from 2013-15. The London 2012 Olympic champion and Rio 2016 bronze medalist, who finished third at last summer's Asian Games in Jakarta, looks to be on track to being a contender at the Tokyo 2020 Olympics.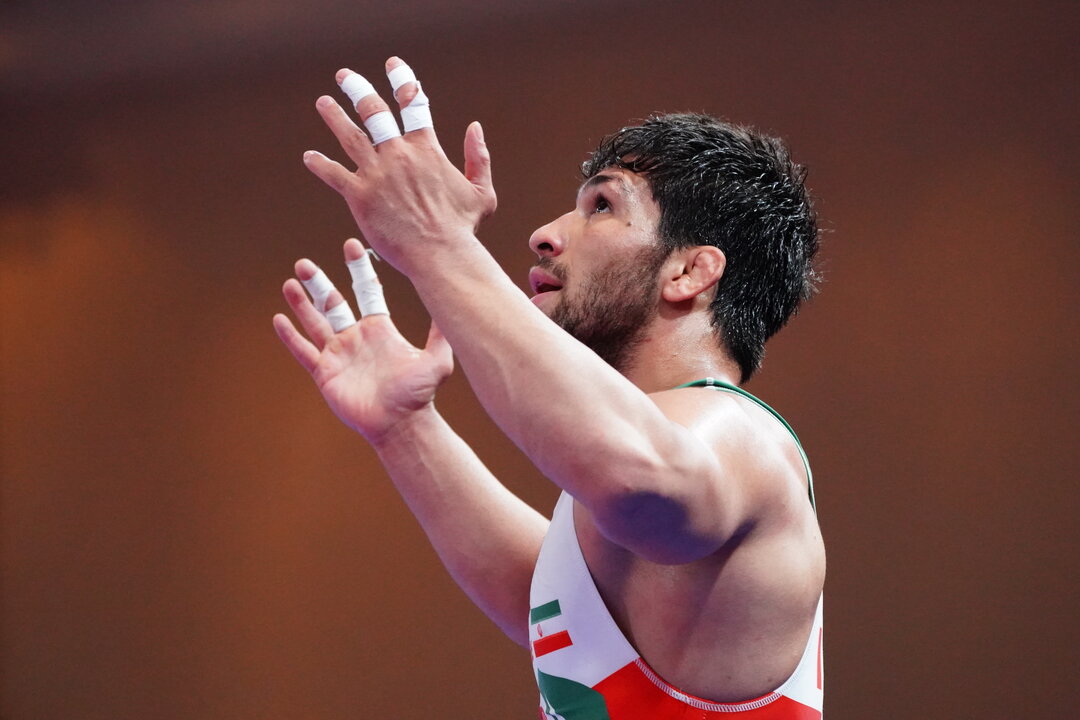 Hossein NOURI (IRI) won his second consecutive Asian title with a 2-0 win over India's Kumar SUNIL (IND) in the 87kg finals. (Photo: Sachiko Hotaka)
Nouri, the defending champion at 87kg, also faced an Indian opponent in his final, and struck gold again after scoring a first-period takedown against Kumar SUNIL (IND) then holding on for a 2-0 victory.
Nouri gained his points when he deftly avoided a stepout by slipping to the side, then shrugging Sunil past him and getting behind.
"My opponent was good, but when I scored two points, I thought, no problem, I can hold him and I can win," Nouri said. As for the scoreless second period. "I was reacting to the action of the opponent. Everything he did, I had a strategy for," he said.
Nouri, a 2017 world bronze medalist and last year's Asian Games champion, said this Asian title was the hardest to win, as he won all four of his matches by two points. 
"The competition was very high and strong, and all of my matches were very hard," Nouri said. 
TUO Erbalu (CHN) was awarded the 63kg gold medal after Elmurat TASMURADOV (UZB) was unable to complete the match. (Photo: Sachiko Hotaka)
China gained its title when Tasmuradov was unable to continue in the 63kg final against TUO Erbalu (CHN) after suffering a severe back strain. The bout was ended 37 seconds into the second period with Tuo leading 4-3.
"I know he was second at the world championships in 2018, and I feel very sorry for him to get an injury," said Tuo, who graciously assisted Tasmuradov in descending the steps from the mat, much to the appreciation of the crowd at Xidian University's Invengo Gymnasium.
Asked by Chinese TV if he thought he could have won anyway, Tuo replied: "He is really strong and an outstanding wrestler. But I think I have the confidence to challenge him. I have been building up my strength and fitness."
Circumstances notwithstanding, Tuo, the Chinese national champion, was ecstatic over winning his first major international title. 
"I'm really excited, even shocked," he said. "I'm still hesitant to believe this is real."
For Tasmuradov, who missed the medal ceremony, the injury was the last blow of a forgettable day. Already suffering from an upset stomach, his nose started to bleed early in the final and he had to take a break several times to staunch the flow.
In the first period, Tasmuradov scored two points with a slick arm throw, but Tuo came back with two-point lift from a front headlock. After scoring on a stepout, Tasmuradov suddenly dropped to the mat, holding the right side of his back. He later said he suffered the injury while twisting during the earlier lift.
He finished the period, but the pain became too much and he gave up the fight, which drew a fleeing penalty. That was immaterial, as he quickly dropped again to the mat, where he remained to be examined by the tournament doctor, who deemed him unable to continue. 
After helping Tasmuradov off the mat, Tuo returned to take a victory lap holding the Chinese flag.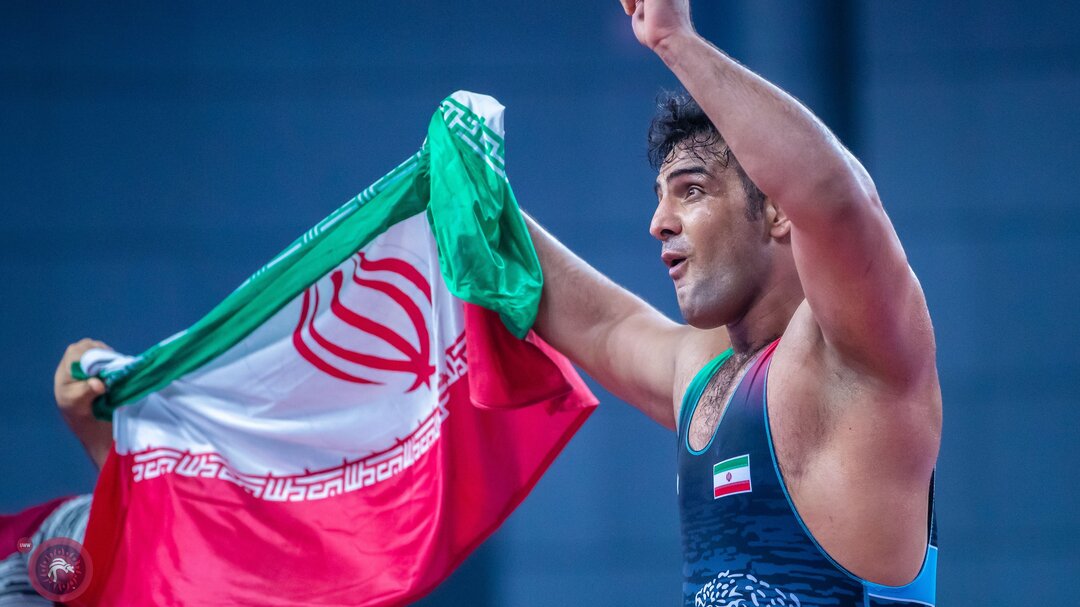 Amir GHASEMIMONJEZI (IRI) snuck past Muminjon ABDULLAEV (UZB), 3-2 in the 130 gold-medal match. (Photo: Sachiko Hotaka)
Iran also grabbed the last of the gold medals at stake on the fifth day of the six-day tournament when Amir GHASEMIMONJEZI (IRI) edged Muminjon ABDULLAEV (UZB) 3-2 in the 130kg final. 
All of the points came in a quick flurry early in the first period. Ghaseminmonjezi stopped a back-drop attempt to go up 2-0, but Abdullaev gained two back by stepping over on a roll attempt, only to see the Iranian get behind again for a one-point reversal.   
Ilkhom BAKHROMOV (UZB) captured the first gold of the night at 55kg, getting a point by stepout with 1:25 left to defeat Hiromu KATAGIRI (JPN), 1-1, and add the senior Asian title to the junior one he captured in 2016
.Katagiri's point came for passivity in the first period. He launched a number of positive throw attempts, but while some came close, none were enough to pick up points as he was denied in his bid to keep the Asian title in the lightest Greco weight class in Japanese hands for a third straight year.
The tournament concludes Sunday with competition in the five remaining Greco-Roman weight classes, which could see a rematch of the 59kg final from the 2017 world championships between winner Kenichiro FUMITA (JPN) and Mirambek AINAGULOV (KAZ) at 60kg.
Day 5 results
Greco-Roman
55kg (10 entries)
Gold – Ilkhom BAKHROMOV (UZB) df. Hiromu KATAGIRI (JPN), 1-1
Bronze – Asan SULAIMANOV (KGZ) df. Reza KHEDRI (IRI), 3-1 
Bronze – Khorlan ZHAKANSHA (KAZ) df. JEON Hyeokjin (KOR) by TF, 9-0, 3:50 
63kg (9 entries)
Gold – TUO Erbalu (CHN) df. Elmurat TASMURADOV (UZB) by Injury Def., 2;23 (4-3) 
Bronze – JUNG Jinwoong (KOR) df. Urmalbek AMATOV (KGZ), 7-3
Bronze – Saman ABDOUVALI (IRI) df. Kudaibergen TURSYNOV (KAZ), 2-1
77kg (11 entries)
Gold – KIM Hyeonwoo (KOR) df. Singh GURPREET (IND) by TF, 8-0, 2:28 
Bronze – Tamerlan Shadukayev (KAZ) df. Bakhit BADR (QAT) by TF, 8-0, 1:11. 
Bronze – Mohammadali GERAEI (IRI) df. Naotsugu SHOJI (JPN) by TF, 9-0, 1:43
87kg (10 entries)
Gold – Hossein NOURI (IRI) df. Kumar SUNIL (IND), 2-0
Bronze – Azamat KUSTUBAYEV (KAZ) df. Tokhirdzhon OKHONOV (TJK) by TF, 8-0, 4:35
Bronze – Ruslam ASSAKALOV (UZB) df. Masato SUMI (JPN) by TF, 9-1, 2:39
130kg (8 entries)
Gold – Amir GHASEMIMONJEZI (IRI) df. Muminjon ABDULLAEV (UZB), 3-2 
Bronze – Damir KUZEMBAYEV (KAZ) df. Prem PREM (IND) by Fall, 1:27 (5-0)
Bronze – Murat RAMONOV (KGZ) df. KIM Minseok (KOR) by TF, 10-2, :55