Karimimachiani Leads Quartet of Iranians into Finals on Day 2 in Xi'an
Wednesday, April 24, 2019 - 11:43 By Ken Marantz
XI'AN, China (April 24)— Alireza KARIMIMACHIANI (IRI) won his clash of world bronze medalists, then became part of an Iranian quartet that advanced to the finals in five freestyle weight classes on the second day of the Asian Championships in Xi'an.
Iran, which won three golds and two bronzes on the Daniyar KAISANOV (KAZ) v Amit DHANKHAR (IND) opening day, has a chance to secure medals in all 10 weight classes, as the West Asian power will also contest a bronze-medal match in the evening session.
Host China will have two chances to give the home crowd a gold medal at the expense of Iran, as world U23 bronze medalist LIU Minghu will face Behnam EHSANPOUR in the 61kg final, and world silver medalist DENG Zhiwei (CHN) will clash with Yadollah MOHEBI (IRI) for the 125kg crown.
India also has two finalists, while Kazakhstan and Kyrgyzstan have one each.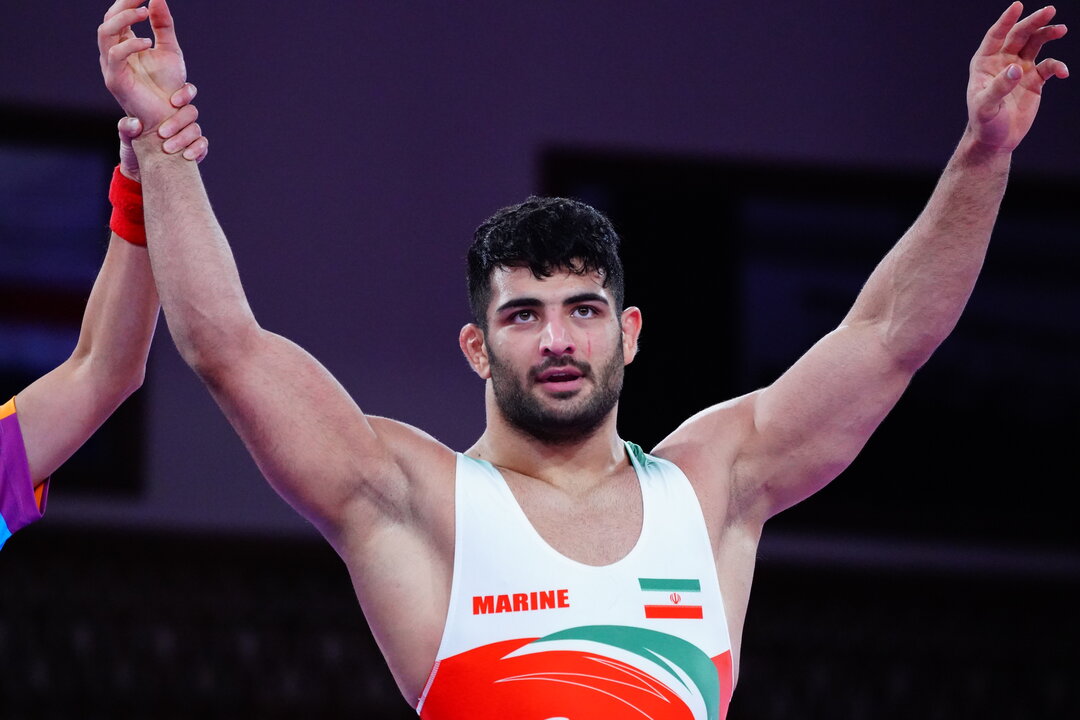 Alireza KARIMIMACHIANI (IRI), the reigning Asian Games champion, will wrestle India's Viky VIKY in the 92kg gold-medal bout. (Photo: Sachiko Hotaka)
Karimimachiani, the Asian Games champion last summer in Jakarta, advanced to the 92kg final against Viky VIKY (IND) by chalking up three consecutive 10-0 technical fall victories.
His second match, in the quarterfinals, pitted him against Atsushi MATSUMOTO (JPN), a fellow bronze medalist at the Budapest 2018 world championships. 
But Karimimachiani made short work of the Japanese, scoring with a 4-point move that he followed up with three straight rolls to end the match in 59 seconds.
"Before I could break the hold, I was being rolled," said Matsumoto, who made it through the repechage and will compete for a bronze medal.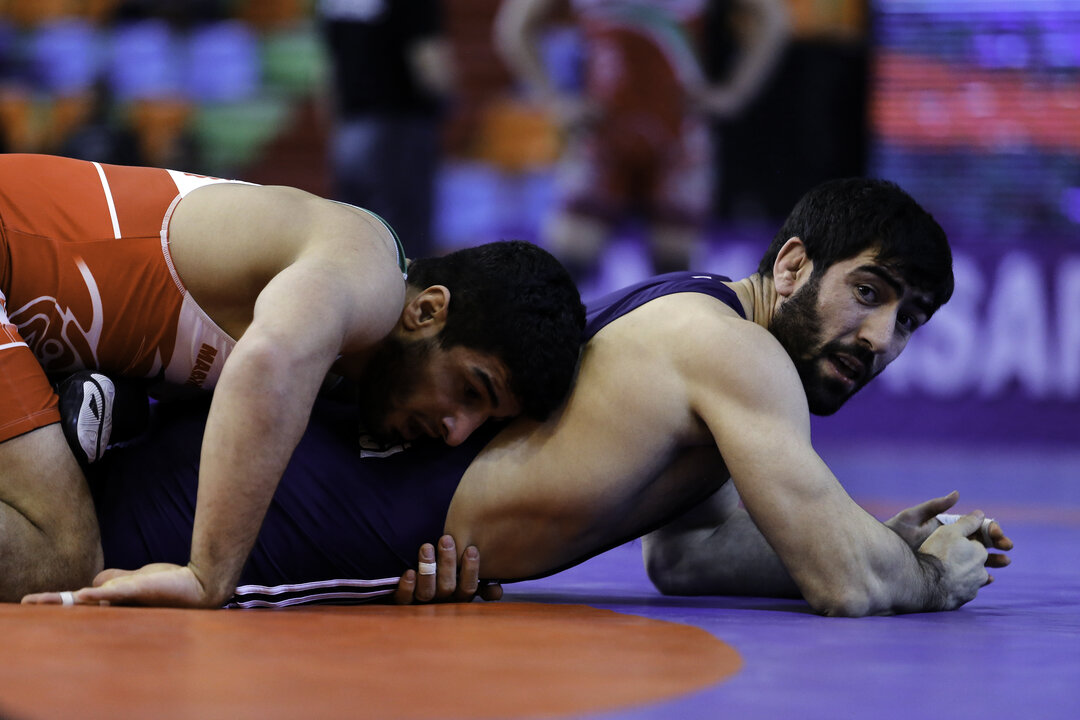 Kamran GHASEMPOUR (IRI) was one of four Iranian wrestlers who made the Day 2 freestyle finals. (Photo: Sachiko Hotaka)
World U23 champion Kamran GHASEMPOUR (IRI) is the other Iranian who gave himself a shot at gold, which he will hope to secure at the expense of Aligarizhi GAMIDGADZHIEV (KGZ) in the 86kg final.   
"We are very happy to have four in the finals," Iran head coach Gholamreza MOHAMMADI said. "That was our target, to get five medals."
Mohammadi said the team was dedicating its victories to their compatriots who perished in or are suffering from devastating floods that hit Iran a month ago.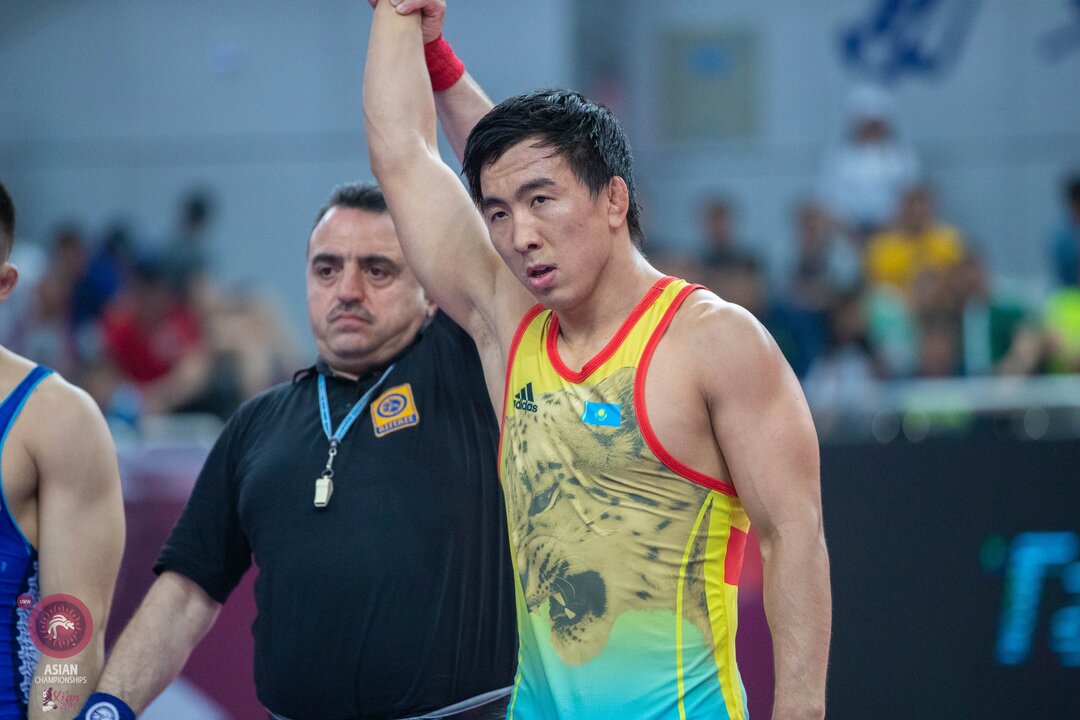 Daniyar KAISANOV (KAZ) is set to face Amit DHANKHAR (IND) for the 74kg title. (Photo: Sachiko Hotaka)
In the other final on tap, Daniyar KAISANOV (KAZ), a bronze medalist in 2018 and the Asian Games silver medalist, will face Amit DHANKHAR (IND) for the 74kg title.
The 74kg class lost two of its favorites to injury. Kaisanov advanced to the final when world silver medalist Adam BATIROV (BRN) defaulted their semifinal match due to an unspecified injury.
Earlier, Yuhi FUJINAMI, the 2017 world bronze medalist at 70kg, reinjured his right knee while holding on to defeat LUO Yin (CHN), 11-7, in their first-round match. 
Fujinami, upon the doctor's advice and taking into consideration a vital upcoming national tournament, decided to default his quarterfinal match to Dhankhar. 
"I was looking at this tournament as one I could win," said Fujinami, who originally injured his knee in February. "But after talking to the doctor and thinking ahead, it was best to stop."
Dhankhar handed Iran its only loss of the qualifying session when he edged Mohammad NOKHODILARIMI, 2-1, in the first round.
Other than that match, no bout involving an Iranian went the distance, as all were won by either fall or technical fall.
Day 2 results
Freestyle
61kg (14 entries)
Gold – LIU Minghu (CHN) v Behnam EHSANPOOR (IRI)
Bronze – Dzhamshed SHARIFOV (TJK) v Yudai FUJITA (JPN)
Bronze – Rahul AWARE (IND) v KIM Jincheol (KOR)
Semifinals
LIU Minghu (CHN) df. Yudai FUJITA (JPN), 9-2
Behnam EHSANPOOR (IRI) df. KIM Jingcheol (KOR) by TF, 12-1, 4:46
74kg (13 entries)
Gold – Daniyar KAISANOV (KAZ) v Amit DHANKHAR (IND)
Bronze – Mohammad NOKHODILARIMI (IRI) v Ilgiz DZHAKYUPBEKOV (KGZ)
Bronze – Olgenbayar BATSUURI (MGL) v Adam BATIROV (BRN)
Semifinals
Daniyar KAISANOV (KAZ) df. Adam BATISOV (BRN) by Default
Amit DHANKHAR (IND) df. Ilgiz DZHAKYUPBEKOV (KGZ), 5-0
86kg (15 entries)
Gold – Kamran GHASEMPOUR (IRI) v Aligarizhi GAMIDGADZHIEV (KGZ)
Bronze – Gankhuyag GANBAATAR (MGL) v Abdurasul VAKHOBOV (UZB)
Bronze – Bakhodur KODIROV (TJK) v Deepak PUNIA (IND)
Semifinals
Kamran GHASEMPOUR (IRI) df. Deepak PUNIA (IND) by TF, 10-0, :40
Aligarizhi GAMIDGADZHIEV (KGZ) df. Abdurasul VAKHOBOV (UZB), 10-7
92kg (11 entries)
Gold – Viky VIKY (IND) v Alireza KARIMIMACHIANI (IRI)
Bronze – Atsushi MATSUMOTO (JPN) v Azizbek SOLIEV (UZB)
Bronze – Muhammad INAM (PAK) v SUN Xiao (CHN)
Semifinals
Viky VIKY (IND) df. SUN Xiao (CHN), 3-2
Alireza KARIMIMACHIANI (IRI) df. Azizbek SOLIEV (UZB) by TF, 10-0, 2:46
125kg (11 entries)
Gold – DENG Zhiwei (CHN) v Yadollah MOHEBI (IRI)
Bronze – KIM Donghwan (KOR) v Khasanboy RAKHIMOV (UZB) 
Bronze – Sumit SUMIT (IND) v Farkhod ANAKULOV (TJK)
Semifinals
DENG Zhiwei (CHN) df. Farkhod ANAKULOV (TJK) by TF, 10-0, :42
Yadollah MOHEBI (IRI) df. Khasanboy RAKHIMOV (UZB) by TF, 11-0, 2:50