Kaisanov Caps Eventful Week by Repeating as Asian 74kg Champ
Sunday, February 23, 2020 - 22:38 By Ken Marantz
NEW DELHI (Feb. 23)—It's been a good week for Daniyar KAISANOV (KAZ). Five days after he was upgraded to the world bronze medal that he felt should have been his all along, he clinched a ticket to the Tokyo Olympics by successfully defending his freestyle 74kg title at the Asian Championships.
Kaisanov edged local favorite Jitender JITENDER (IND) 3-1 in the final as Kazakhstan captured two of the remaining five gold medals at stake on the final day of action at New Delhi's K.D. Jadhav Wrestling Stadium.
"I believed I could win the Asian championship a second time," Kaisanov said. "This gold medal was very important to me."
It's value was enhanced because the Kazakhstan federation informed him that a gold medal in New Delhi would automatically clinch the Olympic spot that he earned at the World Championships in Nur-Sultan, where he lost a contentious bronze-medal match to Zelimkhan KHADJIEV (FRA). 
A loss and he would have had to enter a playoff for the ticket to the Tokyo Olympics. Even though he recently suffered a knee injury, the incentive of sewing up the place in New Delhi led him to make the decision to participate. 
"I participated because it was part of the Kazakhstan process for qualifying for the Olympic Games," he said. "I had to win."
Kaisanov had faced Jitender last month at the Matteo Pellicone ranking series event in Rome, handily winning 9-2 in a repechage match before winning a bronze.
"One month ago I beat him with a big score [in Rome]," Naisanov said. "But this match was different because he was at home in front of his fans. It was mentally different, that's why it was difficult."
In the final, Kaisanov was on the clock when he scored with an exposure off a counter, before Jitender gained a stepout point. In the second period, Naisanov gained an insurance point with a stepout and held on for the win.
The victory came after UWW announced that Khadiev had failed a doping test, which moved Naisanov up to the world bronze. Khadiev had won their third-place match 4-3, but there was contention whether a late stepout by Naisanov should have been scored a takedown.
"I am very happy because after the World Championships I was so sad because I thought I won that match," Naisanov said. "The referees made some mistakes. When I first heard the news of the doping by the French wrestler, I waited for the official news. I am so very happy. "
In other finals, world U-23 champion Ulubek ZHOLDOSHBEKOV (KGZ) picked up his first senior Asia gold after winning bronzes in 2016 and 2018 when he decked Muhammad IKROMOV (TJK) in 2:44.
Zholdoshbekov, who had an eye poked in his opening match by an Iranian foe that bothered him throughout the day, scored a stepout while on the activity clock, then stuffed an arm drag attempt to put Ikromov into a headlock and secure the fall.
"All of the wrestlers want to take the gold in tournaments," Zholdoshbekov said of gaining the elusive gold. "I worked very hard and I'm very happy."
Ikromov was denied in his bid to become just the second Tajikstan wrestler in history to win an Asian gold. The only other came in 2003.
Zholdoshbekov said he will drop down to 57kg for the Asian Olympic qualifier to be held in his home country next month.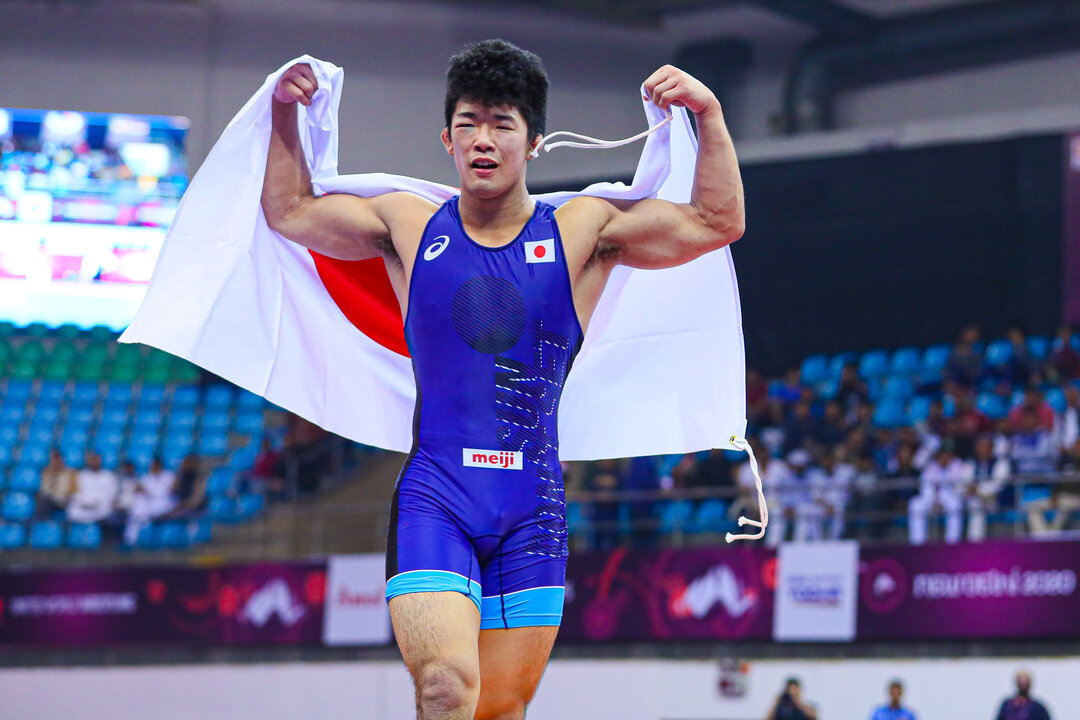 Shutaro YAMADA (JPN) defeated Ahmad BAZRIGHALEH (IRI), 10-10 in the 86kg finals. (Photo: Kadir Caliskan)
The biggest surprise of the evening came in the 86kg final, in which unheralded Shutaro YAMADA (JPN) uncorked a pair of 4-point throws and held on to defeat 2019 Asian U-23 champion Ahmad BAZRIGHALEH (IRI) 10-10 on big-point criteria.
Yamada was third at the Japan Championships, but got the chance to make his international senior debut as national champ Sosuke TAKATANI (JPN) will enter the Asian Olympic qualifying tournament. 
"The chance came to me and to be honest, I thought I wouldn't win a medal, much less the championship," said Yamada, who knocked off world silver medalist Deepak PUNIA (IND) in the semifinals. "To get the gold, I'm extremely happy.
"After the semifinal, I went back to the hotel and looked at videos of my opponent in the final. He had high finishes in various tournaments. He's a strong wrestler. This time, more than skills, I won with guts and patience."
Bazrighaleh took a 3-0 lead on a takedown and stepout, before Yamada cut the lead with a nifty back trip for a takedown. But the Iranian added another stepout and a takedown to go ahead 6-2 heading into the second period.
That's when Yamada put to good use his occasional training in Greco, as he locked up Bazrighaleh and executed a picture-perfect lateral drop, not once but twice. That put him up 10-6, and a takedown and 2-point counter were not enough to give Bazrighaleh the win.
"When I was in high school and sometimes in college, I entered Greco competitions," said Yamada, a second-year student at powerhouse Yamanashi Gakuin University. "We often practice Greco style. Even though the styles are different, I'm glad I didn't just limit myself to freestyle. 
"I used it in situations where I was both winning and losing. I just had to give it a shot and see what happens."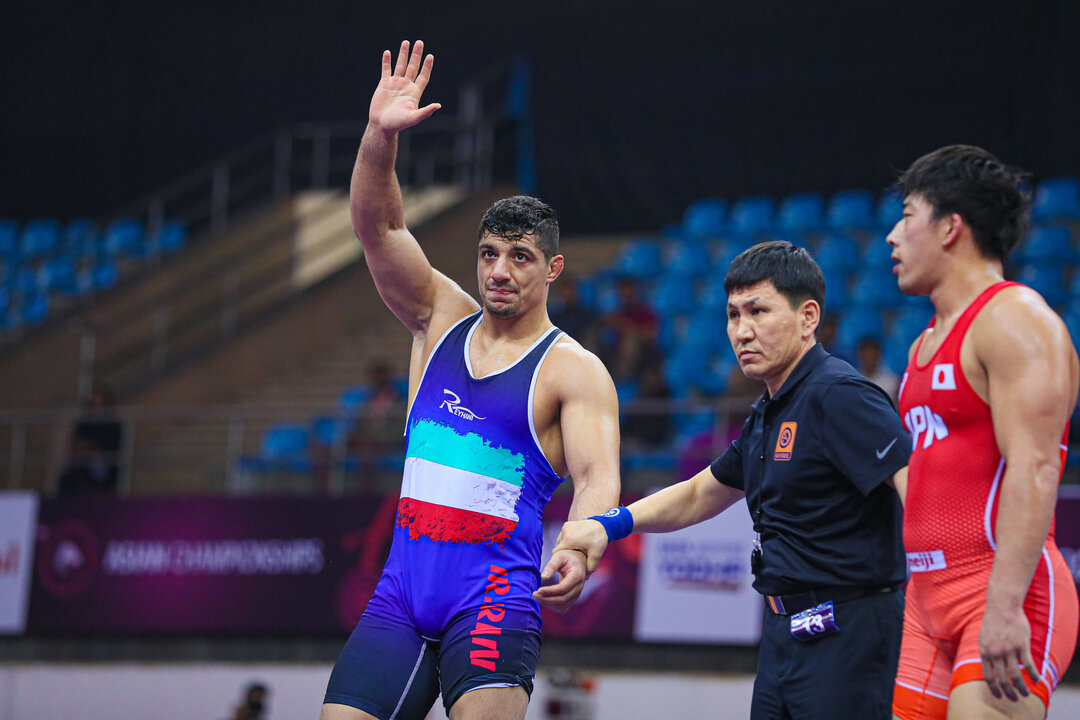 Mohammadjavad EBRAHIMIZIVLAEI (IRI) crushed Takuma OTSU (JPN),11-0, and claimed the 92kg gold medal. (Photo: Kadir Caliskan)
Another final that featured a clash between Iran and Japan went the Middle East nation's way, as Mohammadjavad EBRAHIMIZIVLAEI (IRI) stormed to an 11-0 technical fall of Takuma OTSU (JPN) for the 92kg gold. 
That helped Iran capture the team title with 168 points, just 9 ahead of host India in second. Kazakhstan finished third with 146 points, 6 ahead of Japan.
Ironically, had Yamanashi Gakuin University entered the team competition on its own, it would have placed sixth with 100 points. The school located 120 kilometers west of Tokyo in Kofu city got gold medals from Yamada and Takuto OTOGURO (JPN) at 65kg, a silver from Otsu, and bronzes from Ryuto SAKAKI (JPN) at 61kg and alumnus Yuki TAKAHASHI (JPN) at 57kg.
"We expected at least third places from the lower weights," Yamanashi coach Kunihiko OBATA said. "The guys in the upper weights far exceeded our expectations. It's a good experience and gives them confidence."
The final gold of the night went to world U-23 bronze medalist Yusup BATIRMURZAEV (KAZ), who executed three gut wreches in dominating Khuderbulga DORJKHAND (MGL) for a 10-0 technical fall in 1:32.
In the bronze-medal matches, host India's two world medalists came away with hardware, as Rahul AWARE (IND) topped Majid DASTAN (IRI) 5-2 at 57kg and Punia rolled to a 10-0 technical fall of Issa AL OBAIDI (IRQ) at 86kg.
Japan and Iran had two bronze medalists each, while Uzbekistan, Mongolia, Kazakhstan and Korea had one each.
Daichi TAKATANI (JPN), a silver medalist at both the Asian Championships and Asian Games in 2018 at 65kg, picked up a bronze medal in his debut at the next Olympic weight of 74kg with a 15-4 technical fall of Karam MAHMOOD (IRQ).
Takatani had unsuccessfully tried to dislodge 2018 world champion Otoguro at 65kg in the battle to make Japan's Olympic team, then made the drastic jump up two weight classes to 74kg. He came up short of grabbing the Tokyo 2020 spot, but his second place at the Japan Championships earned him a ticket to New Delhi.
While conceding little in terms of technique, Takatani still feels the gap in size, and allowed Mahmood to pull off a 4-point counter to start their bronze-medal match. But his superior skills came to the forefront and he piled up the points before finishing the match in 5:28.
Day 6 Results
Freestyle
61kg (13 entries)
GOLD – Ulubek ZHOLDOSHBEKOV (KGZ) df. Muhammad IKROMOV (TJK) by Fall, 2:44 (3-0)
BRONZE – Ryuto SAKAKI (JPN) df. YUN Jihoon (KOR), 4-2
BRONZE – Rahul AWARE (IND) df. Majid DASTAN (IRI), 5-2
74kg (12 entries)
GOLD – Daniyar KAISANOV (KAZ) df. Jitender JITENDER (IND), 3-1
BRONZE – Daichi TAKATANI (JPN) df. Karam MAHMOOD (IRQ) by TF, 15-4, 5:28
BRONZE – Mostafa HOSSEINKHANI (IRI) df. Sumiyabazar ZANDANBUD (MGL), 5-0 
86kg (9 entries)
GOLD – Shutaro YAMADA (JPN) df. Ahmad BAZRIGHALEH (IRI), 10-10 
BRONZE – Isa SHAPIEV (UZB) df. Azamat DAULETBEKOV (KAZ), 4-2
BRONZE – Deepak PUNIA (IND) df. Issa AL OBAIDI (IRQ) by TF, 10-0, 2:43
92kg (8 entries)
GOLD – Mohammadjavad EBRAHIMIZIVLAEI (IRI) df. Takuma OTSU (JPN) by TF, 11-0, 5:31 
BRONZE – Tsogtgerel MUNKHBAATAR (MGL) df. Chyngyz KERIMULOV (KGZ) by TF, 11-1, 4:30
BRONZE – Iliskhan CHILAYEV (KAZ) df. Ajiniyaz SAPARNIYAZOV (UZB), 4-4
125kg (12 entries)
GOLD – Yusup BATIRMURZAEV (KAZ) df. Khuderbulga DORJKHAND (MGL) by TF, 10-0, 1:32
BRONZE – NAM Koungjin (KOR) df. Zaman ANWAR (PAK) by TF, 10-0, 3:23
BRONZE – Parviz HADIBASMANJ (IRI) df. Farkhod ANAKULOV (TJK) by TF, 10-0, 2:04