Iran Hauls in 4 More Golds to Cap Domination of Asian Freestyle
Wednesday, April 24, 2019 - 15:59 By Ken Marantz
XI'AN, China (April 24) – Iran capped its domination of the freestyle competition at the Asian Championships by hauling in four of the five gold medals at stake on the second day—twice denying host China a title in the process.
And a gritty performance by a teenager making his senior debut assured that every member of the Iranian team will be heading home with a medal.  
China's bid to stop the Iranian juggernaut fizzled out when world silver medalist DENG Zhiwei (CHN) fell 2-1 in the 125kg final to Yadollah MOHEBI (IRI) in the last bout of the night at Xi'an's Xidian University Gymnasium.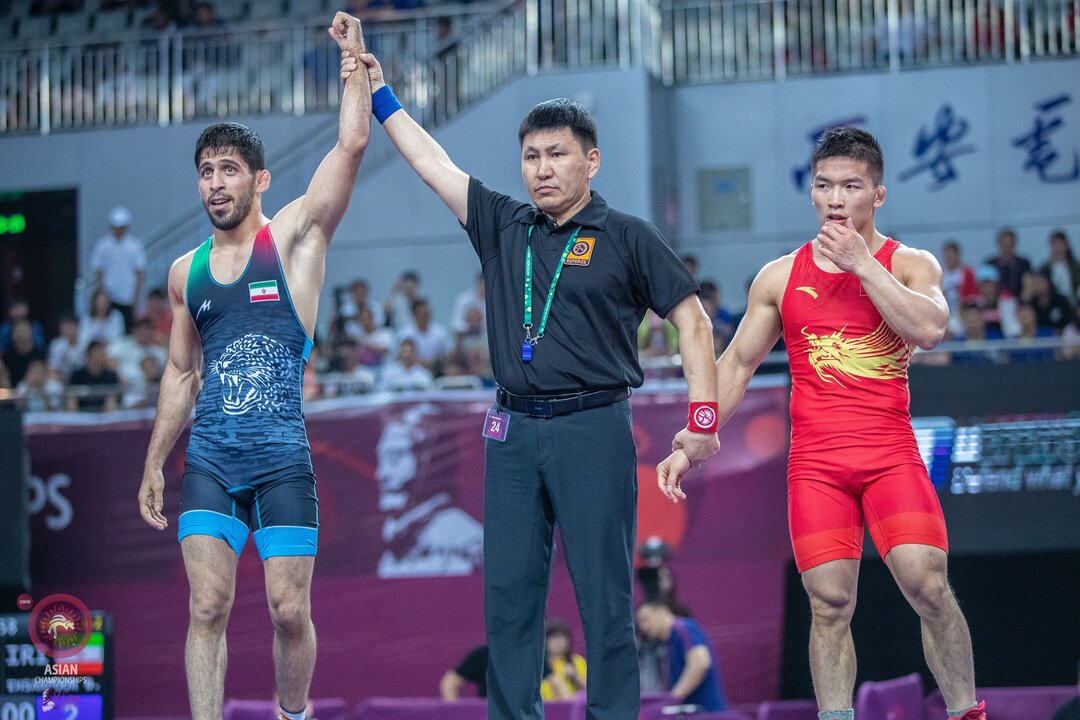 Behnam EHSANPOOR (IRI) won his second Asian title with a 2-1 win over China's LIU Minghu in the 61kg finals. (Photo: Sachiko Hotaka)
That was the same score by which Behnam EHSANPOOR (IRI) had edged LIU Minghu (CHN) at 61kg in the first final to regain the Asian title he won two years ago in New Delhi.
Iran's other gold medals were seized by world U23 champion Kamran GHASEMPOUR (IRI) at 86kg and world bronze medalist Alireza KARIMIMACHIANI (IRI) at 92kg, both of whom were hardly challenged during the competition and finished up with technical fall victories in the finals. 
With seven golds and three bronzes, Iran easily won the team competition with 220 points. India, with one gold, three silvers and four bronzes, was second at 155, followed by Kazakhstan, which had 129 after finishing with two golds, a silver and two bronzes.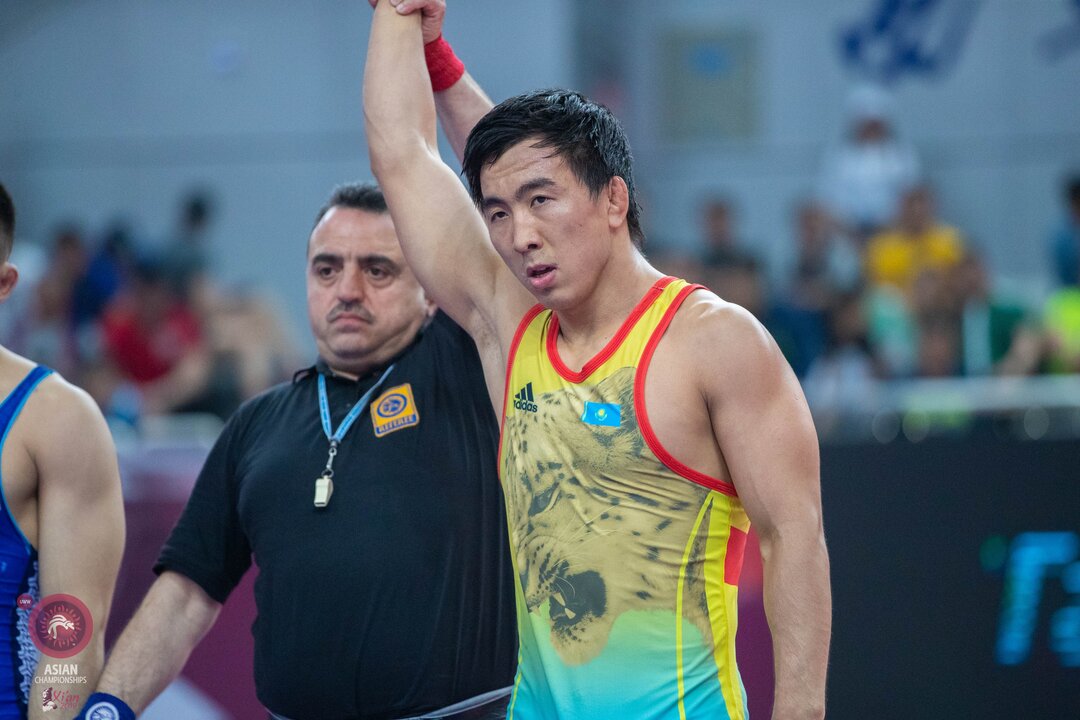 Daniyar KAISANOV (KAZ), the 74kg gold medalist, was the non-Iranian Day 2 champion. (Photo: Sachiko Hotaka)
The lone gold medal that didn't end around the neck of an Iranian went to Daniyar KAISANOV (KAZ), who captured the first major medal of his career when he forged a 5-0 victory over Amit DHANKHAR (IND) in the 74kg final.
"I'm feeling good, I brought some happiness to my family and fans," said Kaisonov, a bronze medalist in Bishkek last year and the silver medalist at the Asian Games in Jakarta.
Kaisonov's path to the final got a little smoother when two potential rivals, world silver medalist Adam BATIROV (BRN) and Yuhi FUJINAMI (JPN), a 2017 world bronze medalist at 70kg, both exited the tournament by defaults after suffering injuries during victories.
"We still have time to meet each other," Kaisanov said. "But anyway, I was ready and really confident in myself."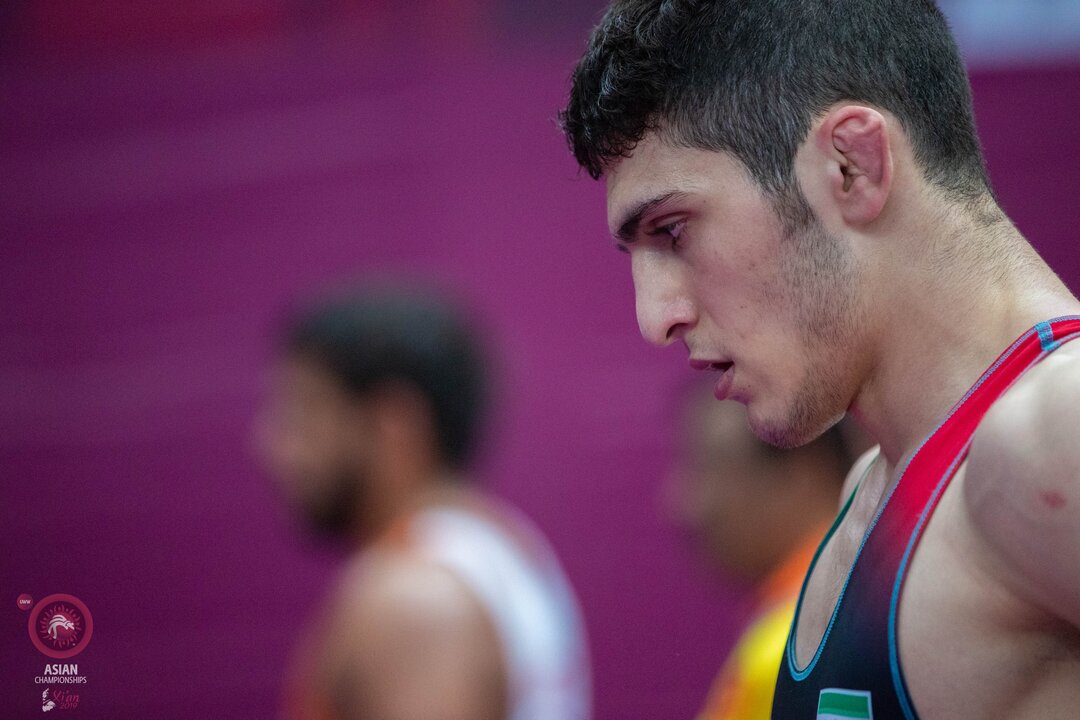 Mohammad NOKHODILARIMI (IRI) scored a bronze medal at 74kg with a 9-8 comeback win over Ilgiz DZHAKYPBEKOV (KGZ). (Photo: Sachiko Hotaka)
Meanwhile, Mohammad NOKHODILARIMI (IRI) avoided the prospect of being the only Iranian to head home without a medal when he put on a furious comeback to defeat Ilgiz DZHAKYPBEKOV (KGZ), 9-8, in a bronze-medal match at 74kg.
Dzhakypbekov built up a 6-1 lead, and was still ahead on criteria when the 18-year-old Nokhodilarimi, a 2o17 world cadet bronze medalist, stormed back to make it 8-8 in the final minute. The Iranian stayed on the attack and drove out a fatigued Dzhakypbekov for the decisive point with :33 left. 
"If I lost, I would have been depressed," said Nokhodilarimi, who seemed to be sparked by a dressing down from his coach between periods.
In the 61kg final, China's Liu, a world U23 bronze medalist, received an activity clock point for the lone score of the first period. But in the second period, Ehsanpoor scored with a single-leg takedown, and that held up for the gold.
At 86kg, Ghasempour totally dominated Aligarizhi GAMIDGADZHIEV (KGZ), building up a 7-0 lead with three takedowns in the first period, then finishing up a 10-0 technical fall at the 4:10 mark.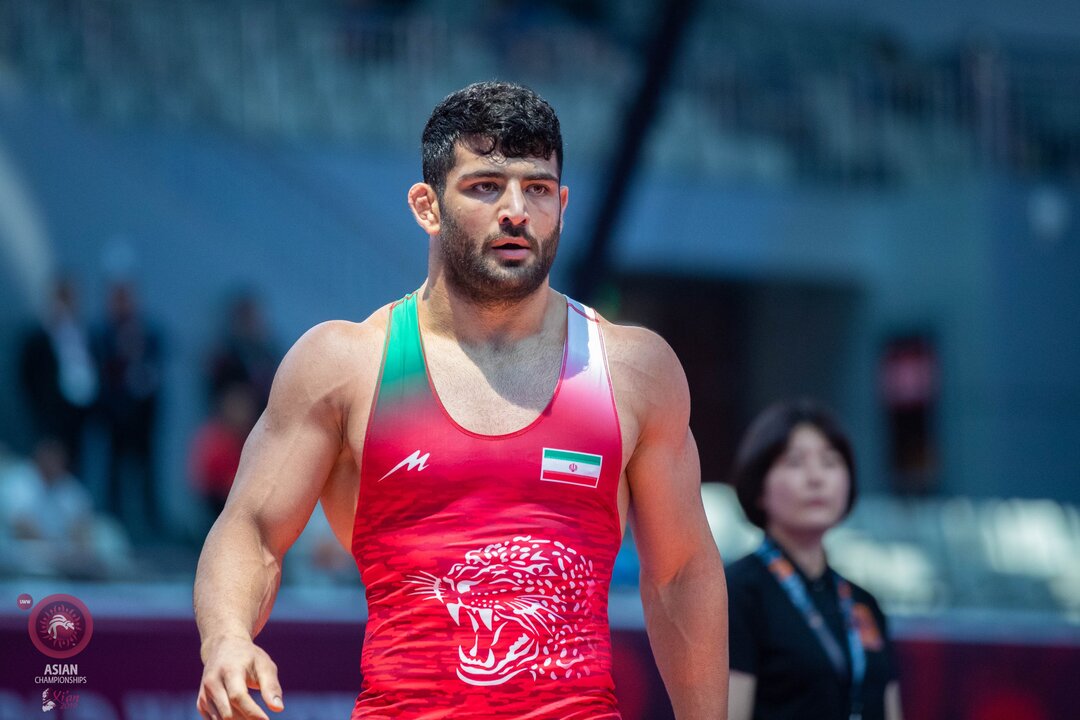 Alireza KARIMIMACHIANI (IRI) grabbed the 92kg gold medal with an 11-0 victory over India's Viky VIKY (Photo: Sachiko Hotaka)
Karimimachiani didn't need that long to put away Viky VIKY (IND) at 92kg, scoring four takedowns before ending the match at 2:28 with a roll that made it 11-0.
In the night's finale, Deng started out just like compatriot Liu, gaining an activity point to lead 1-0 going into the second period. But Mohebi forced the Chinese out for a point that put him ahead on criteria, then received an activity point himself for the 2-1 victory.
India came away with three bronze medals, while Japan and Kazakhstan had two each.
One of Japan's was won by world bronze medalist Atsushi MATSUMOTO (JPN), who denied Azizbek SOLIEV (UZB)a second straight bronze by posting a 9-3 victory. The continental medal was the third of Matsumoto's career, having previously won silvers in both styles-- freestyle in 2015 and Greco-Roman in 2017.
The six-day tournament in the historic central Chinese city continues Thursday with the start of the women's competition. 
Day 2 results
Freestyle
61kg (14 entries)
Gold – Behnam EHSANPOOR (IRI) df. LIU Minghu (CHN), 2-1 
Bronze – Rahul AWARE (IND) df. KIM Jincheol (KOR), 9-2
Bronze – Yudai FUJITA (JPN) df. Dzhamshed SHARIFOV (TJK), 3-1 
74kg (13 entries)
Gold – Daniyar KAISANOV (KAZ) df. Amit DHANKHAR (IND), 5-0
Bronze – Mohammad NOKHODILARIMI (IRI) df. Ilgiz DZHAKYPBEKOV (KGZ), 9-8
Bronze – Olgenbayar BATSUURI (MGL) df. Adam BATIROV (BRN) by Default
86kg (15 entries)
Gold – Kamran GHASEMPOUR (IRI) df. Aligarizhi GAMIDGADZHIEV (KGZ) by TF, 10-0, 4:10
Bronze – Gankhuyag GANBAATAR (MGL) df. Abdurasul VAKHOBOV (UZB), 4-0
Bronze – Deepak PUNIA (IND) df. Bakhodur KODIROV (TJK), 8-2 
92kg (11 entries)
Gold – Alireza KARIMIMACHIANI (IRI) df. Viky VIKY (IND) by TF, 11-0, 2:29 
Bronze – Atsushi MATSUMOTO (JPN) df. Azizbek SOLIEV (UZB), 9-2
Bronze – SUN Xiao (CHN) df. Muhammad INAM (PAK) by Default
125kg (11 entries)
Gold – Yadollah MOHEBI (IRI) df. DENG Zhiwei (CHN), 2-1
Bronze – KIM Donghwan (KOR) df. Khasanboy RAKHIMOV (UZB) by Fall, 4:41 (4-1) 
Bronze – Sumit SUMIT (IND) df. Farkhod ANAKULOV (TJK), 8-2
Freestyle Team Standings

Gold – Iran, 220 points (7 gold-0 silver-3 bronze)
Silver – India, 155 (1-3-4)
Bronze – Kazakhstan, 129 (2-1-2)