Icho Dealt Stunning Loss in Asian 57kg Semis; Lone Japanese Woman to Fail to Make Finals
Friday, April 26, 2019 - 09:02 By Ken Marantz
XI'AN, China (April 26)—The notion that four-time Olympic champion Kaori ICHO (JPN) would be the lone Japanese woman to fail to make the finals at the Asian Championships might have defied credulity.
But fact can sometimes be stranger than fiction, and a fearless opponent with a lightning-quick takedown made the incredible happen during the morning session on Day 4 of the six-day tournament in Xi'an.
Asian Games champion JONG Myong Suk (PRK) dominated Icho from the beginning of their 57kg semifinal bout, scoring all of her points in the first period before holding on for a 7-4 victory.
"Her takedown from tying up was really good," Icho told about a dozen members of the Japanese press, who came specifically to see the national star in her first international tournament since the Rio 2016 Olympics. 
"She's a young athlete, and I figured she would be on the attack from the first period, so I had that in mind. But my reactions were dull."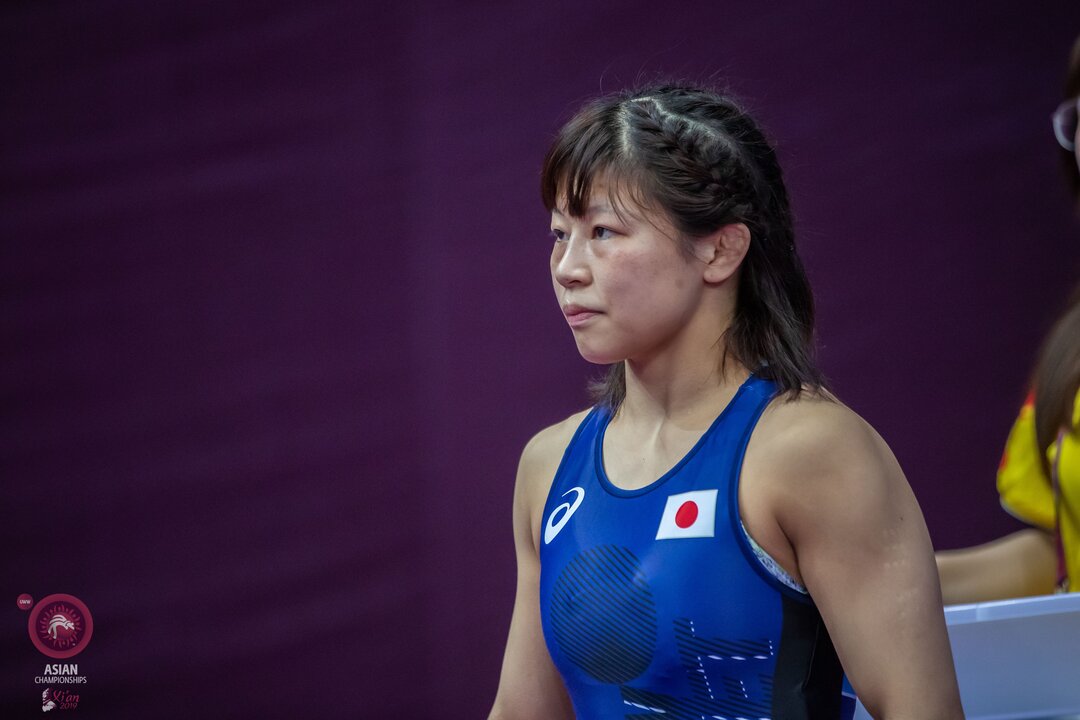 Mayu MUKAIDA (JPN) is one of four Japanese women who'll compete in the Day 4 finals. (Photo: Sachiko Hotaka)
Mayu MUKAIDA (JPN), the world champion at 55kg who has dropped to the Olympic weight of 53kg, was one of four Japanese who advanced to the finals in the five divisions.
That followed a strong showing on the previous day, when the Japanese women sent all five wrestlers into the finals and came away with three golds and two silvers. 
The possibility of a clash between Icho and RONG Ningning (CHN) was one of the featured aspects heading into the tournament at Xidian University's Invengo Gymnasium, but instead it will be Jong who will face the Chinese world champion for the gold medal.
Icho has relied heavily on her defense to accumulate an extensive gold collection, but Jong, a world bronze medalist at 55kg, used her speed to breakthrough and secure leg holds. She scored two takedowns, following the first with a roll and then a stepout to lead 7-1 after the first period.
Icho got a takedown with a minute to go, then received a penalty point for fleeing with :17 left to account for the final score. 
"In this match, she was not competing fully," DPR Korea coach YUN Tong Gon said of Jong through a translator. "If she went fully 100 percent, she would have won by fall or 10 points."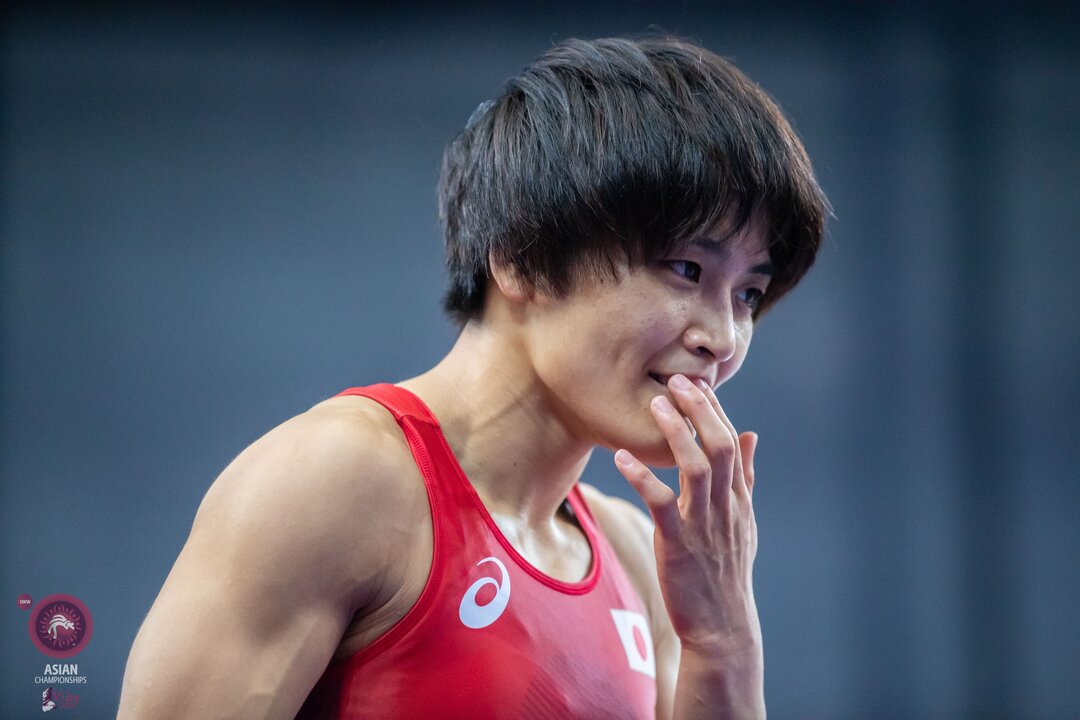 Icho, who will be wrestling for a bronze medal in the night session, got her day off to an ominous start when she had a tooth broken during her 10-0 technical fall victory in the quarterfinals over UM Jieun (KOR).
 Icho, a 10-time world champion who turns 35 in June, won the last of her five Asian titles in 2015. She accepted the loss with dignity and looks at it as part of the process in her bid to win an unprecedented fifth gold at the Tokyo 2020 Olympics.
"I couldn't finish off my attack and my defense was weak," she said. "This time, this was all about experience. I have to make use of that."  
At 53kg, Mukaida fell behind early in her semifinal with world bronze medalist PANG Qianyu, but scored eight unanswered points in the second period to win 10-4. 
Earlier, Mukaida overwhelmed Asian Games champion Vinesh VINESH (IND) with a one-sided 10-0 technical fall in the quarterfinals. Vinesh had won the 50kg gold a year ago in Bishkek. 
In the final, Mukaida will try to avoid the same fate as Icho as she takes on another highly touted DPR Korean, defending champion and Asian Games gold medalist PAK Yongmi (PRK).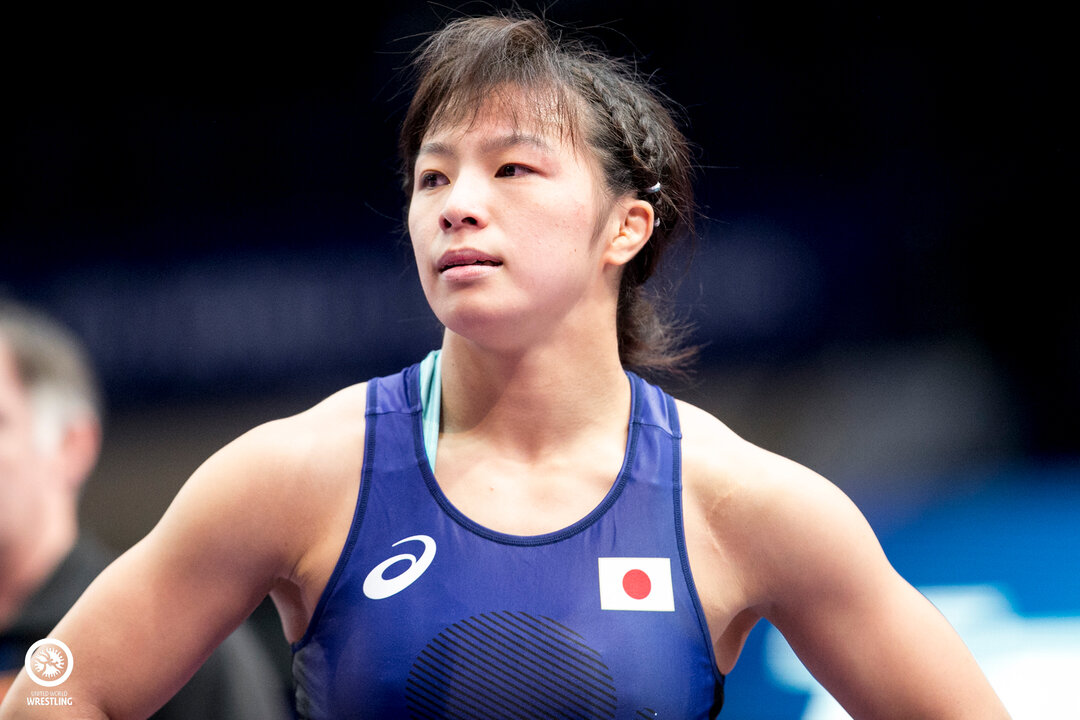 Yukako KAWAI (JPN) edged MUN Hyon Gyong (PRK), 5-4 in the semifinals and will wrestle in the 62kg gold-medal bout against Aisuluu TYNYBEKOVA (KGZ). (Photo: Gabor Martin)
World silver medalist Yukako KAWAI (JPN) survived a scare of her own in the 62kg semifinals, scoring a takedown with :10 left to defeat MUN Hyon Gyong (PRK), 5-4. 
In the quarterfinals, Mun knocked off PEI Xingru (CHN), a world bronze medalist and the 2018 Asian champion at 57kg. 
"As you see, we also won matches with the Chinese," DPR Korea coach Tong said. "We have confidence of winning at the Tokyo Olympic Games."
Kawai, the world U23 champion, will go for the gold against Aisuluu TYNYBEKOVA (KGZ), a 2017 world bronze medalist who won the silver at the Asian Games.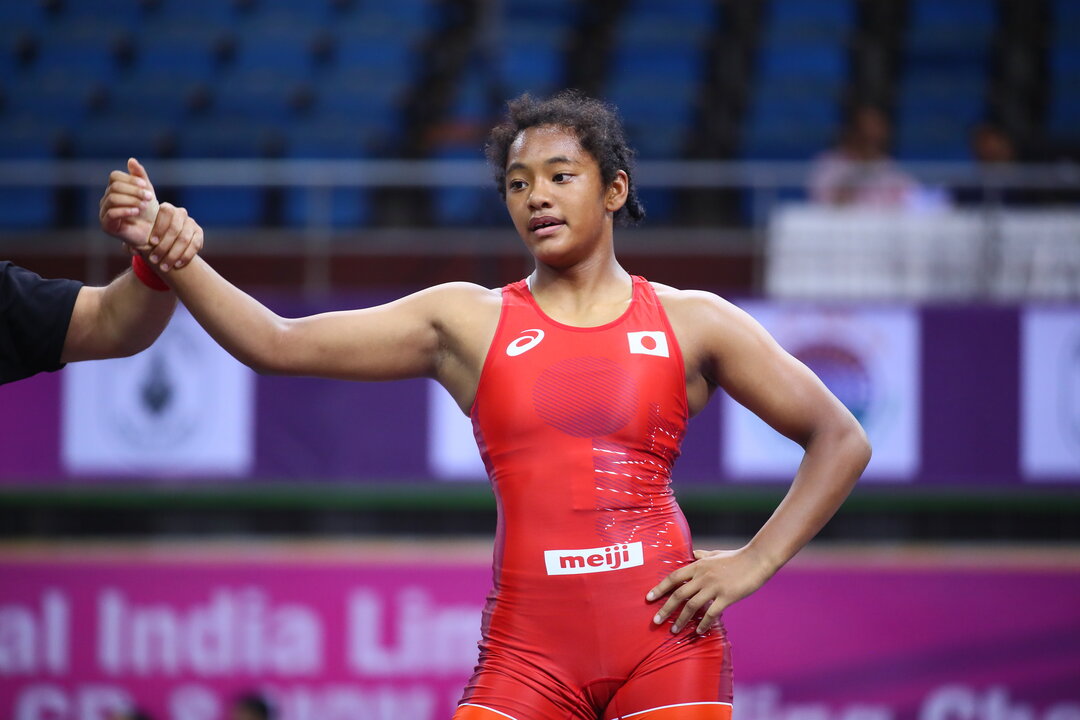 Naomi RUIKE (JPN) gets her hand raised after her semifinal win over Mongolia's Bolortungalag ZORIG. (Photo: Sachiko Hotaka)
The two other finals will each see a Japanese teenager, with college freshman Naomi RUIKE (JPN) making it at 65kg and high schooler Yuzuka KAGAMI (JPN) advancing at 72kg.
Ruike, who posted 10-0 technical fall victories in both of her matches, will take on LUO Xiaojuan (CHN), who will aim to improve on her silver-medal finish at 62kg in 2018. 
Two-time world cadet champion Kagami will look to add the Asian gold to the Klippan Lady bronze she won earlier this year when she faces JEONG Seoyeon (KOR).
Kagami twice showed the poise of a veteran as she had to rally in both of her preliminary matches to make the final. She got a stepout with :17 to beat 76kg Klippan champion WANG Juan 2-1, then scored an equally late takedown for a 2-2 win over Zhamila BAKBERGENOVA (KAZ) in the semifinals. 
Day 4 results
Women's wrestling

53kg (11 entries)
Gold – PAK Yongmi (PRK) v Mayu MUKAIDA (JPN)
Bronze – Akienge KEUNIMJAEVA (UZB) v KIM Hyungjoo (KOR)
Bronze – Vinesh VINESH (IND) v PANG Qianyu (CHN)
Semifinals
PAK Yongmi (PRK) df. KIM Hyungjoo (KOR) by Fall, 2:58 (6-0)
Mayu MUKAIDA (JPN) df. PANG Qianyu (CHN), 10-4
57kg (10 entries)
Gold – JONG Myong Suk (PRK) v RONG Ningning (CHN)
Bronze – Thi My Trang NGUYEN (VIE) v Kaori ICHO (JPN)
Bronze – Tserenchimed SUKHEE (MGL) v Pooja DHANDA (IND)
Semifinals
JONG Myong Suk (PRK) df. Kaori ICHO (JPN), 7-4
RONG Ningning (CHN) df. Pooja DHANDA (IND), 8-4
62kg (12 entries)
Gold – Aisuluu TYNYBEKOVA (KGZ) v Yukako KAWAI (JPN)
Bronze – Nabira ESENBAEVA (UZB) v Salinee SRISOMBAT (THA)
Bronze – Sakshi MALIK (IND) v MUN Hyon Gyong (PRK) 
Semifinals
Aisuluu TYNYBEKOVA (KGZ) df. Salinee SRISOMBAT (THA) by Fall, 1:52 (8-0)
Yukako KAWAI (JPN) df. MUN Hyon Gyong (PRK), 5-4 
65kg (8 entries)
Gold – LUO Xiaojuan (CHN) v Naomi RUIKE (JPN)
Bronze – Kaur NAVJOT (IND) v Aina TEMIRTASSOVA (KAZ)
Bronze – Sakhipjamal ALEUATDINOVA (UZB) v Bolortungalag ZORIGT (MGL)
Semifinals
LUO Xiaojuan (CHN) df. Aina TEMIRTASSOVA (KAZ) by Fall, 3:49 (10-1)
Naomi RUIKE (JPN) df. Bolortungalag ZORIGT (MGL) by TF, 11-0, 4:41
72kg (8 entries)
Gold – JEONG Seoyeon (KOR) v Yuka KAGAMI (JPN)
Bronze – Li Chia-Hsin (TPE) v Nilufar GADAEVA (UZB)
Bronze – WANG Juan (CHN) v Zhamila BAKBERGENOVA (KAZ)
Semifinals
JEONG Seoyeon (KOR) df. Nilufar GADAEVA (UZB) by TF, 12-2 
Yuka KAGAMI (JPN) df. Zhamila BAKBERGENOVA (KAZ), 2-2