Four Russians Reach European Finals; Karadeniz Erases Five-Point Deficit
Monday, April 19, 2021 - 19:58 By Eric Olanowski
WARSAW, Poland (April 19) --- The Russian Federation emerged victorious in 12 of 13 matches on the opening day of wrestling at the Hala Widowiskowo-Sportowa and have a quartet of wrestlers vying for European gold on Tuesday night.

Nachyn MONGUSH (57kg) cruised to the finals while Zagir SHAKHIEV (65kg), Israil KASUMOV (70kg) and Alikhan ZHABRAILOV (97kg) scored come-from-behind wins to punch their tickets to the finals.
Mongush started the fire for Russia with a 2-0 win over 23-year-old Afgan KHASHALOV (AZE). The talented young Russian's defensive skills were on display throughout the day, but his most significant defensive stop came in the closing seconds against Khashalov. Mongush fended off Khashalov's only attack of the match and hung on to the two-point win. After reaching the finals, Mongush said, "I wanted to win or die on the wrestling mat." He'll wrestle two-time world medalist and returning European silver-medal winner Suleyman ATLI (TUR) for 57kg gold.
Atli looked in mid-season form during his run to the 57kg finals. The 26-year-old breezed his way to the finals with a pair of Monday wins. Atli started his day with an 11-0 shutout over Kamil KERYMOV (UKR), then beat 23-year-old Mikyay NAIM (BUL) to earn his second straight European finals berth.
In his semifinals match against Naim, Atli controlled the match's tempo and secured an inactivity point halfway through the period. Then, with 10 ticks left in the first, the 26-year-old added two points to the scoreboard with a takedown and commanded the three-point advantage. Atli gave up a stepout point but held center in the closing frame and will look to improve his European silver medal from a year ago.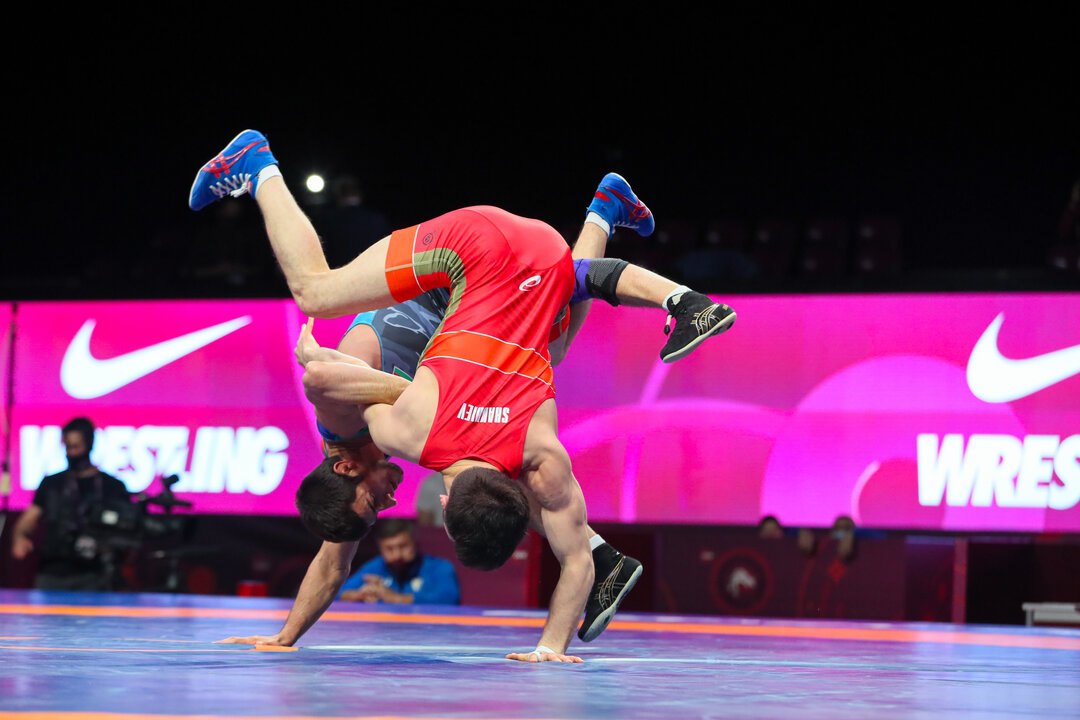 Zagir SHAKHIEV (RUS) gets tangled up with Ali RAHIMZADE (AZE) in their semifinals meeting. (Photo: Kadir Caliskan)
At 65kg, Zagir Shakhiev rallied off eight unanswered points against Ali RAHIMZADE (AZE) and moved into the finals. He'll take on Poland's 30-year-old veteran Krzysztof BIENKOWSKI (POL) for gold on Tuesday night.
Shakiev found himself in a big hole after the opening 30 seconds but showed no signs of panic. Early in the first period, he shot a single leg, came up to his feet, and had his 23-year-old opponent's leg dangling in the air. Shakiev's opponent used a slick back trip to sit him on his rear end. At first, the scoreboard showed that two points were awarded for the unconventional maneuver, but two additional points were awarded after a successful Azeri challenge. Shakiev stayed offensive late in the first period and cut Rahimzade's lead to two points with a swing single.
Despite falling behind early, Shakiev scored eight unanswered points and moved into the finals with an 8-5 victory.
As he made his way back to the locker room, Shakiev said, "I imagined that the hall was full of fans and it helped me find the strength to win." 
He'll square off with Polish vet Krzysztof Bienkowski in the finals. The hometown hero spoiled Maxim SACULTAN's (MDA) hopes of reaching the finals with a 7-3 victory.
The match was dull and had limited action for the first 5:50. But, in the closing 10 seconds, Bienkowski stopped a low-level attack and capitalized on a pair of exposures. Although he conceded an exposure himself, the 30-year-old will wrestle for European gold for the first time in nine tries.
Israil Kasumov was the third Russian who was victorious on Monday night. He'll take on U23 world champion Turan BAYRAMOV (AZE) for 70kg gold tomorrow night. 
Kasumov's semifinal opponent Arman ANDREASYAN (ARM) came out hot with a single leg. Still, after the two were twisted in a pretzel-like scramble, it was the Russian who grabbed the takedown before transitioning into a right-side gut wrench. Kasumov nearly gave up a takedown with 10 seconds left but squared his hips up just enough to not give up the two-point takedown.
Bayramov had a much easier time making it to the finals. He picked up two takedowns and a stepout and defeated Ihor NYKYFORUK (UKR), 5-0.
When asked about his thoughts on tomorrow's match against Bayramov, Kasumov said, "Tomorrow will be better than today!"
Alikhan Zhabrailov was Russia's fourth and final semifinal winner. He gave up a late takedown and fell behind 3-1 with less than 20 seconds left. But, with ice water running through his veins, he scored a takedown with 9 seconds left and stole a 97kg finals appearance from Radoslaw BARAN (POL).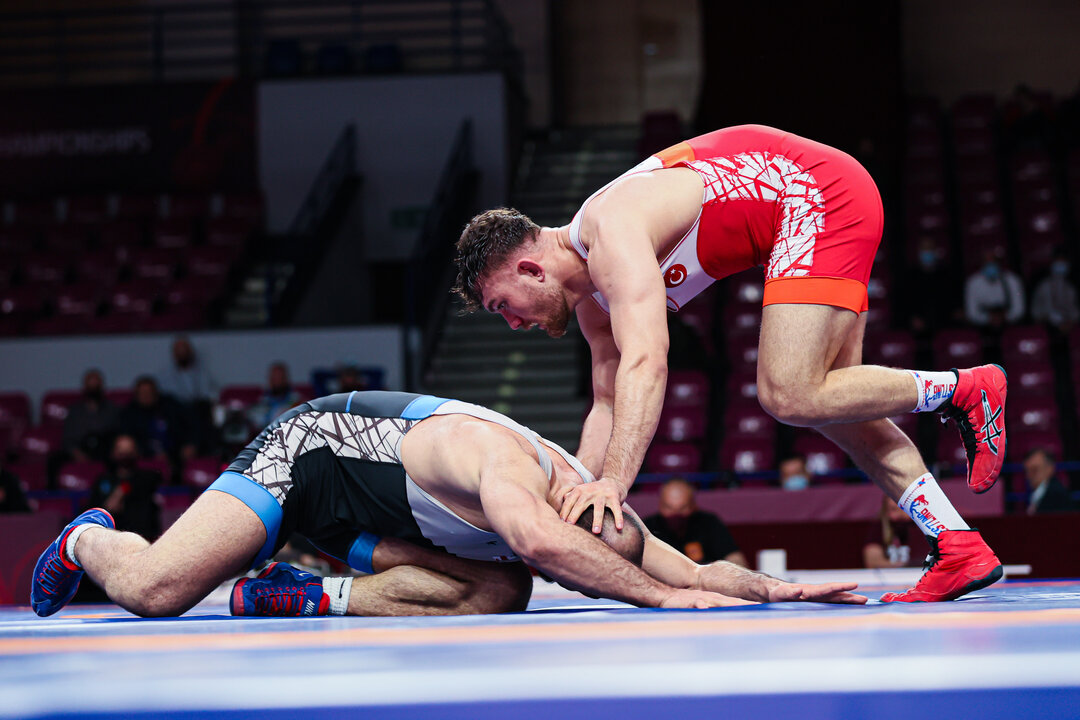 Suleyman KARADENIZ (TUR) stuffs a shot attempt from world bronze medalist Elizbar ODIKADZE (GEO). (Photo: Kadir Caliskan)
Zhabrailov will try to stop Suleyman KARADENIZ (TUR) from winning a second consecutive European title.
Karadeniz, last year's 92kg European champion, was getting blown out of the water in the opening period against six-time European bronze medalist Elizbar ODIKADZE (GEO) but held it together long enough for the Georgian to run out of gas.
In the second period, Karadeniz, who qualified Turkey for the Olympic Games through his 97kg runner-up finish at the European Olympic Qualifier, completely gassed Odikade and scored seven unanswered points to reach the finals in back-to-back years.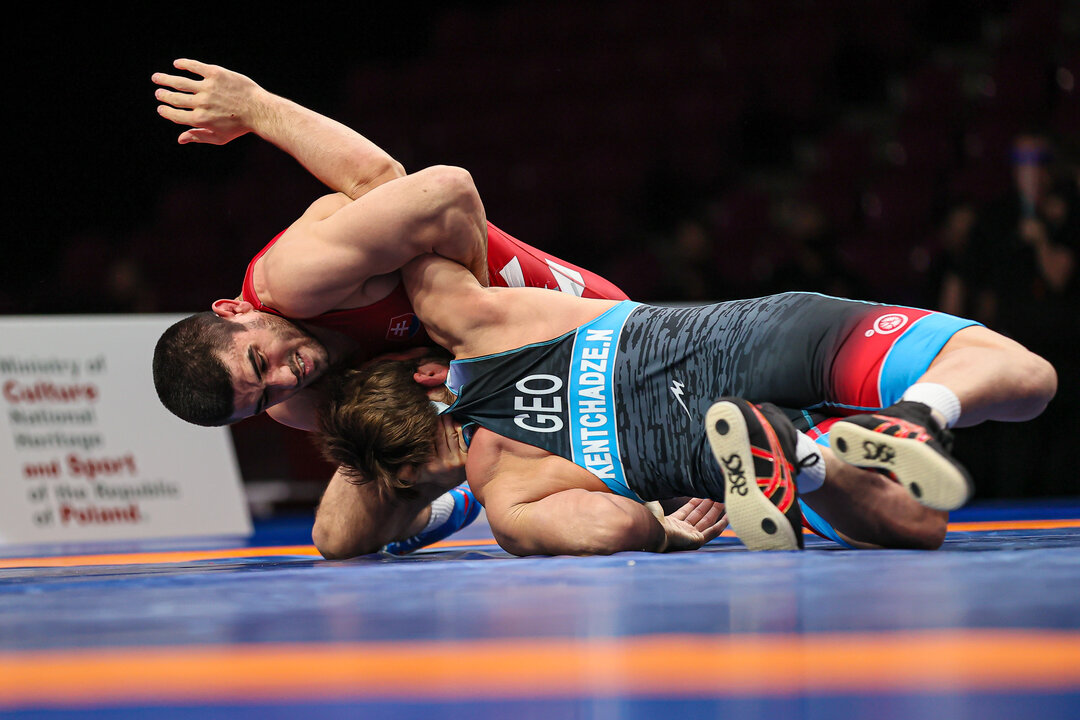 Akhsarbek GULAEV (SVK) stops a dump attempt and puts Nika KENTCHADZE (GEO) on his back. (Photo: Kadir Caliskan)
Gulaev and Alekma Make 79kg Finals
Akhsarbek GULAEV (SVK) and Saifedine ALEKMA (FRA) will wrestle for 79kg gold -- the lone finals match that won't feature a Russian wrestler.
Early in the first, Gulaev stopped a Nika KENTCHADZE (GEO) dump attempt and opened the match up with a two-point exposure. The pair traded exposures off each other shots, but a one-point reversal gave the Slovakian a 4-3 lead. Then, in the second period, the 23-year-old scored the match-deciding step out and reached the finals with a 5-4 win.
While trailing 1-1, Alekma showed off his world-class timing by capitalizing on the inactivity clock point before stopping a half-hearted shot attempt, which he turned into a takedown and gut wrench. He went from trailing 1-1 to leading 6-1 and punching his ticket to the European finals in a matter of seconds.
Freestyle action resumes tomorrow morning in Poland at 11:30 and can be followed live on www.uww.org.

RESULTS

57kg
GOLD - Suleyman ATLI (TUR) vs. Nachyn MONGUSH (RUS)
SEMIFINAL - Nachyn MONGUSH (RUS) df. Afgan KHASHALOV (AZE), 2-0
SEMIFINAL - Suleyman ATLI (TUR) df. Mikyay NAIM (BUL), 3-1
65kg
GOLD - Zagir SHAKHIEV (RUS) vs. Krzysztof BIENKOWSKI (POL)
SEMIFINAL - Maxim SACULTAN (MDA), 7-3
SEMIFINAL - Zagir SHAKHIEV (RUS) df. Ali RAHIMZADE (AZE), 8-5
70kg
GOLD - Turan BAYRAMOV (AZE) vs. Israil KASUMOV (RUS)
SEMIFINAL - Israil KASUMOV (RUS) df. Arman ANDREASYAN (ARM), 3-2
SEMIFINAL - Turan BAYRAMOV (AZE) df. Ihor NYKYFORUK (UKR), 5-0
79kg
GOLD - Akhsarbek GULAEV (SVK) vs. Saifedine ALEKMA (FRA)
SEMIFINAL - Saifedine ALEKMA (FRA) df. Rashad YUSIFLI (AZE), 6-1
SEMIFINAL - Akhsarbek GULAEV (SVK) df. Nika KENTCHADZE (GEO), 5-4
97kg
GOLD - Suleyman KARADENIZ (TUR) vs. Alikhan ZHABRAILOV (RUS)
SEMIFINAL - Suleyman KARADENIZ (TUR) df. Elizbar ODIKADZE (GEO), 7-5
SEMIFINAL - Alikhan ZHABRAILOV (RUS) df. Radoslaw BARAN (POL), 3-3