Evloev Gives Host Country 74kg Freestyle Gold
Monday, March 5, 2018 - 01:13 By Ken Marantz
On the night the curtain came down on the Asian Championships in Bishkek, Muslim EVLOEV (KGZ) provided the perfect final act.
Evloev gave the host country a gold medal in 74kg freestyle as the tournament wrapped up its well-supported six-day run at the Kozhomkul Sports Palace with finals in five weight divisions.
Evloev, riding an early 5-point lead, never let up in defeating Mandakhnaran GANZORIG (MGL) by 11-1 technical fall with :24 remaining to give Kyrgyzstan its first Asian freestyle gold since 2015 and fourth in its history.
"It's a great feeling," Evloev said of winning at home to improve on his silver medal he won last year in New Delhi. "The crowd was really supporting me as much as they could and I couldn't fail them, so I did my best."
Iran finished up by capturing two golds, as reigning world and Olympic champion Hassan YAZDANI CHARATI (IRI) cruised to his first Asian title with a victory at 86kg, and Mohammadjavad EBRAHIMIZIVLAEI (IRI) followed by winning the 92kg crown.
In a duel between Georgian-born wrestlers for the 125kg title, Davit MODZMANASHVILI (UZB) defeated Giorgi SAKANDELIDZE (QAT), 5-0, in a tepid match that capped the tournament.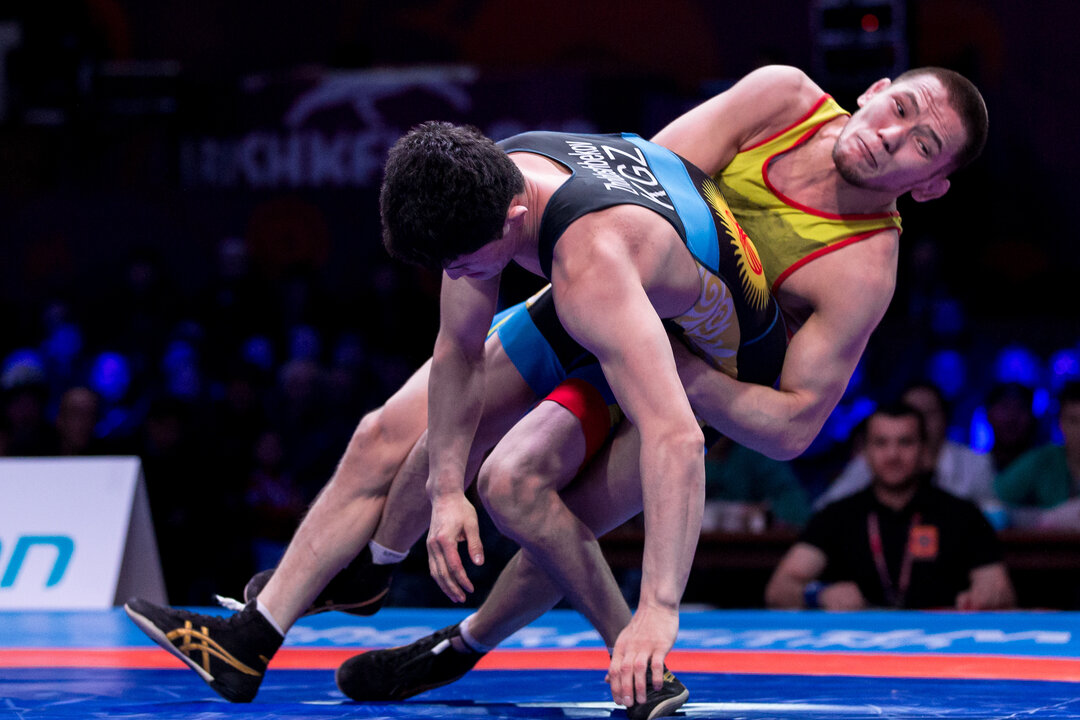 Nurislam SANAYEV (KAZ), 61kg champion looking for a gut wrench. Photo Max Rose-Fyne. 
The other gold at stake went to Nurislam SANAYEV (KAZ), a New Delhi 2017 bronze medalist who scored two takedowns in the second period of the 61kg final to top Kazuya KOYANAGI (JPN), 6-2.
Uzbekistan, which had won five medals, including two golds, on Saturday, added two bronzes to Modzmanashvili's gold to clinch the team title with 178 points. Iran finished second with 157 and Kazakhstan third with 146.
Evloev acknowledged he was heartened by the Greco victory of compatriot Akzhol MAKHMUDOV on the second day, one of the tournament's iconic moments for the thunderous ovation it elicited from the delirious crowd.
"Of course he did inspire me," Evloev said. "And I also want to say congratulations to Makhmudov because I haven't seen him yet."
In the final, Evloev used a single-leg lift to dump Ganzorig, a two-time world bronze medalist, backwards to the mat for a 4-point move, which became 5 when the Mongolian side's challenge was unsuccessful.
"It made me feel more confident, but I was going to wrestle until the last second," Evloev said of being staked to a big early lead. "That's why I won."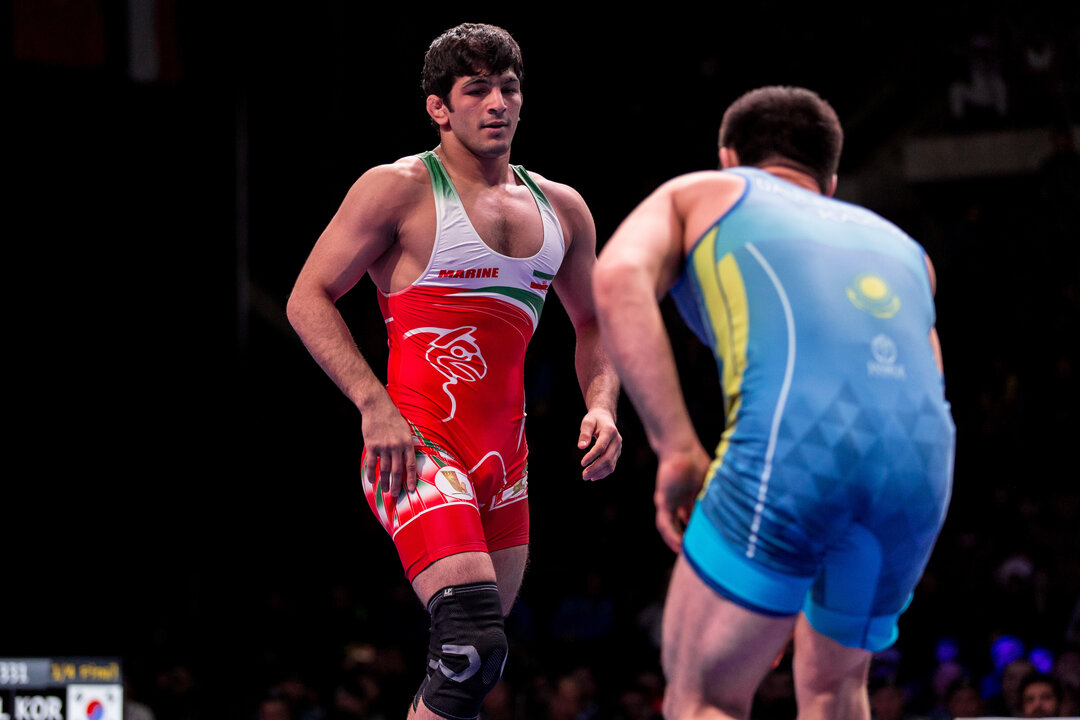 Photo of Hassan YAZDANI CHARATI (IRI) by Max Rose-Fyne. 
Outside of the Kyrgyz wrestlers, the spotlight was squarely on superstar Yazdani Charati.
And he lived up to expectations by overwhelming Uitumen ORGODOL (MGL) in the 86kg final, scoring with a takedown and roll combination right away, and then reeling off three takedowns for a 10-0 technical fall with 36 seconds still left in the first period.
Orgodol added the Asian silver to the one he won in 2016 and his bronze from 2013.
So popular is the Iranian that he had a phalanx of Kyrygz security guards whereever he went, and was whisked pass waiting media and fans without comment after his medal ceremony and completing doping procedures.
In the 92kg final, Ebrahimizivlaei built up a 5-1 lead through the first period against Adilet DAVLUMBAYEV (KAZ), then gave up a passivity point and nothing else to take the gold with a 5-2 victory.
The plodding end to the final bout of the tournament, the 125kg final, belied the historical significance of it.
Modzmanashvili, a London 2012 Olympic bronze medalist for Georgia, took a 4-0 lead with an early takedown to a roll, then gained a point when Sakandelidze was on the activity clock in the second period, when the two giants seemed to have little desire to expend further energy.  
By winning the silver medal, Sakandelidze became Qatar's first-ever medalist at the Asian Championships. The Gulf nation's best previous showing had been fifth place.
Although it took an import to gain a spot on the medal podium, Qatari officials were ecstatic with the result.
"After a long period, this is a big success for Qatar wrestling federation, for Qatar," said team leader Vardan Ghazaryan. "For the first time in senior championships, after more than 50 years, we take such success. Qatar is very proud and it will advertise wrestling to include more young schoolboys for developing wrestling in Qatar."
Ghazaryan said the federation has high expectations for Sakandelidze, who he said has lived in Qatar for two years.
"This is, of course, his first match for Qatar, but you will see his success and medals, gold medals, in the future."
Among the bronze-medal matches, Daniyar KAISANOV (KAZ) overcame an 8-3 deficit with 45 seconds remaining, scoring the winning takedown in the final seconds to defeat KIM Daisung (KOR), 11-8, at 74kg.
Kim, who clearly ran out of gas down the stretch, is a 40-something high school wrestling coach who came out of retirement to make the national team, according to a South Korean federation official.
Azizbek SOLIEV (UZB) also notched a last-second takedown to upend Turtogtokh LUVSANDORJ (MGL), 4-3, in their 92kg third-place match.
Kazakhstan, Uzbekistan, Iran and China all came away with two bronze medals on the night, while host Kyrgyzstan and Mongolia had one each.
Freestyle
61kg (12 entries)
Gold - Nurislam SANAYEV (KAZ) df. Kazuya KOYANAGI (JPN), 6-2
Bronze - Abbos RAKHMONOV (UZB) df. Sharvan SHARVAN (IND), 6x-6
Bronze - Ulubek ZHOLDOSHBEKOV (KGZ) df. Iman SADEGHIKOUKANDEH (IRI), 6-0
74kg (12 entries)
Gold - Muslim EVLOEV (KGZ) df. Mandakhnaran GANZORIG (MGL) by TF, 11-1, 0:24
Bronze - Daniyar KAISANOV (KAZ) df. KIM Daisung (KOR), 11-8
Bronze - Mostafa HOSSEINKHANI (IRI) df. Dovletmyrat ORAZGYLYJOV (TKM) by TF, 10-0, 4:12
86kg (12 entries)
Gold - Hassan YAZDANI CHARATI (IRI) df. Uitumen ORGODOL (MGL) by TF, 10-0, 3:24
Bronze - Azamat DAULETBEKOV (KAZ) df. Javrail SHAPIEV (UZB), 4-0
Bronze - BI Shengfeng (CHN) df. Deepak PUNIA (IND) by TF, 10-0, 3:41
92kg (10 entries)
Gold - Mohammadjavad EBRAHIMIZIVLAEI (IRI) df. Adilet DAVLUMBAYEV (KAZ), 5-2
Bronze - LIN Zushen (CHN) df. SUE Changjae (KOR), 2-1
Bronze - Azizbek SOLIEV (UZB) df. Turtogtokh LUVSANDORJ (MGL), 4-3
125kg (13 entries)
Gold - Davit MODZMANASHVILI (UZB) df. Giorgi SAKANDELIDZE (QAT), 5-0
Bronze - Zolboo NATSAGSUREN (MGL) df. NAM Koungjin (KOR) by TF, 10-0, 4:43
Bronze - Amin TAHERI (IRI) df. Sohbet BELLIYEV (TKM) by TF, 14-4, 3:02