Dosho Marks Return with Victory over Zhou in Asian 68kg Final
Thursday, April 25, 2019 - 16:17 By Ken Marantz
XI'AN, China (April 25)— In her first major test since returning from shoulder surgery, Olympic champion Sara DOSHO (JPN) proved once again she was as good as gold. 
Dosho was one of three Japanese champions crowned on the first day of the women's wrestling competition at the Asian Championships, while Paliha PALIHA (CHN) sent the partisan crowd home happy by capping the night with a well-earned victory.
Japanese and Chinese wrestlers met in four of the five finals, and came away with two victories each. Japan won the other gold at stake, thanks to a gritty performance by a high schooler.  
Dosho, the 2016 Rio Olympic and former world champion who had to abdicate her world title last year after undergoing shoulder surgery, battled to a 3-2 victory in the 68kg final in her latest nail-biting clash with defending champion and world bronze medalist ZHOU Feng (CHN)
"Even if it's Asia, to be able to return to international [competition] and be able to win is a relief," said Dosho, who won her fourth Asian gold and first since 2017. "It's great. It makes me feel glad I came back. I tasted the bitterness and many hardships from having surgery. To be able to once again win overseas makes me really happy." 
Dosho, at 1.59m almost a head shorter than the lanky Zhou, scored a first-period takedown with a single-leg tackle. After Zhou earned a point on the activity clock with just under a minute left in the match, Dosho managed to spin out of a takedown attempt and score with a stepout. 
Zhou, the Asian Games champion last summer in Jakarta, pressed fiercely for the winning points, but all she got was a penalty point assessed against Dosho for fleeing in the final seconds.
"She has long arms and legs, and is a really strong tackler," Dosho said. "I'm short, and I want to use that to my advantage by taking a low stance so that she couldn't get in on tackles.
"At the end, I started thinking too much about what would happen if I tried to attack. But not staying aggressive is something I really have to reflect upon. When I get back home, I need to practice harder."
Dosho, who suffered the shoulder injury at last year's Women's World Cup, has not been defeated since 2015, when she lost in the quarterfinals of the world championships in Las Vegas. The opponent? None other than Zhou Feng. 
Dosho avenged that loss in the semifinals of the 2017 Asian Championships in New Delhi, but only barely. The Japanese needed a successful challenge on a last-second flurry to win 7-7, then went on to take the gold. 
"This really boosts my confidence," Dosho said. "She's a very strong opponent. To be able to get a tackle off her is reassuring."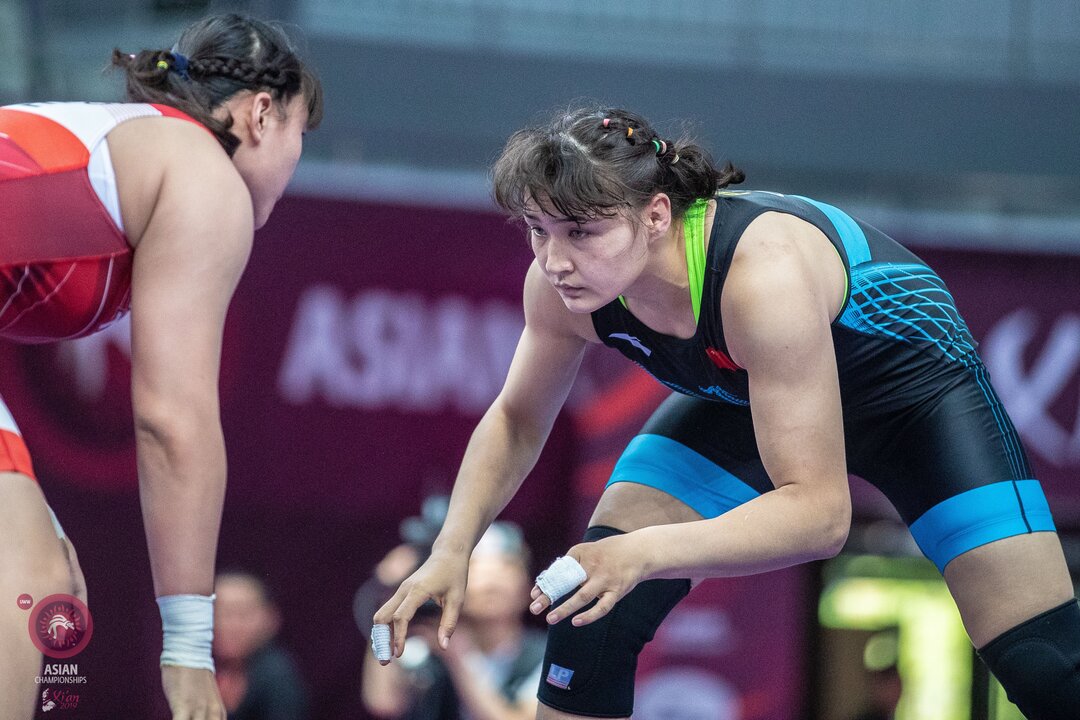 China's PALIHA Paliha grabbed the 76kg gold medal with a 2-1 victory over Japan's Hiroe MINAGAWA SUZUKI. (Photo: Sachiko Hotaka)
Chinese spirits were lifted a short time later when Paliha scraped to a 2-1 victory over two-time world bronze medalist Hiroe MINAGAWA SUZUKI (JPN) in the 76kg final.
Urged on by the home crowd at Xiduin University's Invengo Gymnasium, Paliha scored the winning takedown early in the second period, then fought out of a precarious takedown attempt to deny Minagawa Suzuki a third career Asian gold and first since 2015. 
"All the fans were cheering for me and it gave me much energy," Paliha said. "They were shouting, 'Paliha, keep attacking' and that made me feel safe.
"The coach tells us to defend in the first period," Paliha said. "In the second period, I just kept attacking and trying to get the advantage."
Yuki IRIE (JPN) won her second Asian title with a 6-4 win over world and Olympic bronze medalist SUN Yanan (CHN). (Photo: Sachiko Hotaka)
In the opening final of the session, Yuki IRIE (JPN) regained the Asian title she won in 2015 with a solid 6-4 victory over world bronze medalist SUN Yanan (CHN) in the 50kg final.
Irie, who had to settle for third place last year in Bishkek and was second at the Asian Games, scored two takedowns in the first period and added a slick duck-under takedown to go up 6-1 in the second.
Sun gained a point on the activity clock, then added a crotch lift counter to an Irie tackle for 2 points in the final seconds that was too little, too late.
"In the final, I didn't move like I thought I would," Irie said. "I wasn't nervous and I managed to keep my feet moving. I wanted to stay calm and execute my moves precisely. At the end, I gave up points and that's not good, but up to then, I wrestled well."
The continental title, however, is secondary to what lies ahead at home for Irie. She defeated two-time world champion Yui SUSAKI (JPN) to win the title at the Japan championships last December, and can clinch a place on Japan's team to the world championships with a victory at the All-Japan invitational championships (referred to as the Meiji Cup) in June.
Getting to the world championships in Nur-Sultan is essential, as the Japan federation has decreed that winning a medal there will earn an automatic berth at Tokyo 2020. 
"I want to get right home and start practicing," Irie said. "There are many issues I need to address, and I need to get everything straightened out in time for the Meiji Cup."
It was a good sign that she was able to maintain her focus on the task at hand in Xi'an. 
"Winning the title here was the absolute minimum, so I'm glad I cleared that. It's part of the leadup to June. That's the difficult problem to deal with , and I definitely want to win that title."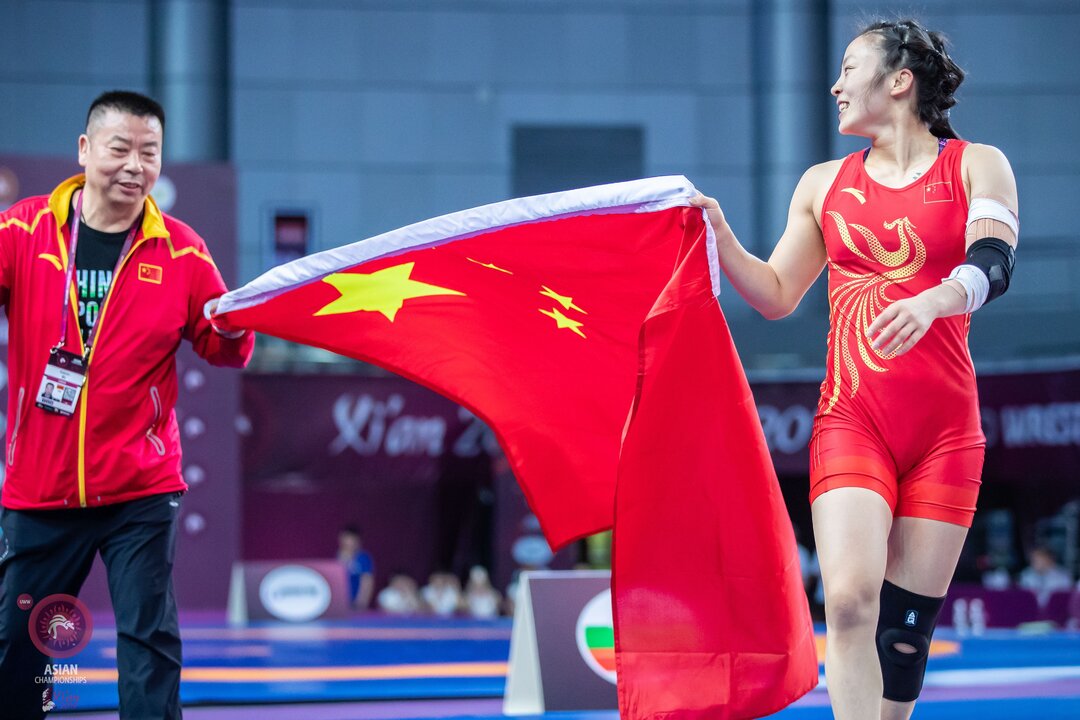 XIE Mengyu (CHN), the 55kg gold medalist, was the second Chinese wrestler who reached the top of the podium on the third day of wrestling. (Photo: Sachiko Hotaka)
China's other victory in the "duel meet" with Japan came at 55kg, in which XIE Mengyu (CHN) blitzed world junior and U23 champion Saki IGARASHI (JPN) with a 10-0 technical fall in 1:26.
Xie, second at the 2018 Ivan Yarygin Grand Prix, got Igarashi's leg in the air and tripped her for a 4-point lead, and never took her foot off the gas. She scored with a quick-fire ankle roll, then two back-and-forth gut wrenches to end the match.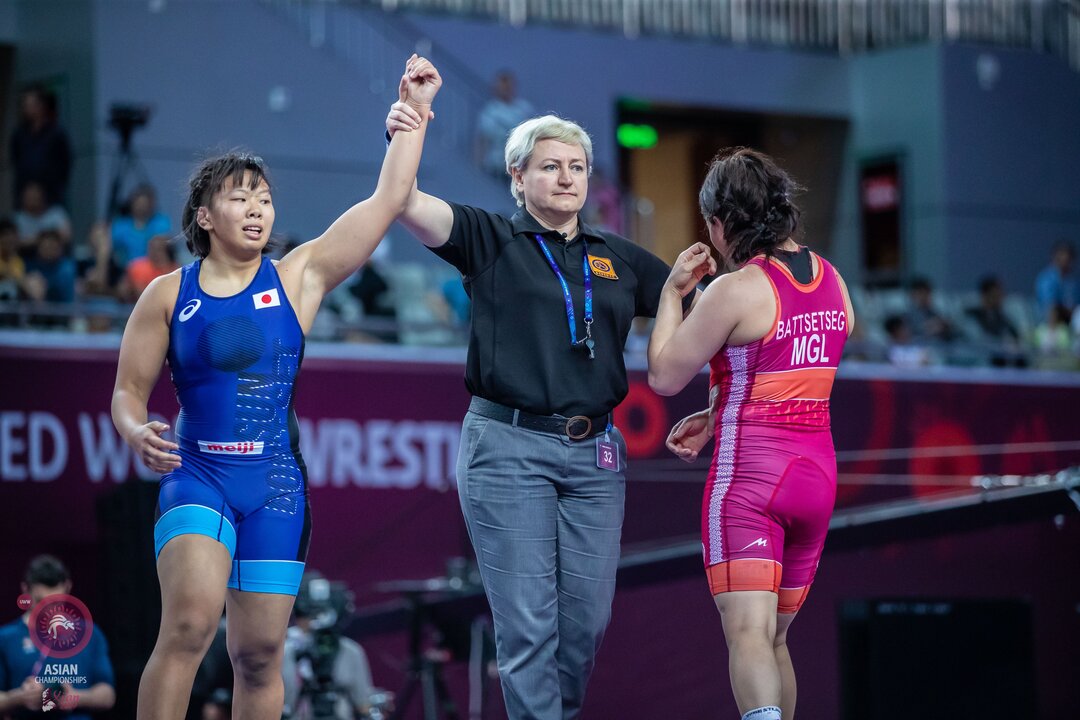 Yuzuka INAGAKI (JPN) claimed the 59kg title with a 10-0 win over Mongolia's ALTANTSETSEG Battsetseg. (Photo: Sachiko Hotaka)
At 59kg, third-year high schooler Yuzuka INAGAKI (JPN) made it 2-for-2 on the senior level when the Yarygin champion in January put on a late surge in the final to overwhelm Battsetseg ALTANTSETSEG (MGL) by 10-0 technical fall.
The bout featured lots of pushing and pulling and little else as Inagaki led 2-0, with both points coming on the activity clock, late in the second period. But then she spun behind for a takedown, then applied a lace lock and executed three straight rolls for the win at 5:42. 
ZHANG Qi (CHN), the lone wrestler from the host nation who failed to make the final—she lost in the 59kg semifinals to Inagaki—came away with a bronze medal by beating CHOI Yeonwoo (KOR) by fall in 1:09.
In the first match of the tournament between the Koreas with a medal at stake, HWANG Yong Ok (PRK) used a nifty ankle pick for a 4-point takedown and defeated OH Hyunyoung (KOR) 6-3 in a bronze medal match at 50kg. 
Another Korean was dealt a sadder and more painful defeat, as KIM Haeyeung (KOR) had to default her 55kg bronze-medal match to Marina SEDNEVA (KAZ) after suffering a dislocated right elbow.
Sedneva locked up both of Kim's arms and hit a back suplex that resulted in the injury and ended the bout at 1:15. Kim was taken off the mat on a stretcher. 
Kazakhstan and India each won two bronze medals, while CHANG Hui Tsz (TPE) finished third at 76kg to give Chinese Taipei its first medal after three days of competition.
The women's competition concludes Friday with the five remaining weight classes, including a possible clash at 57kg between four-time Olympic champion Kaori ICHO (JPN) and reigning world champion RONG Ningning (CHN).
Day 3 results
Women's wrestling
50kg (13 entries)
Gold – Yuki IRIE (JPN) df. SUN Yanan (CHN), 6-4
Bronze – Valentina ISLAMOVA BRIK (KAZ) df. Seema SEEMA (IND), 11-5
Bronze – HWANG Yong Ok (PRK) df. OH Hyunyoung (KOR), 6-3
55kg (11 entries)
Gold – XIE Mengyu (CHN) df. Saki IGARASHI (JPN) by TF, 10-0, 1:26
Bronze – Marina SEDNEVA (KAZ) df. KIM Haeyeung (KOR) by Injury Def., 1:16 (5-4)
Bronze – Dulguun BOLORMAA (MGL) df. Shakhodat DJULLIBAEVA (UZB) by Fall, 5:49 (11-0) 
59kg (8 entries)
Gold – Yuzuka INAGAKI (JPN) df. Battsetseg ALTANTSETSEG (MGL) by TF, 10-0, 5:42 
Bronze – Kumari MANJU (IND) df. Thi Huong DAO (VIE), 11-2
Bronze – ZHANG Qi (CHN) df. CHOI Yeonwoo (KOR) by Fall, 1:09 (6-0)
68kg (10 entries)
Gold – Sara DOSHO (JPN) df. ZHOU Feng (CHN), 3-2 
Bronze – Divya KAKRAN (IND) df. Battsetseg SORONZOBOLD (MGL) by Fall, 1:46 (4-0) 
Bronze – Meerim ZHUMANAZAROVA (KGZ) df. Irina KAZYULINA (KAZ) by TF, 10-0, 5:04 
76kg (9 entries)
Gold – Paliha PALIHA (CHN) df. Hiroe MINAGAWA SUZUKI (JPN), 2-1
Bronze – CHANG Hui Tsz (TPE) df. Zagardulam NAIGALSUREN (MGL) by TF, 14-3, 3:39
Bronze – HWANG Eunju (KOR) df. Aiperi MEDET KYZY (KGZ), 9-1