Clashes of Titans on Tap as Japanese Stars Stack Olympic Weights
Tuesday, December 18, 2018 - 02:07 By Ken Marantz
TOKYO (Dec. 17)---Japanese wrestlers have never lacked for motivation when it comes to the quest to make the Olympics. But with Tokyo to host the next Games in 2020, drive and desire are at fever pitch as everyone wants to get in on the act. 
So while it seemed inevitable that the upcoming All-Japan Championships, by serving as the first stage for qualifying for Japan's team to Tokyo 2020, would produce a number high-level match-ups. But just how meteoric the competition will be is nothing short of mind-boggling. 
There will be competition in all 10 weight classes, but the scramble to fill the six Olympic weight classes has funneled the cream of the crop into those divisions, setting up possible pairings---particularly among the women---that can be seen as exceeding the caliber of the recent world championships.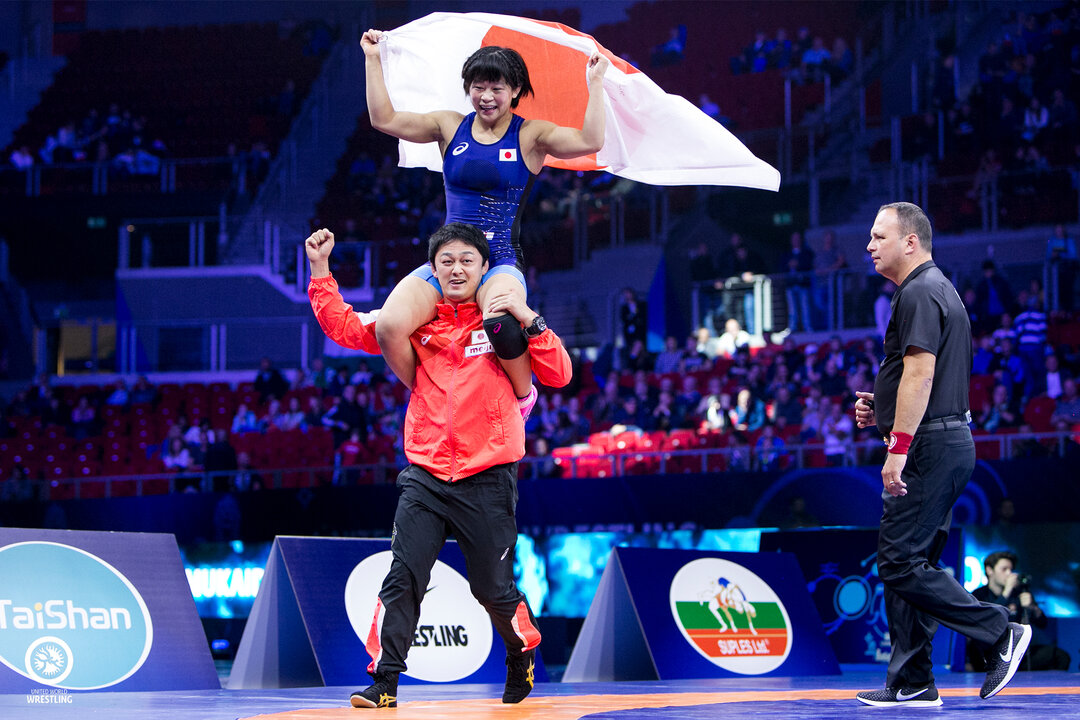 55kg world champion Mayu MUKAIDA (JPN) after winning the gold medal in Budapest. (Photo: Martin Gabor)
Someone making a movie about the tournament, which runs Dec. 20-23 at Tokyo's Komazawa Gym, could title it, "When World Champions Collide." That could happen at the Olympic weight class of women's 53kg, where 55kg world gold medalist Mayu MUKAIDA has dropped down to challenge the Budapest 2019 champion at 53kg, Haruna OKUNO. 
"This tournament has links to the Olympics and is extremely important," Japan women's national team coach Hideo SASAYAMA said at a recent press conference to announce the final entries. "The Olympic weight classes have many entries, and we have medalists from the world championships against each other. It's going to be a very high-level tournament."
Under the JWF criteria, winners of both the All-Japan Championships, also called the Emperor's Cup, and the All-Japan Invitational Championships (the Meiji Cup, held in May or June) automatically qualify for the next world championships. If the winners are different, there will be a playoff for the spot. 
But the 2019 world championships in Astana have further ramifications---a wrestler who wins a medal there not only earns an Olympic spot for Japan, but automatically fills it themselves. That's why the competition is so fierce to get onto that team, even with Tokyo 2020 nearly two years away. 
Should Mukaida and Okuno meet in the 53kg final as expected, it would be just the 11th time in Japanese wrestling history that two current world champions faced each other in a domestic tournament, according to the Japan Wrestling Federation.  
Mukaida, two years older at 21, holds an overwhelming advantage over her Shigakkan University teammate Okuno, having won all eight of their previous encounters dating back to 2012. Most recently, Mukaida posted a 5-0 win in the 2017 Junior Queen's Cup. 
As enticing as that match-up might be, it might have to play second fiddle to a real Clash of the Titans---the potential battle at 57kg between reigning Rio 2016 Olympic champions Kaori ICHO and Risako KAWAI. 
Icho, whose gold in 2016 made her the first woman in history to win four consecutive Olympic titles in one event, went on hiatus after her triumph in Rio, returning to competition this past autumn in a bid for a historic five-peat.  
The 34-year-old Icho might not be a reigning world champion at the moment, but it would be hard to discount the 10 gold medals in her collection, the most recent coming at 58kg in 2015. Kawai followed up her gold medal performance at 63kg at Rio 2016 with back-to-back world titles, claiming the 59kg gold in Budapest.
Icho passed the first test of her return by winning the second-tier Japan Women's Open in September. To prepare for the stiffer competition at the Emperor's Cup, she was invited to the national team training camp in November, where she had a chance to work out with Kawai. 
Japan officials would not say who had the advantage in their sparring, but national team technical director Shigeki NISHIGUCHI said of Icho, "Her concentration is amazing. I saw her sparring with Kawai, and she just doesn't give up a takedown. It's really going to be a good match."
Sasayama was equally impressed. "I thought that she might have lost more power than she had. But when I actually watched her, her defense, it seems she hasn't lost much. She might not have the stamina to keep up with the younger wrestlers who can go all out all of the time."
Icho and Kawai, 24, have faced each other in the past, although it was before Kawai had emerged as a world-class wrestler. Battling once in 2013 and twice in 2014, Icho won all three matches without surrendering a point.
Three-time world and Olympic champion, Risako KAWAI (JPN) is likely to face Icho at the Emperor's Cup. She's moved down to the Olympic weight category to make room for her sister Yukako at 62kg. (Photo: Martin Gabor)
Kawai's decision to drop down to 57kg was likely due to avoid having to clash with younger sister Yukako KAWAI, the Budapest 2018 silver medalist at 62kg. Yukako will compete at that Olympic weight class, where she will be challenged by 65kg bronze medalist Ayana GEMPEI. Both Kawai and Gempei recently won U23 world titles, and Kawai was named the UWW's U23 female wrestler of the year.
Sparks are also sure to be flying in the women's 50kg division, where the trio of world champion Yui SUSAKI, Rio 2016 gold medalist Eri TOSAKA and Asian silver medalist Yuki IRIE---who beat both of the other two last year---will battle it out.  
One new development that could be a factor is that Susaki, coming off a dominant performance in Budapest where she stormed to a second straight world gold, suffered an elbow injury at the national camp, according to Sasayama.
"Susuki fought wonderfully at the world championships and won her second straight title, and was at absolute strength," Sasayama said. "At the recent national camp, she injured her left elbow. There are concerns whether she will be ready in time for the tournament.
"With that in mind, it will be a point of interest to see what Irie, Tosaka and [U23 world champion] Miho IGARASHI bring to the fight."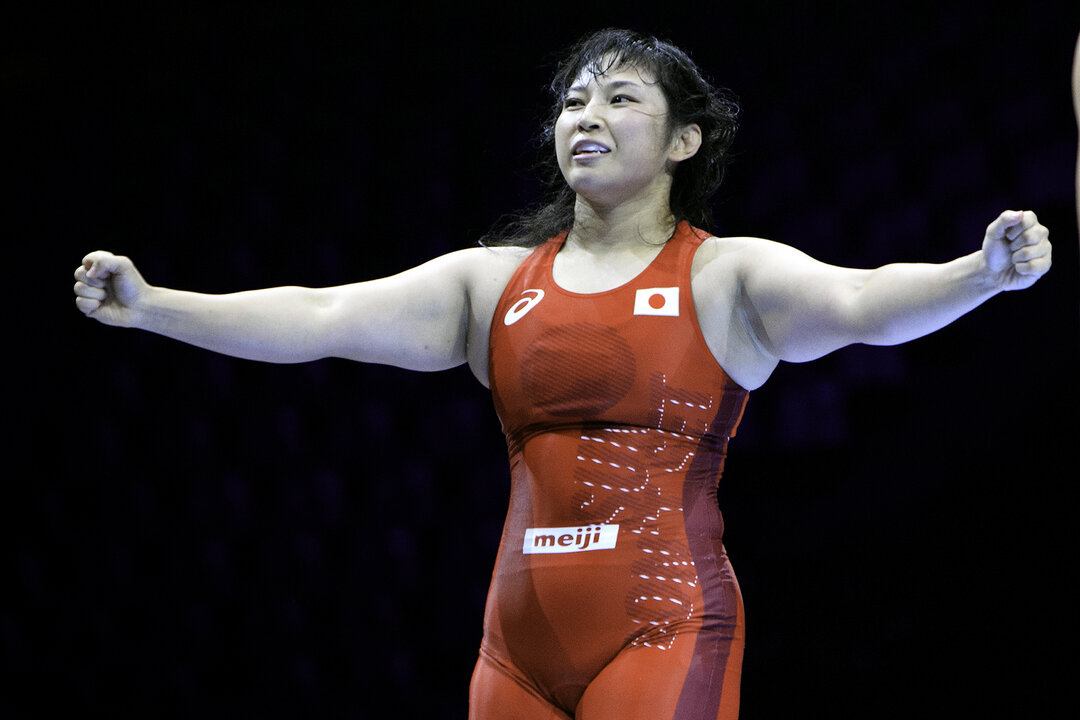 Reigning Olympic champion, Sara DOSHO (JPN). (Photo: Martin Gabor)
The women's 68kg division will see the return of Rio 2018 champion Sara DOSHO, who underwent surgery after injuring her shoulder at the Women's World Cup in March. Blocking her path to victory will likely be Rio WATARI and Chiaki SEKI.
It was her inability to beat Dosho that caused Watari to move up two weight classes to 75kg in a successful quest to make the Japan team to Rio 2016. The story took an even more dramatic twist when she developed life-threatening Hodgkin lymphoma, from which she battled back over the next two years to remarkably earn a spot on the squad to Budapest 2018.
With the top wrestlers packed into the Olympic weight classes, the non-Olympic weights have drawn just four or five entries. Most notable is Saki IGARASHI, the world junior and U23 champion who will aim for her first senior national title at 55kg.
"This is the first step of the selection process for the Olympics and the entries have been concentrated into the Olympic weight classes," Nishiguchi said. "So it's a bit lonely in the non-Olympic weights with few entries, but that can't be helped."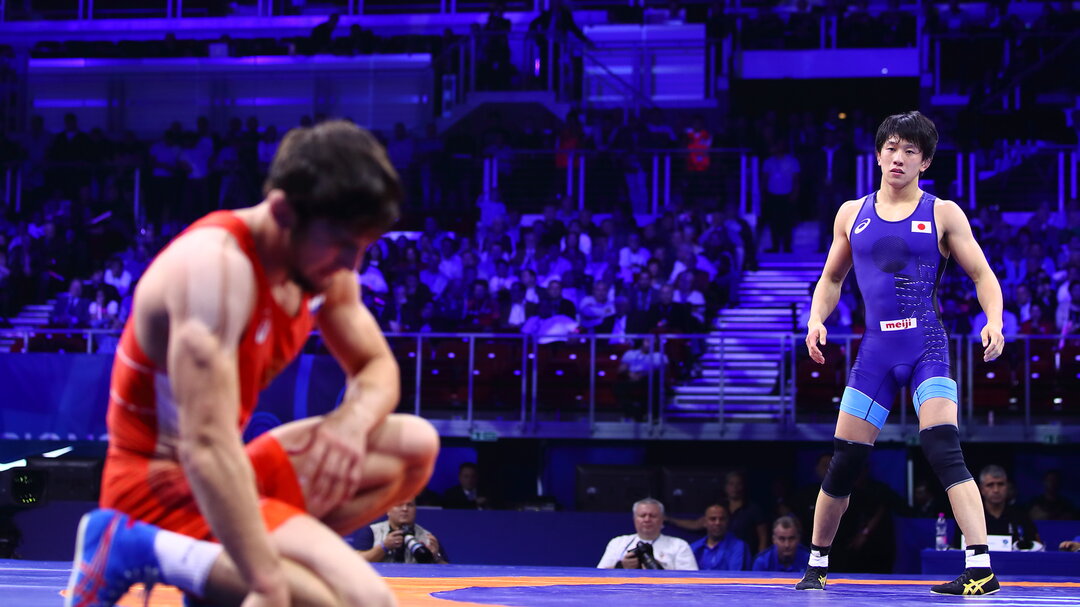 Takuto OTOGURO (JPN), reigning 65kg world champion. (Photo: Sachiko Hotaka) 
Rivalries renewed in men's competitions
While there are not as many world medalists among the men's styles, there will be no lack of intense competition.
Takuto OTOGURO, who at 19 years 10 months became Japan's youngest-ever male world champion when he captured the 65kg freestyle gold in Budapest, will be aiming for his first Emperor's Cup title, but will find Rei HIGUCHI and Daichi TAKATANI more than ready to exact revenge for losses earlier this year to the Yamanashi Gakuin University star. 
Higuchi, the 57kg silver medalist at Rio 2016, has had some difficulty handling the taller opponents as he moves up in weight, but gained a boost of confidence with a victory at last month's U23 world championships in Bucharest. His hopes of making it to Budapest two months earlier had ended with a loss to Ishiguro in the Meiji Cup final last June. 
That victory by Otoguro put him into a playoff with Emperor's Cup winner Takatani, which Otoguro won handily. Takatani won the silver medal at the Asian Games this summer and can never be disregarded as a threat.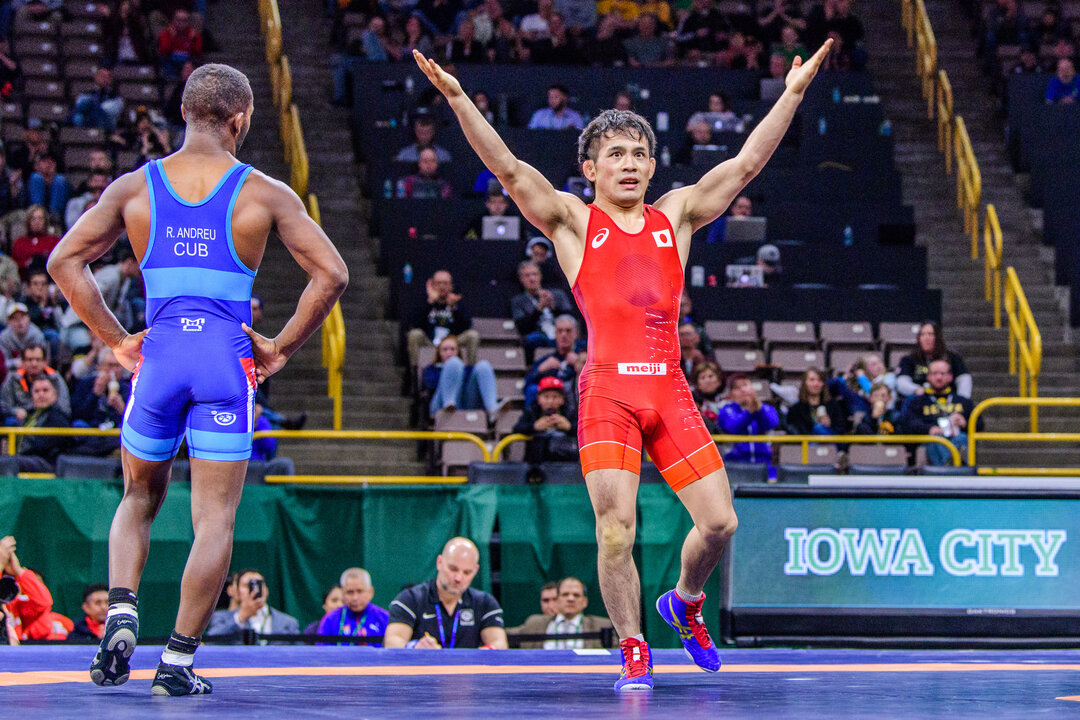 Yuki TAKAHASHI (JPN), 2017 world champion. (Photo: Tony Rotundo) 
The 57kg freestyle division could see a clash of reigning national champions. Former world champion Yuki TAKAHASHI, who had to settle for a bronze at Budapest 2018, will aim for his third straight national crown, but can expect competition from Kazuya KOYANAGI, who won the 61kg last year and finished seventh in Budapest. 
Also expected to be in the mix is U23 world champion Toshihiro HASEGAWA, while interest is high to see how high school triple-crown champion Kaito MORIKAWA will fare on the senior level. 
Sosuke TAKATANI, the older brother of Daichi, will get his first test at the Olympic weight of 86kg. The 2014 world silver medalist and a six-time national champion at 74kg, he competed at 79kg over the past year---winning another national title---as a stepping stone to 86kg.  
Defending champion Shota SHIRAI and runner-up Masao MATSUSAKA will be sure to provide a less-than-warm welcome to the weight class, which has also drawn world junior 79kg champion Hayato ISHIGURO.
Atsushi MATSUMOTO, a Budapest 2018 bronze medalist at 92kg, has opted to compete in the non-Olympic class and will aim for his first national freestyle title since 2014 and fourth overall (he won a gold in Greco in 2016 before switching back to freestyle).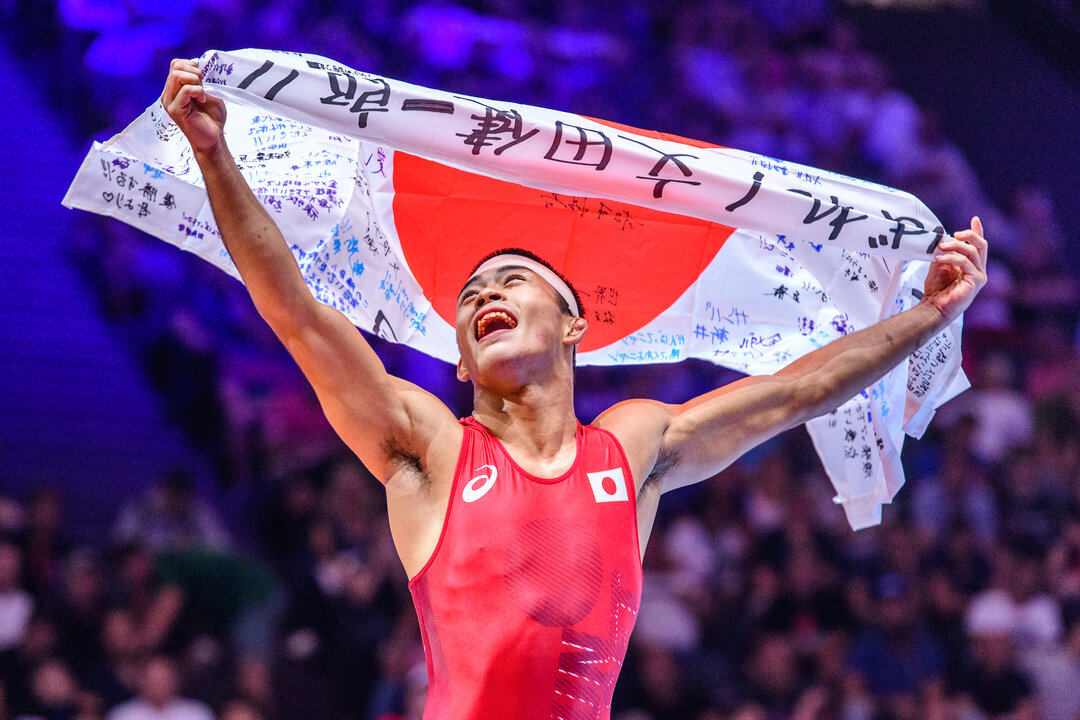 Kenichiro FUMITA, 2017 world champion. (Photo: Tony Rotundo) 
The Greco competition should see the latest installment of the 60kg battle between Rio 2016 silver medalist Shinobu OTA and Paris 2017 world champion Kenichiro FUMITA.
Ota has had the upper hand recently, winning their most recent encounter at last year's Emperor's Cup to tie their head-to-head series at 4-4 dating back to 2014. Ota took the gold at the Asian Games in Jakarta in August, but suffered a heartbreaking second-round loss at Budapest 2018. 
Fumita, who missed much of the season due to an injury, showed he is back in form by capturing the gold at the U23 world championships. 
Schedule
Thursday, Dec. 20
9:30-18:00 - 1st Round through Semifinals; Repechage: FS 86, 92, 97, 125; GR 63, 72, 87, 97, 130; WW 55, 59, 62, 72
18:00-19:00 - Medal Matches: FS 92
Friday, Dec. 21
9:30 - 16:10 - 1st Round through Semifinals; Repechage: FS 57, 61, 74; GR 67, 77; WW 65, 76
16:10 - 20:40 - Medal Matches: FS 86, 97, 125; GR 63, 72, 87, 97, 130; WW 55, 59, 62, 72
Saturday, Dec. 22
9:30 - 15:00 - 1st Round through Semifinals, Repechage: FS 65, 70; GR 55, 60; WW 50, 53, 57, 68
15:00 - 19:30 - Medal Matches: FS 57, 61, 70, 74; GR 55, 67, 77; WW 65, 76
Sunday, Dec. 23
9:30 - 13:00 - 1st Round through Semifinals, Repechage: FS 79; GR 82
13:00 - 14:00 - Award ceremony for top individuals, clubs of year
14:00 - 14:15 - Return of Emperor's Cup trophy
14:15 - 17:00 - Medal Matches: FS 65, 79; GR 60, 82; WW 50, 53, 57, 68