Burroughs Survives Scares to Stay on Collision Course with Chamizo at 74kg
Friday, September 20, 2019 - 10:31 By Ken Marantz
NUR-SULTAN, Kazakhstan (Sept. 20)---For four-time world champion Jordan BURROUGHS (USA), the result is all that matters. So it was no problem shrugging off the bullets that he dodged to remained on a collision course with rival Frank CHAMIZO (ITA).
Burroughs survived two close wins before beating Khadzhimurad GADZHIYEV (AZE) 8-1 to advance to the freestyle 74kg semifinals, where he will face reigning world champion Zaurbek SIDAKOV (RUS) in the night session on Day 7 of the World Championships.
"I don't think anyone cares about the score, they just care about me getting my hand raised," Burroughs said about posting his easiest win in the quarterfinals.
Earlier, Burroughs scored 3 late points to win 11-10 in a roller-coaster victory over Azamat NURYKAU (BLR) in his opening match in the second round. Then, he trailed 4-0 against Murad KURAMAGOMEDOV (HUN) before scoring a 4-point takedown and winning 6-4. 
"It's like that sometimes," said Burroughs, who won a bronze medal a year ago in Budapest. "Sometimes you win big, sometimes you survive. But I think the name of the game at this level is survive and advance, move on to the next round."
By making the semifinals, Burroughs also clinched a berth for the United States at Tokyo 2020, where he will aim to regain the Olympic title he won at London 2012. The top six finishers in each of the Olympic weight class secure spots for their country at Tokyo 2020.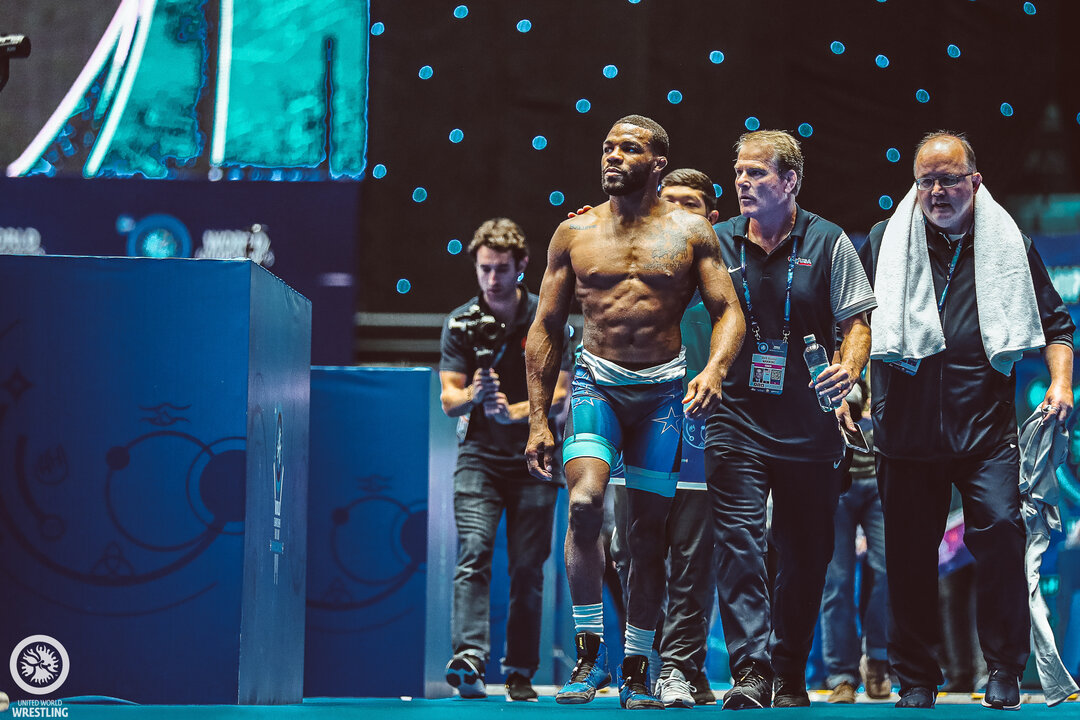 Jordan BURROUGHS (USA) locked up the United States' spot at 74kg after defeating Khadzhimurad GADZHIYEV (AZE) in the quarterfinals. (Photo: Kadir Caliskan)
"It's good for our country, but it's not really of any benefit to me," Burroughs said. "I still have to wrestle at the Olympic trials to make the team. It's a beautiful thing. One less tournament to worry about next year."
Burroughs' rival, two-time world champion Chamizo, advanced to the semifinals with a victory by fall over Asian champion Daniyar KAISANOV (KAZ). He will face Zelimkhan KHADIEV (FRA), who knocked off 2018 silver medalist Avtandil KENTCHADZE (GEO) by fall in the second round.
Another showdown was looming at 125kg, where two-time reigning champion Geno PETRAIASHIVILI (GEO) and Taha AKGAL (TUR), winner of the three titles before that, both eased into the semifinals.
Petriashvili, who chalked up a pair of technical fall victories, will face Oleksandr KHOTSIANIVSKYI (UKR). Akgal, the Rio 2016 champion who beat Petriashvili at this year's European Championships, will take on 2018 world silver medalist DENG Zhiwei (CHN)
 At the non-Olympic 7okg, 2017 world silver medalist Magomedmurad GADZHIEV (POL) scored a takedown with just over a minute to go to secure a 3-3 victory on criteria over last year's runner-up, Adam BATIROV (BRN).
Gadzhiev will face 2018 world U23 silver medalist David BAEZ (RUS), while Asian champion Nurkozha KAIPANOV (KAZ) will take on Yones EMAMICHOGHAEI (IRI), a bronze medalist in Xi'an, China, last April, in the semifinals. 
Defending champion J'den COX (USA) earned a place in the final our at 92kg against Irakli MTSITURI (GEO). The other semifinal pits 2018 bronze medalist and Asian champion Alireza KARAMIMACHIANI (IRI) against Alikhan ZHABRAILOV (RUS).
The repechage rounds in weight classes started the previous day provided high drama in themselves, particularly for Japan, as those emerging to gain spots in the bronze-medal matches in the night session also clinched a spot for their country at Tokyo 2020.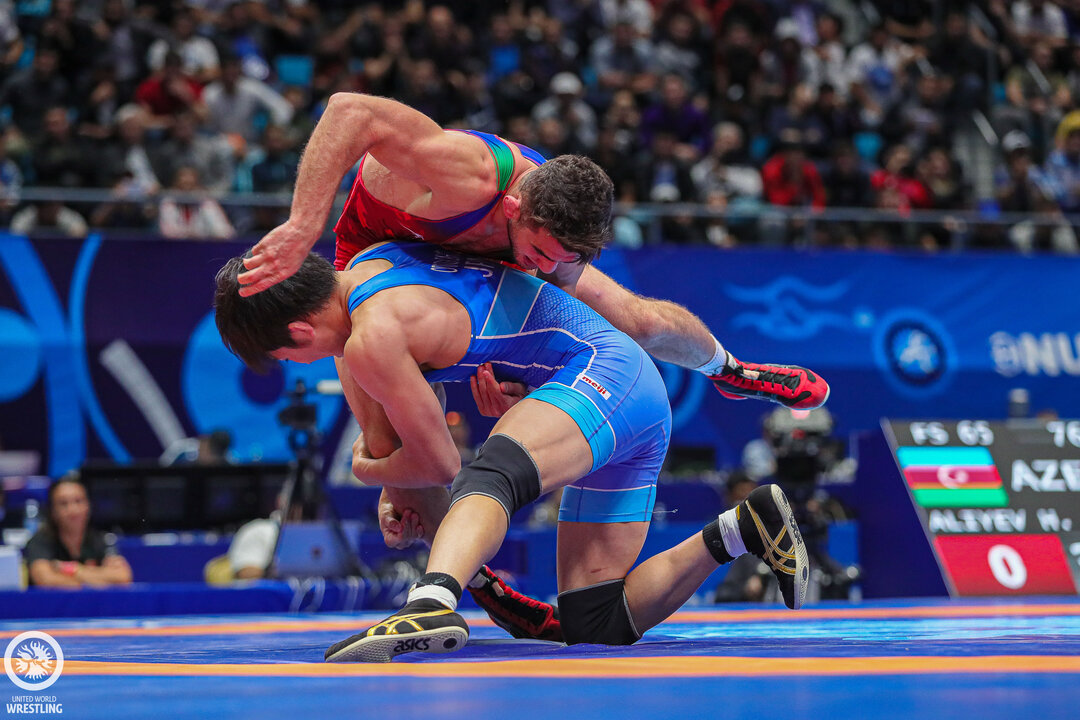 Takuto OTOGURO (JPN), the defending world champion, defeated three-time world champion Haji ALIYEV (AZE), 11-9, to reach the 65kg bronze-medal bout. (Photo: Kadira Caliskan)
Takuto OTOGURO (JPN), the defending champion who lost to Gadzhimurad RASHIDOV (RUS) in the third round in a very tough lower bracket at 65kg, survived a battle royale with three-time world champion, Haji ALIYEV (AZE), withstanding two late caution penalties in forging out an 11-9 win.
Otoguro then secured the Tokyo 2020 spot for Japan by beating Haji ALI (BRN) 6-1. A victory in the third-place match over Iszmail MUSZUKAJEV (HUN) would clinch the Olympic berth for himself, in accordance with Japan federation criteria.
Olympic and two-time world champion Sara DOSHO (JPN) also earned a shot at a bronze and a confirmed place at Tokyo 2020 when she won 2-2 on last-point criteria in her women's 68kg repechage match over Blessing OBORODUDU (NGR). 
Yukako KAWAI (JPN), the 2018 silver medalist, followed suit with two victories at 62kg to move closer to joining older sister Risako, the champion at 57kg, on the Japanese Olympic team. 
With her sister and mother encouraging her from the stands, Kawai got a second-period takedown to clinch a 2-0 victory over Yuliia TKACH OSTAPCHUK (UKR) and make the third-place playoff.
"After I lost yesterday, my opponent advanced to the final, so my sister said I have been given another chance, and I have to think positively because it may not come again," Kawai said. 
Meanwhile, Serbia was assured of its first-ever Olympian in freestyle when Steven MICIC (SRB) made one of the bronze-medal matches at 57kg. 
Micic is part of the group of U.S-born wrestlers with dual nationality who train at the University of Michigan in a program under the leadership of Russian legend Sergey BELAGLAZOV. 
Day 7 Pairings
Freestyle
57kg (34 entries)
Gold – Suleyman ATLI (TUR) vs Zavur UGUEV (RUS)
Bronze – Stevan MICIC (SER) vs Nurislam SANAYEV (KAZ)
Bronze – Reza ATRINAGHARCHI (IRI) vs Kumar RAVI (IND)
65kg (44 entries)
Gold – Daulet NIYAZBEKOV (KAZ) vs Gadzhimurad RASHIDOV (RUS)
Bronze – Tulga TUMUR OCHIR (MGL) vs Bajrang PUNIA (IND)
Bronze – Takuto OTOGURO (JPN) vs Iszmail MUSZUKAJEV (HUN)
70kg (30 entries)
Semifinal – Magomedmurad GADZHIEV (POL) vs David BAEZ (RUS) 
Semifinal – Yones EMAMICHOGHAEI vs Nurkozha KAIPANOV (KAZ)
74kg (39 entries)
Semifinal – Frank CHAMIZO (ITA) vs Zelimkhan KHADIEV (FRA) 
Semifinal – Zaurbek SIDAKOV (RUS) vs Jordan BURROUGHS (USA)
92kg (18 entries)
Semifinal – J'den COX (USA) vs Irakli MTSITURI (GEO) 
Semifinal – Alikhan ZHABRAILOV (RUS) vs Alireza KARAMIMACHIANI (IRI)
125kg (28 entries)
Semifinal – Geno PETRAIASHIVILI (GEO) vs Oleksandr KHOTSIANIVSKYI (UKR) 
Semifinal – Taha AKGAL (TUR) vs DENG Zhiwei (CHN)
Women's Wrestling 
62kg (34 entries)
Gold – Taybe YUSEIN (BUL) vs Aisuluu TYNYBEKOVA (KGZ)
Bronze – Henna JOHANSSON (SWE) vs Marianna SASTIN (HUN)
Bronze – Yukako KAWAI (JPN) vs KIM Jong Sim (PRK)
68kg (32 entries)
Gold – Jenny FRANSSON (SWE) vs Tamyra MENSAH STOCK (USA)
Bronze – Battsetseg SORONZONBOLD (MGL) vs Alla CHERKASOVA (UKR)
Bronze – Sara DOSHO (JPN) vs Anna SCHELL (GER)