Bakhramov Matches Brother as Asian Greco Champion; Geraei, Abdvali Also Strike Gold Among Siblings
Sunday, April 28, 2019 - 15:51 By Ken Marantz
XI'AN, China (April 28)—Having seen his younger brother win a gold medal the day before, Islomjon BAKHRAMOV (UZB) did what comes naturally to a sibling. Wanting what he has.
Bakhramov made it two golds in the family when he captured the 60kg title as the Asian Championships finished up with competition in five Greco-Roman finals on the sixth and final day in Xi'an.
Bakhramov defeated RI Se Ung (PRK) by a 12-4 technical fall, avenging a loss in the semifinals at last year's Asian Championships in Bishkek, where he had to settle for a bronze medal. 
It also gave Uzbekistan a second gold medal after younger brother Ilkhom captured the 55kg title the previous day.
"Two brothers in one sport is very excellent," Bakhramov said. "We motivate each other. If the younger brother wins a medal, why shouldn't the older brother also win? If he wins, I must win."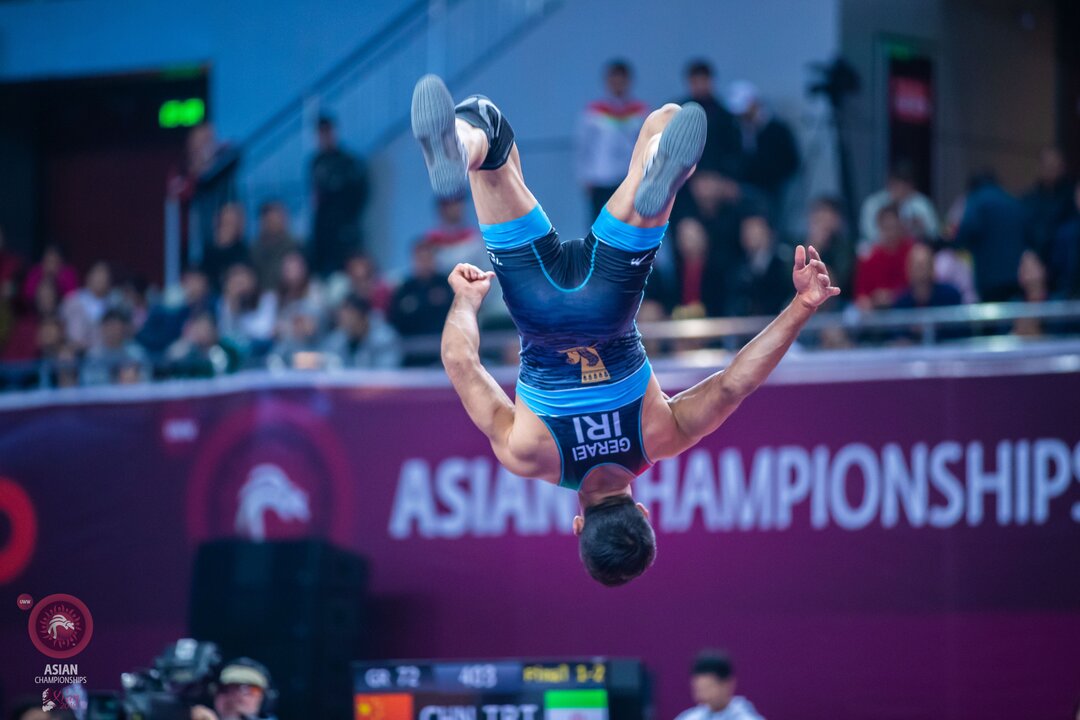 Mohammadreza GERAEI (IRI) celebrates after winning the 72kg gold medal with a 5-0 win over China's ZHANG Hujun. (Photo: Sachiko Hotaka)
Meanwhile, Mohammadreza GERAEI (IRI) and Saeid ABDVALI (IRI)—who also had brothers competing in Xi'an, both of whom won bronze medals—cruised to the 72kg and 82kg titles, respectively, to help Iran capture the team championship by just two points ahead of Uzbekistan.
The title race came down to the final match of the tournament, and a 3-2 victory by Uzur DZHUZUPBEKOV (KGZ) over Jahongir TURDIEV (UZB) in the 97kg final left Uzbekistan two points short of Iran, which won with 165 after securing four golds and three bronzes. 
Kazakhstan was third with 134 points, mainly on the strength of six bronze medals.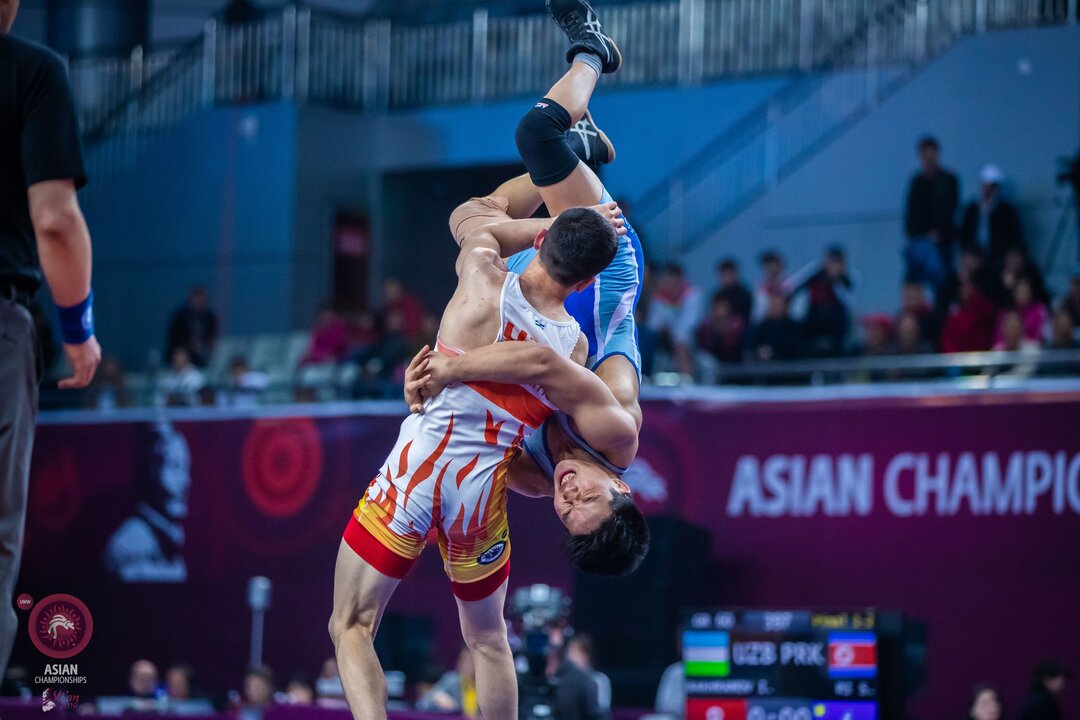 Islomjon BAKHRAMOV (UZB) tosses RI Se Ung (PRK) in the 60kg gold-medal bout. The Uzbekistan wrestler reached the top of the podium with a 12-4 victory. (Photo: Sachiko Hotaka)
In a never-a-dull moment 60kg final, Bakhramov got the advantage first in the par terre position and executed a roll for a 3-0 lead. But Ri, who knocked off 2017 world champion Kenichiro FUMITA (JPN) and world bronze medalist Sailike WALIHAN (CHN) en route to the final, came back with a 2-point back drop.
Bakhramov replied with a twisting head lock for two points, but Ri struck back with a 2-point head lock throw to cut the gap to 5-4. 
In the second period, the Uzbeki padded his lead with a takedown and 1-point leg-grab penalty. With the seconds ticking down, Ri made a last-ditch leap for a score, but landed on his back, giving Bakhramov four points and the technical fall at the buzzer.
"Last time I didn't know him, what moves he would do," Bakhramov said. "This time I was ready absolutely. I trained very well and was completely ready for this championships."
For Ilkhom Bakhramov, seeing his older brother's success only doubled the pleasure of his own.
"Yesterday when I won the [gold] medal, I was really happy," he said. "But it was like 50 percent. Today, my brother also won, so that's why it's 100 percent. I was shouting and jumping."
Geraei, who was third at the Asian Games last summer in Jakarta, earned his first Asian title with a solid 5-0 victory over ZHANG Hujun (CHN) in the 72kg final. 
Geraei, whose older brother Mohammadali was third at 77kg on Saturday, scored a takedown in each period and was never really put in danger.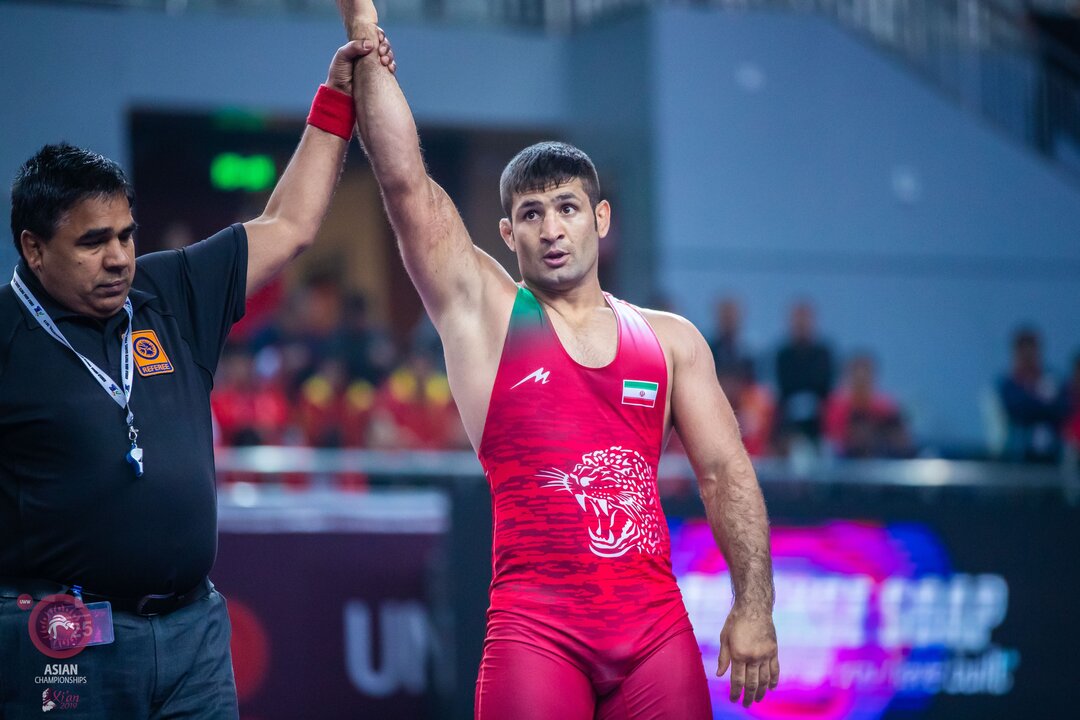 Saeid ABDVALI (IRI) shutout India's Singh HARPEET, 8-0 to win the 82kg gold medal. (Photo: Sachiko Hotaka)
Abdvali, a former world champion and Rio 2016 Olympic bronze medalist, was even more dominant in putting away Singh HARPEET (IND) by 8-0 technical fall in 3:54, scoring two takedowns and four stepouts.
"My program to prepare for this championships was five months," said Abdvali, who won all three of his matches by technical falls without surrendering a point to add a first Asian title to two Asian Games crowns. "At the competition, I was strong and ready."
Advali said younger brother Saman, a bronze medalist at 63kg, had his chance for gold, too. "He made a mistake and that caused him to lose," he said.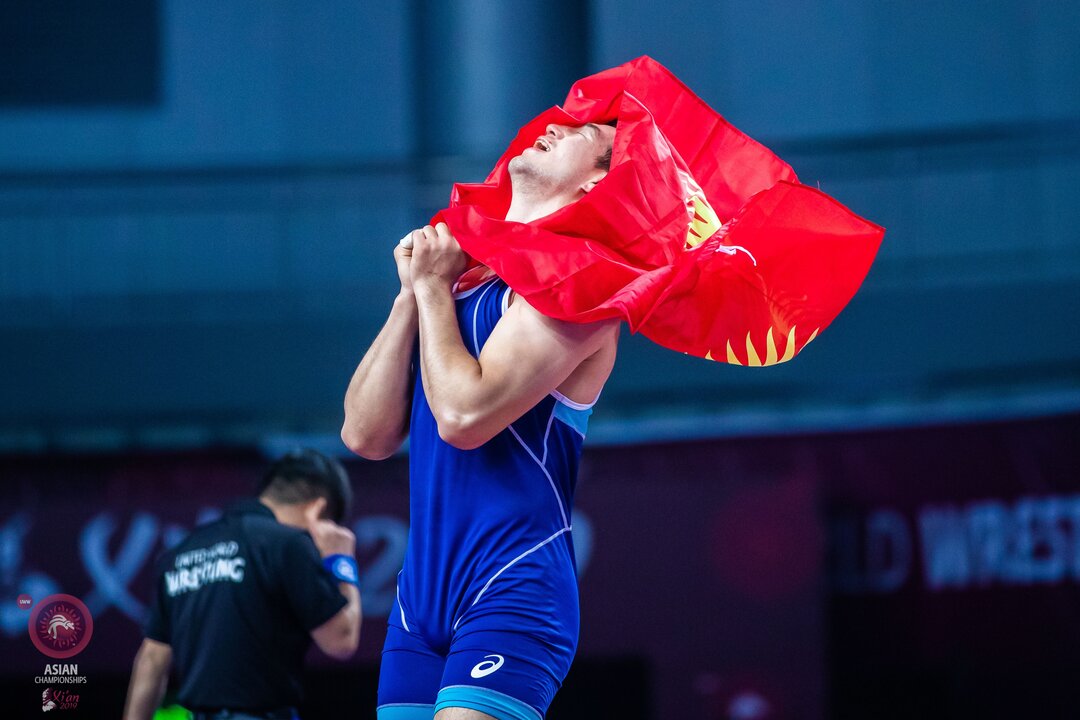 Uzur DZHUZUPBEKOV (KGZ) celebrates after scoring the 3-2 win over Jahongir TURDIEV (UZB) in the 97kg gold-medal match. (Photo: Sachiko Hotaka)
In the 97kg final, Dzhuzupbekov, who was third at both the Asian Championships and Asian Games last year, managed to roll Turdiev from the par terre position a minute into the second period to take a 3-1 lead, then held on for the victory.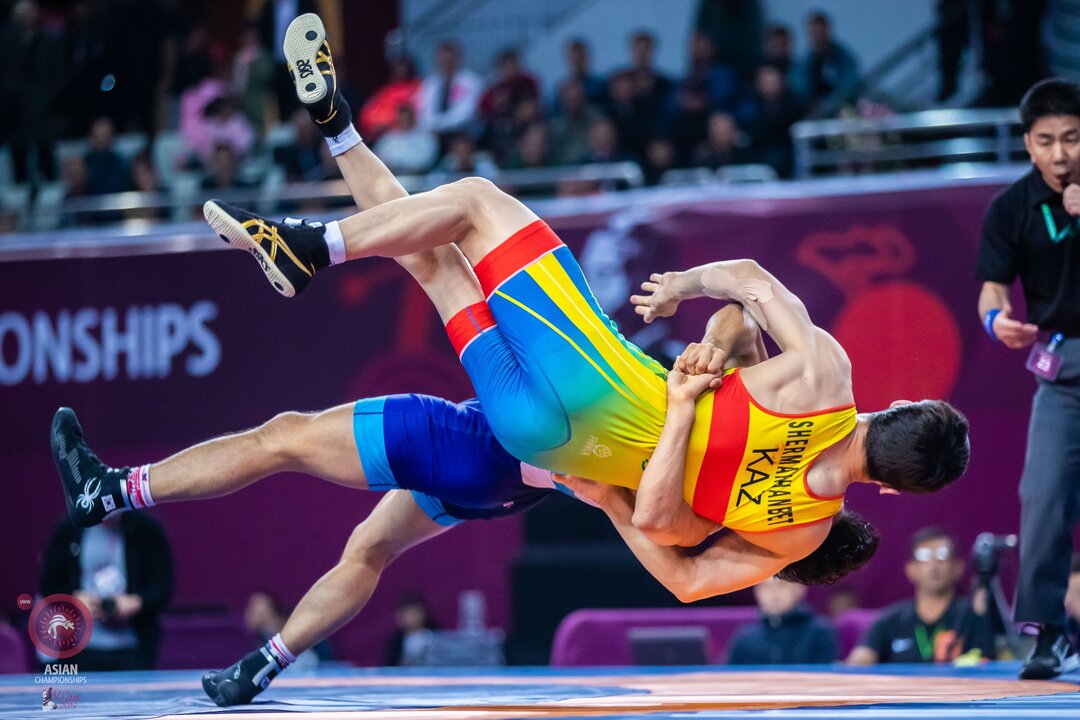 RYU Hansu (KOR) used a four-point move to top Meiirzhan SHERMAKHANBET (KAZ), 5-1 in the final at 67kg. (Photo: Sachiko Hotaka)
The other title at stake on the final night at Xidian University's Invengo Gymnasium went to RYU Hansu (KOR), who scored with a 4-point move with :46 left in the 67kg final to top world bronze medalist Meiirzhan SHERMAKHANBET (KAZ), 5-1.
With the wrestlers tied at 1-1 from passivity points, Ryu secured a body lock from the side, then twisted Shermakhanbet backwards and down for the big-point move that secured his third Asian gold.  
"It's something that I practice all the time," said Ryu, a two-time Asian Games champion and 2017 world champion. "It came natural to me because I have done it so many times."
Host China, which finished 10 points behind Kazakhstan in the team standings, ended on a positive note with three wrestlers taking bronze medals: ZHANG Gaoquan (CHN) at 67kg, QIAN Haitao (CHN) at 87 kg and XIAO Di (CHN) at 97kg. 
Japan came away with a pair of bronzes from Fumita at 60kg and Shogo TAKAHASHI (JPN) at 67kg. Fumita, the 2017 world and Asian champion, won without a fight as Walihan defaulted their bronze-medal match due to a shoulder injury. 
One of the more exciting matches of the evening program was a come-from-behind victory by Maxat YEREZHEPOV (KAZ) in an 82kg bronze-medal match.
Trailing Jalgasbay BERDIMURATOV (UZB) 5-0, Yerezhepov was in the process of being lifted for a roll, when he suddenly clamped down on his opponent's arm to send him to his back and win by an unlikely fall at 2:02.
Day 6 results
Greco-Roman

60kg (12 entries)
Gold – Islomjon BAKHRAMOV (UZB) df. RI Se Ung (PRK) by TF, 12-4, 6:00
Bronze – Gyanender GYANENDER (IND) df. HUANG Jui Chi (TPE) by TF, 9-0, 2:45
Bronze – Kenichiro FUMITA (JPN) df. Sailike WALIHAN (CHN) by Default
67kg (14 entries)
Gold – RYU Hansu (KOR) df. Meiirzhan SHERMAKHANBET (KAZ), 5-1
Bronze – ZHANG Gaoquan (CHN) df. Abdulkarim AL HASAN (SYR), 7-0
Bronze – Shogo TAKAHASHI (JPN) df. Mirzobek RAKHMATOV (UZB), 5-2
72kg (9 entries)
Gold – Mohammadreza GERAEI (IRI) df. ZHANG Hujun (CHN), 5-0 
Bronze – Ruslan TSAREV (KGZ) df. Yogesh YOGESH (IND) by TF, 8-0, 1:12 
Bronze – Demeu ZHADRAYEV (KAZ) df. Aram VARDANYAN (UZB)  by Fall, 2:29 (3-2)
82kg (9 entries)
Gold – Saeid ABDVALI (IRI) df. Singh HARPEET (IND) by TF, 8-0, 3:54
Bronze – Maxat YEREZHEPOV (KAZ) df. Jalgasbay BERDIMURATOV (UZB) by Fall, 2:02 (2-5)
Bronze – QIAN Haitao (CHN) df. Burgo BEISHALIEV (KGZ) by TF, 9-0, 3:29 
97kg (9 entries)
Gold – Uzur DZHUZUPBEKOV (KGZ) df. Jahongir TURDIEV (UZB), 3-2
Bronze – XIAO Di (CHN) df. LEE Seyeol (KOR), 1-1 
Bronze – Mahdi ALIYARIFEIZABADI (IRI) df. Alimkhan SYZDYKOV (KAZ), 4-2
Team Standings
1. Iran 165 points (4 gold-0 silver-3 bronze)
2. Uzbekistan 163 (2-3-1)
3. Kazakhstan 134 (0-1-6)