Bajrang Storms Back to Regain Asian Title at 65kg; Iran Captures 3 of 5 Golds
Tuesday, April 23, 2019 - 16:48 By Ken Marantz
XI'AN, China (April 23) – World silver medalist Bajrang BAJRANG (IND) needed one of his trademark comebacks more than ever. His winded opponent gave him the opening he needed.
Bajrang, overcoming a five-point deficit in the second period, stormed to a 12-7 victory over Sayatbek OKASSOV (KAZ) in the freestyle 65kg final at the Asian Championships in Xi'an to regain the continental title he won two years ago in New Delhi. 
Meanwhile, Iran captured three of the five golds at stake on the opening day of the six-day competition—and added bronze medals in the two other weight classes--while Kazakhstan also had a champion crowned.
Bajrang looked to be heading to defeat when Okassov got the Indian's leg in the air three times, and scored a takedown each time to build up a 7-2 lead early in the second period. 
But Okassov started to show fatigue, and Bajrang started twisting the screws. In the last 1:40, he went ahead with a takedown that he followed up with three rolls to put away the match. 
"I didn't feel like I was losing," Bajrang said. "If you see my matches, I start a bit slow, then I catch up. I gain an understanding of the strategy of the opponent."
Bajrang acknowledged that he uses his exceptional stamina to his advantage, saying, "I tire the opponent out and score points after that." 
Bajrang's personal coach for the past year, Greek-born Georgian Shako Bentinidis, expressed concern over the technical lapses in Bajrang's performance.
"I mind," Bentinidis said. "The last month, we stayed in India and he had a little problem with the food and [training] partner. That's why his concentration here was no good."
But Bajrang's determination was enough to allow him to prevail. "He has a very good character," the coach said. "He never thinks about losing, only concentration on winning."
Although he vanquished all before him on this day, Bajrang felt something was missing. Or someone for that matter. 
Takuto OTOGURO (JPN), who defeated Bajrang in a memorable final at the Budapest 2018 world championships, had entered the tournament, but pulled out due to bursitis in his knee.
"All of the athletes here I had already defeated. Only Otoguro I have not. I would have liked to face him," said Bajrang, who is hoping for a rematch at either this year's world championships or Tokyo 2020.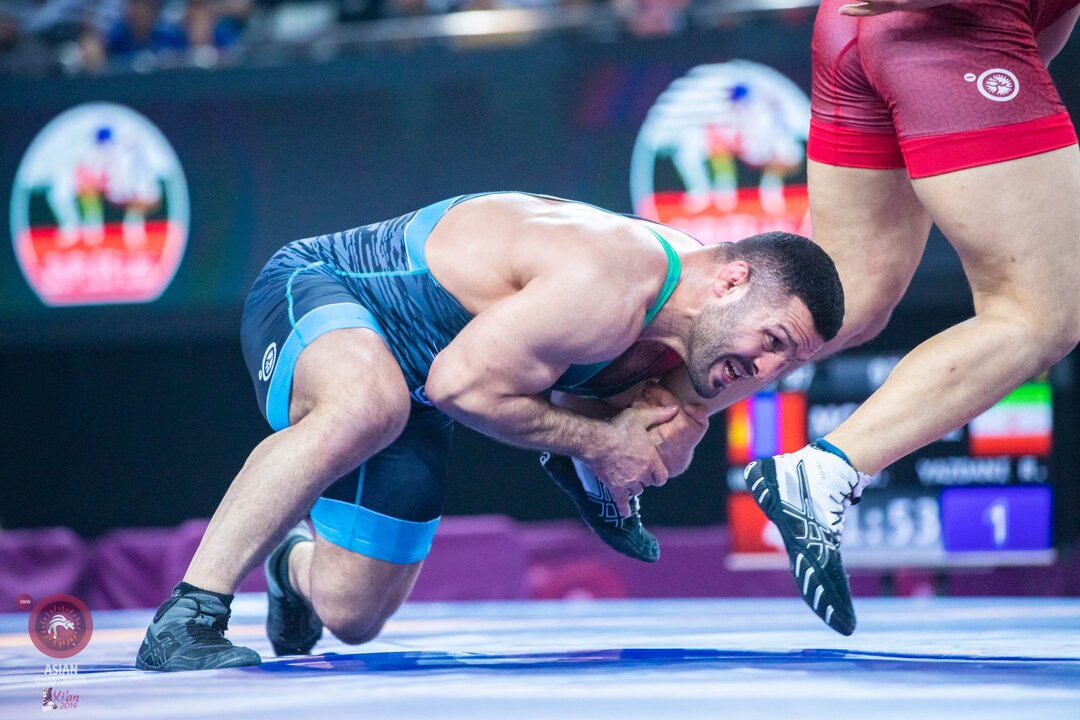 Two-time world champion Reza YAZDANI (IRI) defeated Mongolia's ULZIISAIKHAN Batzul, 7-4 in the 97kg gold-medal bout. (Photo: Sachiko Hotaka)
Two-time former world champion Reza YAZDANI (IRI) returned from an absence of over two years to win the 97kg gold with a come-from-behind win of his own. He has some unfinished business to attend to at the Tokyo Olympics.
Yazdani twice missed out on Olympic medal, at London 2012 and Rio 2016, after suffering injuries during the competition, and he sees Tokyo as his chance for redemption.
"Unfortunately, I lost two times at the Olympics because I was injured," Yazdani said. "Now I want to make up for that in Tokyo in 2020. I tried to keep myself fit, watch my weight and train for wrestling, and now I'm back on the national team."
In the final, Yazdani trailed ULZIISAIKHAN Batzul (MGL) 4-2 in the second period when the Mongolian ran out of gas. Yazdani took advantage and went on to win 7-4, adding to the Asian titles he won in 2010 and 2016.
"The match is six minutes," said Yazdani, a three-time Asian Games champion. "Sometimes I go down [in the score], and sometimes I go up. I am always training to be in better condition."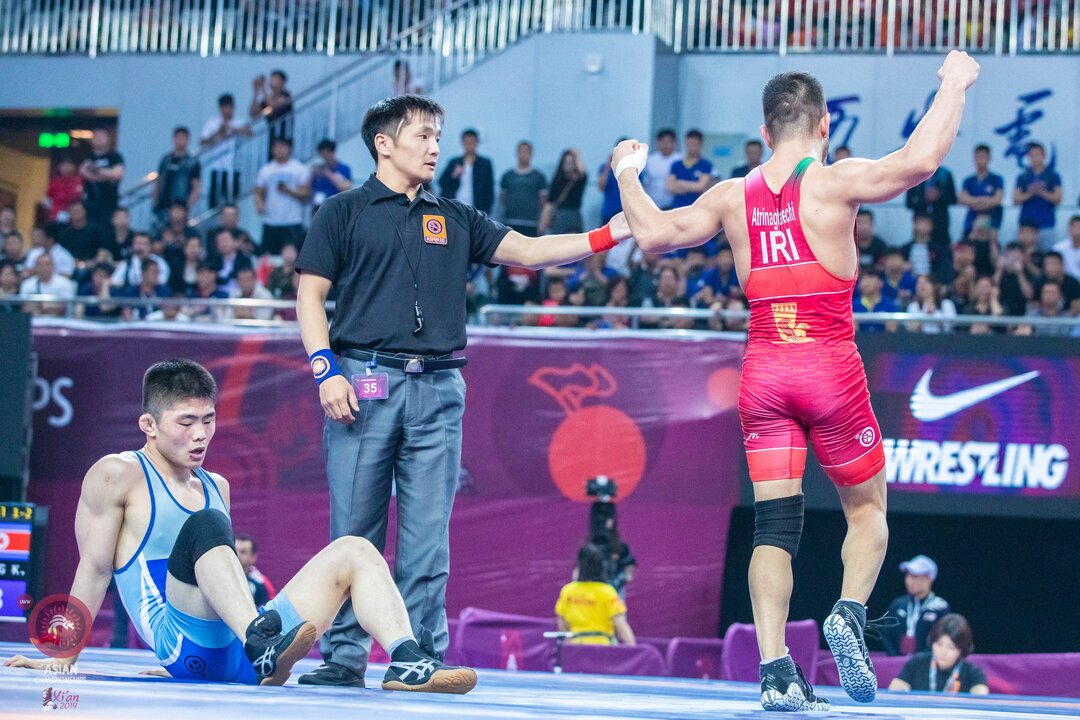 Reza ATRINAGARCHI (IRI), the 57kg champion, was one of three Iranian champions on Day 1. (Photo: Sachiko Hotaka)
Iran's other golds came from Reza ATRINAGARCHI (IRI) at 57kg and Bahman TEYMOURI (IRI) at 70kg.
Atrinagarchi scored all of his points in the second period in posting a 9-3 victory over defending champion KANG Kumsong (PRK), who had defeated former world champion Yuki TAKAHASHI (JPN) in the semifinals.
Takahashi, a bronze medalist at the Budapest 2018 world championships, shook off that loss to take a bronze home, scoring a 4-point takedown-and-roll combination with 15 seconds left to defeat Kumar RAVI (IND), 5-3. 
"It's tough to take, but it gives me an idea of where I stand now, and I have to accept that," Takahashi said of his loss. "But this [tournament] was not my goal. If this were the world championships or Olympics, I would be more disappointed. I have to not let this get me down and keep fighting to get a gold medal."
Speaking about his 3-1 loss to Kang, Takahashi said, "The opponent was very good. He doesn't have a strong attack, but his defense is strong. My strong point is offense, but today my offense lost and that was the result. I have to get stronger on attack. Of course, I want to get revenge."
 Teymouri, a 2017 bronze medalist, earned his first Asian gold with a sedate 3-0 win in the 79kg final over Parveen RANA (IND). Teymouri scored a first-period takedown, then received a penalty point in the second.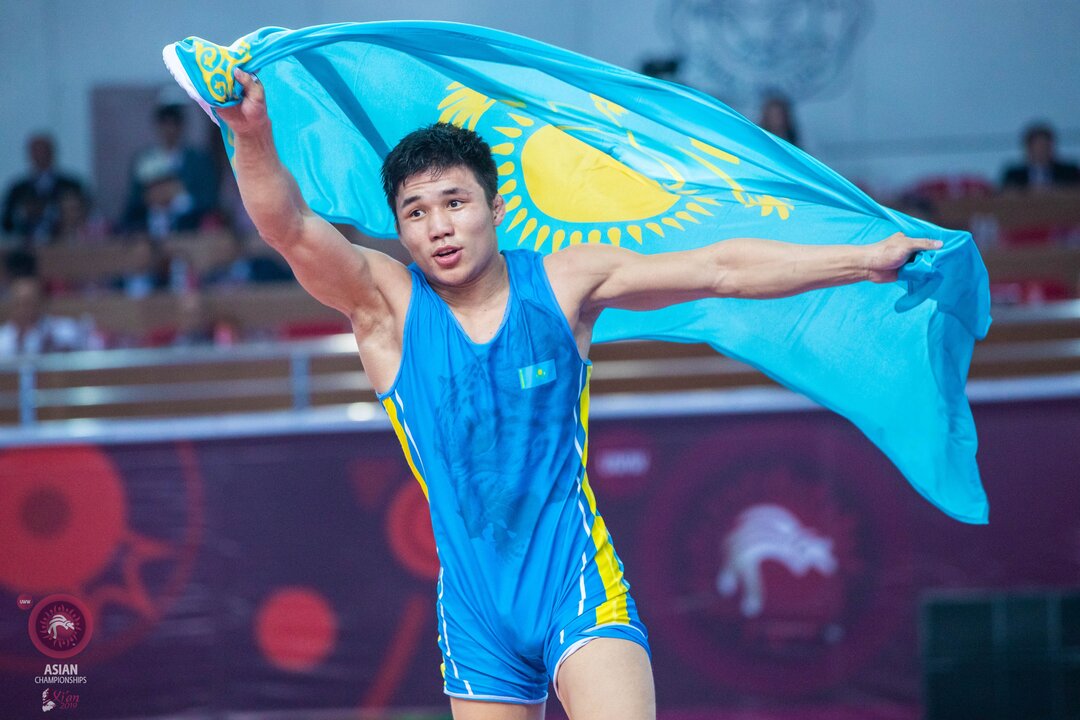 Nurkozha KAIPANOV (KAZ) reached the top of the podium at 70 with a 9-0 shutout win over Japan's Kojiro SHIGA. (Photo: Sachiko Hotaka)
In the day's other final, Nurkozha KAIPANOV (KAZ) overwhelmed Kojiro SHIGA (JPN), 9-0, at 70kg
Host China had three wrestlers in the bronze-medal matches, but only YUAN Shaohua (CHN) made the podium after he crushed Abdullrahman IBRAHIM (QAT) with a 10-0 technical fall in just 34 seconds.
Makhmudjon SHAVKATOV (UZB), last year's runner-up to Kang at 57kg in Bishkek, took home a bronze this time by beating Hikmatullo VOHIDOV (TJK), 4-0.
Peiman BIABANI (IRI) at 65kg and Yones EMAMICHOGAEI (IRI) at 70kg added to the Iranian medal tally by winning bronzes.
Day 1 Results
Freestyle
57kg (12 entries)
Gold – Reza ATRINAGARCHI (IRI) df. KANG Kumsong (PRK), 9-3
Bronze – Makhmudjon SHAVKATOV (UZB) df. Hikmatullo VOHIDOV (TJK), 4-0 
Bronze – Yuki TAKAHASHI (JPN) df. Kumar RAVI (IND), 5-3 
65kg (16 entries)
Gold – Bajrang BAJRANG (IND) df. Sayatbek OKASSOV (KAZ), 12-7 
Bronze – KIM Han Song (PRK) df. Haji Mohamad ALI (BRN) by TF, 10-0, :46 
Bronze – Peiman BIABANI (IRI) df. Sirojiddin KHASANOV (UZB), 3-2
70kg (16 entries)
Gold – Nurkozha KAIPANOV (KAZ) df. Kojiro SHIGA (JPN), 9-0 
Bronze – YUAN Shaohua (CHN) df. Abdullrahman IBRAHIM (QAT) by TF, 10-0, :34 
Bronze – Yones EMAMICHOGAEI (IRI) df. Balyr BORJAKOV (TKM) by TF, 11-0, 4:04
79kg (10 entries)
Gold – Bahman TEYMOURI (IRI) df. Parveen RANA (IND), 3-0
Bronze – Oibek NASIROV (KGZ) df. LIN Zeping (CHN) by Fall, 2:50 (2-1)
Bronze – Galymzhan USSERBAYEV (KAZ) df. Yuta ABE (JPN), 6-0 
97kg (11 entries)
Gold – Reza YAZDANI (IRI) df. Batzul ULZIISAIKHAN (MGL), 7-4 
Bronze – Satywart KADIAN (IND) df. GAO Haobin (CHN), 8-2
Bronze – Alisher YERGALI (KAZ) df. Magomed MUSAEV (KGZ), 6-2