Adekuoroye Chasing Fourth African Crown
Friday, February 9, 2018 - 21:51 By Eric Olanowski
The 2018 African Senior Championships kick off tomorrow morning in Port Harcourt, Nigeria with over 150 wrestlers from 20 nations set to compete. 
Freestyle (Saturday) 
Three of the top-four 57kg placers from a year ago will head to Port Harcourt. Last year's champion Chakir ANSARI (MAR) and Abdelhak KHERBACHE (ALG), last year's runner-up are set to compete at the same weight class again. Also competing at 57kg is fourth-place finisher from a year ago, Ebikewenimo WELSON (NGR) who is looking to stop a back-to-back finals party.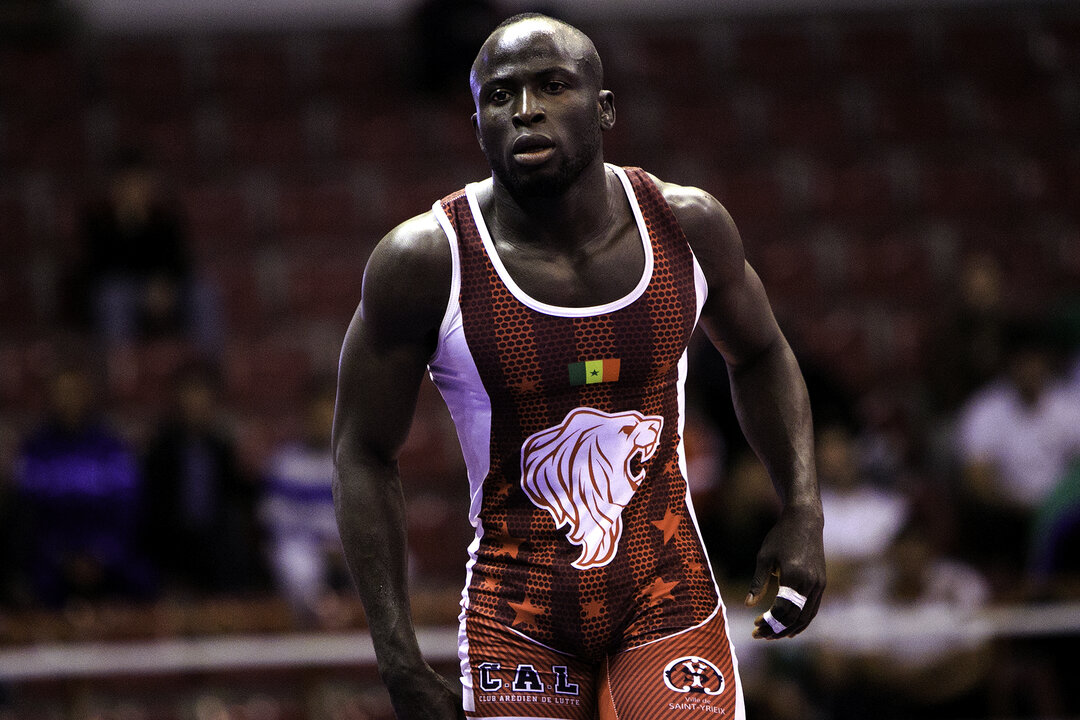 PICTURED: Adama DIATTA (SEN)
Leading the charge for the 61kg and 65kg gold medals are a duo of multiple-time Olympians in Augusto MIDANA (GBS) and Adama DIATTA (SEN). Midana has wrestled in three Olympic Games and is looking to win the African championships for the seventh time. Diatta is a two-time Olympian and is looking for his eighth title.
At 70kg, Jean Bernard DIADIA (SEN), the three-time champion and last year's runner-up wants to get back to his winning ways and block the probable finals rematch between Ogbonna Emmanuel JOHN (NGR) and Maher GHANMI (TUN). 
A couple of young studs in Ayoub BARRAJ (TUN) and Fredylan MARAIS (RSA) are looking to capture titles at 74kg and 79kg. 
Barraj is coming up to the senior-level to look for gold after winning the African junior championship a year ago. If he wants to win 74kg title, he'll have to go through defending champion, Mustafa ALI (SUD). 
Down to 79kg, Fredylan Marais  brought home a silver medal at last year's African Junior Championships. The 2018 African Championships will be Marais'  first senior-level African Championship and only his second senior-level event ever. 
At 86kg it'll be a pair of third-place finishers will be vying for African gold. Melvin BIBO (NGR) was a third-place finisher at 74kg in 2016 while Imed KADDIDI (TUN) was the bronze medalist last year at 97kg. 
After placing twice in Greco-Roman, Reda MOUENISS (MAR) will make the jump from Greco-Roman to Freestyle and try to win gold at 92kg. 

PICTURED: Soso TAMARAU (NGR)
The 97kg weight category has been owned by Soso TAMARAU (NGR) for the past few years. Tamaru, the Olympian and returning champion is looking to win his third title. The two wrestlers who will be responsible for slowing Tamarau down will be Mohammed FARDJ (ALG) and Martin ERASMUS (RSA). 
Fardj was last year's African junior champion, and Erasmus completed the African Championships last year with a silver medal. 
Rounding out the battle for freestyle titles will be Sinivie BOLTIC (NGR) and African junior champion, Khaled Omr Zaki Mohamed ABDALLA (EGY) at 125kg. If the Olympian Boltic can capture gold this weekend, that would be his fourth gold medal but only his first since 2012. 
Women's Freestyle (Sunday) 
Women's freestyle has an opportunity to open up with back-to-back rematches of last year's finals.
At 50kg, 2016 Olympian Mercy GENESIS (NGR) will look to defend her title from a year ago where she defeated two-time African cadet champion, Sarra HAMDI (TUN) to take the title.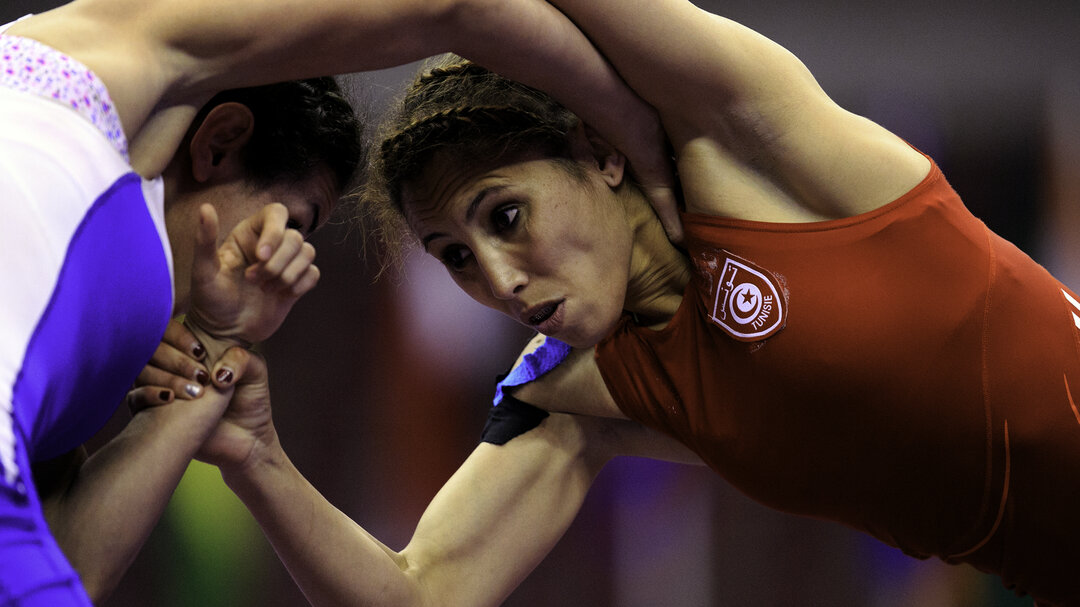 PICTURED: Maroi MEZIEN (TUN)

Moving to 53kg,Maroi MEZIEN (TUN), a 2012 Olympian, is on a quest to capture her fifth African championship gold medal. Bose SAMUEL (NGR) will be looking to even the score as last year Mezien got the best of her on her way to her fourth crown. 
Christiana NWOYE (NGR) has an opportunity to better her second-place finish from last year. Looking to snatch the 55kg gold medal from Nwoye will be Faten HAMMAMI (TUN), the 2015 African cadet gold medalist.
The clear-cut favorite at 57kg is United World Wrestling's History Maker of 2017, Odunayo ADEKUOROYE (NGR). If Adekuoroye, the 2017 world silver medal and 2016 Olympian can win this weekend, that'd give her four African championship gold medals to her name.
Bisola MAKANJUOLA (NGR), a runner-up last season will have to get through the experienced Safietou GOUDIABY(SEN) who is wrestling in her seventh African championship if she's going to want to win the 59kg title. 
Tussling for the 62kg title will be Aminat ADENIYI (NGR) and Lilia MEJRI (TUN). Adeniyi is an Olympian and two-time African champion. Mejri, who won the African Championship bronze medal is no stranger to the big stage, as she was a world representative for Tunisia at the 2017 Junior World Championships.
African junior Champion Nour JELJELI (TUN) will have an opportunity to see how she stacks up against Olympian Amuchechi RUEBEN (NGR) for the 65kg title. Jeljeli's will be competing for the first time at a senior-level, while this will be Ruben's (NGR) first time wrestling since the 2016 Olympic Games. 

PICTURED: Blessing OBORUDUDU (NGR)
Leading the race at 68kg is two-time Olympian Blessing OBORUDUDU (NGR). The Nigerian team captain hasn't suffered a loss at the African Championships since 2009 is on a mission to win her eighth African Championship. 
Previous champions Winnie GOFIT (NGR) and Samar Amer Ibrahim (EGY) are the front-runners win crowns at 72kg and 76kg. 
Gofit is down from 75kg where she won her first African championship a season ago and Ibrahim, the 2016 Olympian, is coming back to compete for the first time since 2016 where she won the 75kg title. 
Greco-Roman (Sunday) 
Two African powerhouses in Zied AITOUAGRAM (MAR) and Radhouane CHEBBI (TUN) lead the Greco-Roman entries. 
Ait Ouagram, the two-time Olympian and last year's champion is the favorite to take home the 77kg crown. He is looking to bring his gold medal total into the double-digit mark, as he currently owns nine titles. The last time Ait Ouagram lost at the African championship was ten years ago when he walked away with the bronze medal.
Radhouane CHEBBI (TUN), the two-time Olympian and the three-time champion is favored to take home the 130kg title. 
Two of the top-three finishers from a year ago return to 60kg in returning champion Anwar TANGO (MAR) and third-place finisher Abdennour LAOUNI (ALG).
At 63kg, one of the favorites will be Fouad FAJARI (MAR). The 2012 Olympian usually wrestles both styles, but this year he'll only be wrestling Greco. Another favorite at this weight will be Souleymen NASR (TUN) who was an African junior champion last year.
Ayoub HANINE (MAR), the two-time African Championships runner-up at the junior-level is looking to make a smooth transition to the senior-level. The 2018 African Championships will be Hanine's third time competing at the senior-level.
The two wrestlers competing for gold at 72kg are Aziz BOUALEM (MAR) and Emmanuel Chinonso NWORIE (NGR). A three-time world team member, Boulaem is wrestling in his eighth African championships. For Nworie, this will be his first time competing since 2016 when he was down at 66kg. 
The three-headed race at 82kg is between Bachir SID AZARA (ALG), Ahmed Hassan Aly Mahmoud AHMED (EGY) and Tochukwu Micheal OKEKE (NGR). Azara won a junior world bronze medal and is the returning champion, Ahmed is an African junior champion, and Okeke took third place last year. 
The battle at 87kg will be between two guys who are fighting to win their first African titles. Adem BOUDJEMLINE (ALG) was a finalist from a year ago, and Mohamed Skander MISSAOUI (TUN) who finished in third place. 
Two Olympians in Hemza HALOUI (ALG) and Choucri ATAFI (MAR) are expected to meet in the 97kg finals. Haloui is a four-time finalist with three of those being in Greco-Roman and one in Freestyle. Atafi will look to make the finals and best his trio of third place finishes. 
ENTRIES
Men's Freestyle (Saturday) 
57kg (6 Participants) 
61kg (7 Participants) 
65kg (8 Participants) 
70kg (10 Participants) 
74kg (8 Participants)
79kg (6 Participants) 
86kg (8 Participants) 
92kg (5 Participants) 
97kg (6 Participants) 
125kg (3 Participants)
Women's Wrestling (Sunday) 
50kg (6 Participants) 
53kg (3 Participants) 
55kg (2 Participants) 
57kg (2 Participants)
59kg (7 Participants) 
62kg (2 Participants)
65kg (2 Participants)
68kg (6 Participants)
72kg (3 Participants) 
76kg (3 Participants) 
Greco-Roman (Sunday)
55kg (5 Participants)
60kg (5 Participants)
63kg (3 Participants)
65kg (3 Participants)
67kg (7 Participants)
72kg (2 Participants)
77kg (5 Participants)
82kg (6 Participants)
87kg (5 Participants)
97kg (6 Participants)
130kg (4 Participants)